'Connecting the dots' in the global real estate market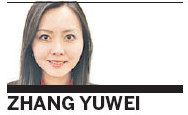 I t's no news that Chinese real estate developers and property buyers are flooding into the US - something that's currently, to many Chinese, a better investment than gold - and it's bringing more than just cash into the market.
The increasing interest from the Chinese in US real estate is also creating new business opportunities.
Jason Chen, chairman of Shenzhen World Union Properties Consultancy Co Ltd, a listed company that provides real estate consulting services in China, sees it as a trend.
"So the idea is to team up with local agents in the US - even smaller ones (compared to the size of World Union) - to serve the growing number of Chinese buyers here," said Chen, who recently attended a business forum in New York to make new business connections.
"That is the trend now," said Chen, adding he has visited New York three times this year and has a few agencies in mind.
World Union employs some 15,000 people across China who broker all kinds of properties. With a market share of 3 percent, its revenue last year was close to $34.4 billion with the sale of some 300,000 apartments across China, and profits that make him look beyond the home market.
"We won't really operate solo here [in New York], and this won't be money-making in the beginning, but we see this as a trend that is still developing and we want to be part of it," he said. "We just need to find a trustworthy partner and feed them with our Chinese client source list."
Chen's plan is echoed by industry leaders in the US real estate market who call it a way to "bridge a gap".
"In various So Cal communities, we've experienced an upward trend in Chinese buyers purchasing our homes and the majority of those are not local Chinese buyers but those coming from China," said Brian Harrelson, a senior project manager in the Southern California office of Toll Brothers, a US luxury homebuilder.
As part of their strategy to attract more Chinese buyers, Toll Brothers has teamed up with realtors for joint events to provide more buyer services, including reimbursing home buyers' international airfare on their Fly-and-Buy program.
"There are a lot of agents in China," said Harrelson, "so we're thinking: how can we empower them by providing supporting information in Mandarin and develop relationships between the local and Chinese agents so they work together?
"If we can bridge that gap, there will be more potential buyers in the pool, rather than just what we see domestically," he said.
Chinese buyers accounted for 18 percent of the $68.2 billion that foreigners spent on residential properties in the US during the 12 months ending March 31, according to the National Association of Realtors.
Chinese shoppers are known for being "cash-buyers" and for buying expensive homes, spending a median price of $425,000, almost double the median of what other foreign buyers pay.
In California, the Chinese are the third-largest foreign buyers of real estate, after Mexicans and the Filipinos, according to Realtor.org.
"The growing number of international buyers in Los Angeles has been an ongoing trend," said Sally Forster Jones, an agent with Coldwell Banker International in Los Angeles.
"More and more of the high-end deals are going to international buyers, many of which are coming from China. This is a growing market so it makes sense to do everything possible to tap into the needs of this demographic," said Jones.
"I think that the willingness of local and international real estate agencies to work together can bring positive results," said Jones. "We are really living in a global marketplace and real estate is a very collaborative business where connections are everything."
In New York, Chinese are second only to wealthy Dominicans in purchasing homes.
"It's clear that wealthy Chinese are looking for good investments and NYC real estate is especially appealing to them, so it's nice to have brokers working together to connect those dots, especially when there are language barriers," said Todd Dumaresq, a marketing manager with Toll Brothers City Living in New York.
In late June, US developer Tishman Speyer and China's largest residential developer Vanke broke ground on a joint venture to build 655 luxury condos on the San Francisco waterfront.
Vanke is one of World Union's clients in China, so, according to Chen, it makes sense for them to follow their big client to the US.
"Our business follows our clients - most of whom are major Chinese commercial and residential developers in China - and they are all looking into the US now," Chen said.
Contact the writer at yuweizhang@chinadailyusa.com