Heat wave expected to break in mid-August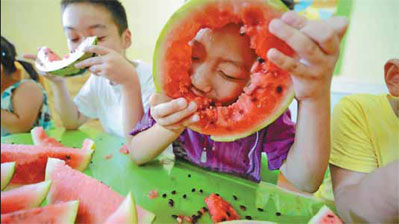 Children compete to eat watermelons to welcome autumn, which began on Wednesday this year by the Chinese lunar calendar. Meng Delong / for China Daily
More scorching temperatures expected in the south this week, Wang Qian reports in Beijing.
At long last, some relief is on its way for sweltering South China.
After record-setting temperatures in southern regions of the country this summer, meteorologists say temperatures will begin to fall after mid-August.
"After Aug 13, temperatures in most southern provinces and regions will gradually drop, though it may remain above 35 C in parts of the region," Ma Xuekuan, chief forecaster at the National Meteorological Center, said on Wednesday.
But there is a caveat. Before temperatures come down, most of southern China will see another record heat wave before Friday, he said.
The National Meteorological Center maintained an orange heat alert on Wednesday, warning that temperatures in Shanghai and Chongqing as well as in Zhejiang, Jiangsu, Anhui, Hunan, Jiangxi and Fujian provinces will climb as high as 42 C within the next three days.
The meteorological authority uses a four-tier, color-coded weather warning system with red being the most severe, followed by orange, yellow and blue.
Scorching temperatures are also expected in parts of the Xinjiang Uygur autonomous region in the next three days, with highs of up to 39 C.
Regional red alerts were issued by meteorological bureaus in Jiangsu, Henan, Sichuan, Zhejiang, Anhui and Hubei provinces as well as in Chongqing and Shanghai on Wednesday.
According to the Chinese lunar calendar, autumn began on Wednesday and though temperatures usually fall at this time, the mercury will remain high for the next few days. By meteorological standards, autumn begins only when average daily temperatures fall below 22 C for five consecutive days.
The heat wave has been baking the country's southern regions since July, creating water shortages, power supply worries and harvest concerns.
Some companies in Zhejiang province have allowed employees to set their own work schedules because of the extreme heat.
According to media reports, even mosquitoes are finding the heat in South China intolerable. The Chongqing disease control department said there are half as many mosquitoes in the city as in previous years.
Ground temperatures in some parts of southern China reached 70 C on Tuesday, according to the National Meteorological Center, and 1,030 of the 2,000 monitoring stations across the country observed record-high temperatures on Tuesday.
Making matters worse, Tropical Storm Mangkhut is fast approaching. On Wednesday and Thursday, rainstorms will lash Hainan province and the Guangxi Zhuang autonomous region.
The meteorological center issued a blue alert on Wednesday with warnings of a typhoon. It estimated that Mangkhut may pass south of Hainan and make landfall in northern Vietnam on Thursday morning,
Mangkhut, the 10th tropical storm to hit China this year, was 120 kilometers from Sanya, Hainan province, packing winds of up to 72 km per hour at its eye on Wednesday morning.
Li Weijing, a climatologist, said that extreme weather events such as severe droughts and floods are becoming more frequent because of global warming.
"Global warming is causing Arctic ice to melt and strengthening Pacific subtropical highs," Li said, adding that these factors influenced temperatures in China this summer.
Global warming will cause China's rain belt to increasingly move north in summer seasons, Li said, leaving southern regions with scorching heat.
"Extreme droughts and floods are challenging human safety. Authorities need to pay attention to this with urban planning," he added.
Li said the China Meteorological Administration is studying long-term climate predictions to help the country deal with extreme weather events.
Contact the writer at wangqian@chinadaily.com.cn
Xinhua contributed to this story.