Trade in college admission raises public hackles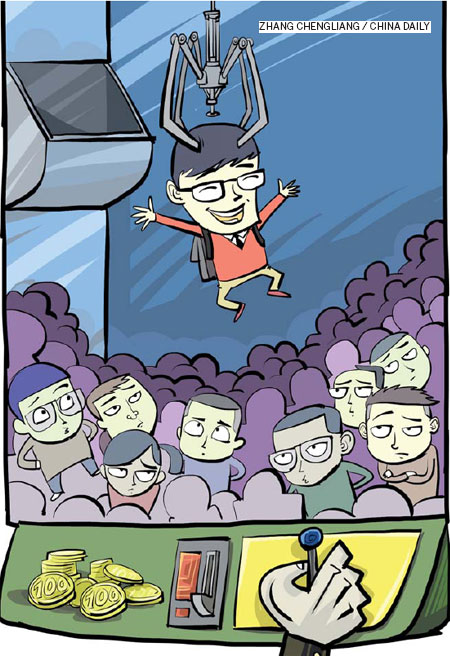 Reserved seats undermine confidence in entry through entrance examination
Are seats in China's public colleges up for sale? It is a question that educators are reluctant to discuss and most parents do not even want to think about.
But as colleges in China begin publishing admission lists after the grueling national college entrance examination or gaokao in June, word has spread on the Internet that students with not-so-high scores but deep pockets can buy their way into some good universities. The non-negotiable price: 1 million yuan ($162,800).
And for those who still believe gaokao is the pinnacle of the Chinese social justice system, it is a rude awakening as they learn the dodgy business has existed for years. In Jiangsu province, known for its teeming wealth and rich education tradition, the illegal price of admission to the top local university was 200,000-300,000 yuan last year. But it has soared by several times this summer because of a drastic cut in the availability of seats, according to media reports.
Education policymakers have long known that gaokao is not the best way to select students from diverse backgrounds and of dissimilar abilities. But they cannot do much about the system, because in times of widespread mistrust of the privileged and powerful, results from such a single test are still seen as the fairest criterion for admission to a college.
As a compromise, public colleges are allowed to keep a small number of "reserved seats" for students who have not performed well in gaokao but have demonstrated talent in other fields such as art or sport. Unfortunately, the initiative has gone awry as colleges wallow in money, power and corruption, and trade the seats with the rich and powerful.
In recent years, the runaway increase in student enrollments and ever-rising demand of faculties to improve their livelihoods have prompted colleges to adopt an entrepreneurial approach to raise their revenues despite hefty increases in government spending on higher education.
While raising tuition fees is always difficult and marketing university services can be cumbersome, selling the "reserved seats" has proved a cost-efficient way of making a quick buck. In some universities, such income has become one of the main sources of funding staff welfare and school development.
The practice has encouraged corruption on college campuses as details of such deals are usually kept confidential, because college presidents have been given full power to decide whom to charge and how much. The differentiated pricing for clients of various political and economic standings has also spawned an army of brokers who profit by price mark-ups.
More significantly, the practice has shaken parents' confidence in the fairness of the gaokao system that is prized as one of the few avenues still open for children from low-income families to move up the social ladder.
While many high school seniors spend as much as a year to raise just a few points to surge ahead in the gaokao, those admitted to colleges because of their rich parents may have a score dozens of points lower than other freshmen. This has reinforced the growing suspicion that good Chinese universities have been increasingly favoring wealthy students with powerful connections.
Some critics are calling for making public the information on all students admitted through the "reserved seats" scheme, including their merits and the sums they paid.
This week, the government reiterated that the ban on the sale of "reserved seats" is still in force and that admission directors should sign a pledge of "zero" involvement in the practice.
But market-driven universities are good at skirting around government curbs. Perhaps the best way to meet public demand is to open the "reserved seats" to all applicants, until universities are ready not to turn the well-intentioned plan into a cash cow again.
The author is editor-at-large of China Daily. Contact the writer at dr.baiping@chinadaily.com.cn.