Right time for investment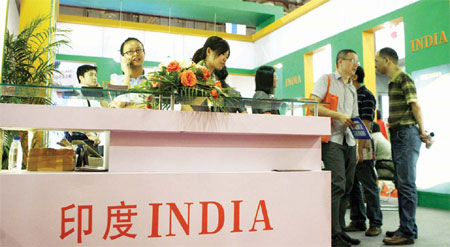 Above: Indian businesses have been steadily expanding in China over the years. Below: Madhav Sharma says more private and smaller Chinese companies are looking for business opportunities in India. Provided to China Daily
Opportunities for small, medium-sized companies from India and China to further cooperation
Slower growth in China and rigid regulations in India have not deterred businesses from both sides exploring investment opportunities in each other's markets, say experts.
A closer look at investment patterns over the years reveals that Indian businesses have been steadily expanding in China and are mostly centered in the Yangtze River Delta region. Chinese businesses, on the other hand, have made a slow start due to the rigid policies governing foreign investment in India.
Though most Indian investment in China still veers toward manufacturing, it is directed more at niche industries, rather than mainstream ones. While big Indian conglomerates such as the Tata Group spearheaded the first wave of investment, small and medium-sized Indian enterprises are now more active in China. The flow of investment has also become more widespread, encompassing more sectors and cities.
Finding "the right niche market" is the buzzword for Indian companies in China, says Madhav Sharma, China chief representative of the Confederation of Indian Industry.
Conducting feasibility studies, establishing representative offices and concentrating on niche markets is the strategy favored by most companies. To offset higher manufacturing costs in big cities, many Indian enterprises have also moved to smaller cities such as Jiaxing in Zhejiang province or Kunshan in Jiangsu province, he says.
Micromatic Machine Tools, a master of cylindrical grinders, is one of the Indian firms planning to expand in China. The company, which focuses on a niche market, plans to set up a new manufacturing unit in or around Shanghai to complement its existing unit in Jiaxing.
"We decided to go ahead with the new unit, despite the slowing economy in China and India, as we were convinced of the long-term growth potential in the Chinese market," says Raguramachandran C.R., general manager of Micromatic Machine Tools (Shanghai) Co.
Though the company is a dominant player in India with 50 percent share of the cylindrical grinder machine market, it considers itself a start-up company in China, as its revenues there are still meager.
"We plan to increase the number of local employees at our Chinese units to 35 by the end of the year, from 25 now," Raguramachandran says, adding that the challenge is to find qualified engineering talents with the right skills for making high-precision machine tools.
Several other Indian companies ranging from banks to pharmaceuticals have rolled out plans for either adding investment or expanding production capacity in China in the coming months, despite the slower pace of growth, Sharma says.
"Although China's economy is slowing, we are still seeing many Indian companies coming out with solid plans for expansion. China is no doubt, a huge market."
China's economic growth continued to slow in the second quarter to 7.5 percent, raising concerns that the country may miss its full-year growth target. However, experts maintain that China would still grow at a faster pace than India. Australian financial service group Macquarie and Japanese investment group Nomura recently cut India's full-year GDP growth forecast to lower than 5.3 percent.
Sharma, however, points out that Indian companies' competitive edge is in the services sector. More than 10 Indian banks already have a presence in China. The State Bank of India was the first Indian bank to get an operating license in China and has branches in Shanghai and Tianjin. The lender recently received approval to open a branch in Guangzhou, he says.
A growing number of companies in the IT-BPO (business process outsourcing) sector have also come out with plans to scale up in the coming months. Many Indian IT companies such as Infosys Technologies, Tata Consultancy Services, Wipro and NIIT have well-established operations in China.
Traditionally most of these companies came to China to better serve global companies based here and their Japanese clients, but have since grabbed an increasing share of the local market, Sharma says.
Apart from information technology and IT services, pharmaceuticals would be another success story for Indian companies. During Premier Li Keqiang's recent visit to India, a memorandum of understanding on pharmaceutical exports was signed between the two nations. The deal is expected to open up more opportunities for Indian pharmaceutical companies in China.
India has the world's third-largest pharmaceutical industry in terms of volume, and its pharmaceutical exports have enjoyed double-digit growth for several years. Pharmaceutical exports from India last year were around $14.59 billion.
Though many manufacturing and auto parts companies are keen on tapping the Chinese market, higher labor costs are a deterrent, Sharma says.
"If you look at the big picture, companies expanding into China also need to look into related costs such as sourcing of components, infrastructure and the supply chain," he says.
China's cumulative non-financial direct investment in India by the end of 2012 was $725 million, while India's non-financial investment in China was $486 million, according to the Chinese Ministry of Commerce.
"Though the Indian market has great potential, there are several difficulties in implementing business plans," says Ma Yu, a senior researcher at the Chinese Academy of International Trade and Economic Cooperation, a think tank for the ministry.
He says that factors such as an unstable investment environment, low productivity and poor infrastructure facilities hamper investment in India.
China's strengths in manufacturing are complementary to India's economic structure as India lacks an industrial system and supply chain for electronic manufacturing. However, companies such as Huawei and ZTE had to encounter business setbacks in India, Ma says. In contrast, many of the Indian IT projects in China are among the category for encouraging foreign investment and enjoy preferential treatment.
Last month, India approved a series of foreign direct investment proposals in areas such as telecommunications, petroleum refining, insurance and retail sectors to help boost its slowing economy and boost foreign investment.
"It is certainly good news. But policymakers must be consistent with their announcements. Investment policies should not be changed when the economy rebounds, as investors will lose confidence if there are frequent changes," Ma says.
"The new policy initiatives are a step toward further liberalizing the FDI in various sectors, and will help Chinese companies expand their footprints in areas where they find value propositions," Sharma says.
India needs investments in the infrastructure sector of close to $1 trillion in the next five years, while energy is another sector that offers great potential for Chinese companies.
Besides undertaking research on China to help Indian companies shape their participation in China, the Confederation of Indian Industry helps Chinese companies expand their presence in India. The forthcoming India Investment summit in New Delhi on October 30-31, will be an ideal platform for Chinese companies to tap investment opportunities in India, Sharma says.
Many large Chinese state-owned companies in machinery and infrastructure construction, such as the Sany Group, already have operations or projects in India, while the latest trend is for more private and smaller companies to look at India. These companies include Chinese real estate and financial companies, he says.