Qinghai monks preaching the dangers of TB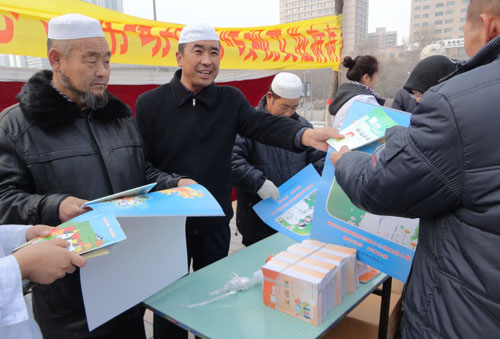 Health workers in Qinghai province distribute brochures to raise awareness of tuberculosis. Qinghai Center for Disease Prevention and Control / For China Daily
Project turns to religious groups to spread the word about disease
Choschok Rigzin, a doctor at the disease control and prevention center in Hainan, Qinghai province, travels hundreds of kilometers every year to 15 monasteries to teach tuberculosis intervention.
The prefecture has more than 450,000 residents. Nearly 70 percent are Tibetans and nearly 80 percent are farmers or herdsmen.
"They usually have little education, so they trust whatever local monasteries say," Choschok said.
Even today, some still go to fortune-telling monks before choosing a hospital to seek medical treatment, he said.
"So we decided to turn to religious groups to spread TB prevention," he noted.
TB is a contagious disease, which spreads through the air, but only those who are infected with pulmonary TB are infectious, according to the World Health Organization.
Left untreated, a sick person can infect on average up to 15 people each year.
In 2009 under a project funded by the US global pharmaceutical company Lilly, Choschok and colleagues began to visit the monasteries.
"We told them about TB," he recalled, "how the disease spreads and kills.
"Some, particularly those who lived far from town, were reluctant to talk, suspecting that we had another agenda," he said.
But a majority of people jumped at the idea to raise awareness as they have seen monks die from the illness.
To facilitate the campaign, lectures have been organized for selected monks at each monastery.
They teach simple facts such as early symptoms, how the disease is transferred, where to seek free screenings and treatment as well as preventative tips.
"Brochures in the Tibetan language have been printed and distributed at monasteries to help them better understand," he said.
So far, about 450 volunteers have been trained, said Cao Yanping, the TB specialist at the Qiabuqia township hospital.
There are six prevention and control facilities under the local Center for Disease Control, "which can hardly do the job, let alone the education and awareness raising", she said.
"We lack funding for that as well," she added.
In addition, local herdsmen move frequently and live far from each other and the township, so it is hard to reach out to them, Choschok pointed out.
A good time to reach out is when large monasteries hold religious events that attract tens of thousands of followers, he said.
Sometimes, monks spread information door to door when they are invited to give prayers at Tibetan households.
Such efforts have paid off as local TB cases have dropped below 60 for every 100,000 people, compared to 100 in every 100,000 in 2005, statistics from the Hainan Center for Disease Control showed.
At the moment, 5 million Chinese people suffer from tuberculosis on the mainland, ranking China second only after India for the most cases of the illness.
Cao's hospital currently has 19 confirmed TB patients receiving free treatment, she noted.
One female Tibetan patient, aged 50, has just recovered after six months of treatment.
"I took the medication and recovered," she said, adding that she learned of the disease from a monk.
Usually, the treatment lasts six months and taking the medication on schedule is important for a full recovery.
To ensure patients take drugs on time, doctors administer the drugs every day and night for the first two months, she said.
For the remaining four months, family members are trained to supervise them, she added.
Li Qingfang, a village doctor, created a medication timetable in a treatment manual for patients and their families.
"After taking their drugs, they have to mark the timetable," she said.
The manual also includes general information about the disease.
"We need to train people to prevent the infection of others - particularly their families - by wearing a mask for at least one month after treatment," Li noted.
Drug resistance
For common pulmonary TB, patients stop being contagious after two weeks of treatment.
However, the illness is sometimes resistant to treatment.
Multi-drug resistant TB is caused largely by inconsistent or partial treatment.
According to Choschok, two such cases were reported in 2012, and the patients were taken into direct care by the provincial Center for Disease Control.
In Qinghai province, only the provincial-level Center for Disease Control is capable of testing for multi-drug resistant TB, according to Zhu Zenghong, director of the local branch of the center.
Treatment for multi-drug resistant TB usually lasts two years and costs at least 50,000 yuan ($8,100) for the medication alone.
"But only half of patients have been cured," Zhu added.
Heavily burdened by rising multi-drug resistant TB, China now has nearly 120,000 new cases on the mainland each year, according to public health experts.
That accounts for 25 percent of the world's total each year.
"Multi-drug resistant TB needs more complicated diagnosis methods and longer and more expensive treatment - a huge economic and human resource loss," said Chen Mingting, deputy director of the National Center for Tuberculosis of the China Center for Disease Control.
With no effective intervention, the number of multi-drug resistant TB patients on the mainland is expected to reach 710,000 by the year 2020, costing more than 99 billion yuan in medical treatment, he said.
"That might upset social stability and harm the economic development of the nation," he warned.
In Qinghai, considering the living conditions of local herdsman, relatively poor health awareness, and limited medical resources of grassroots facilities, many TB sufferers might not be diagnosed in time or receive proper treatment, Zhu said.
"That might lead to a rising epidemic of multi-drug resistant TB, which costs both resources and a lot of money," he warned.