Hope of solar solution brightens horizon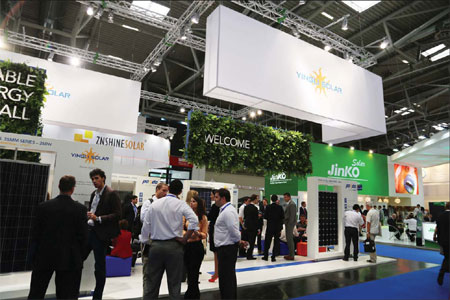 Visitors flock to the world's largest solar panel maker Yingli Solar's booth at Intersolar Europe trade show in Munich. Tuo Yannan / China Daily
Agreement expected on trade dispute but actions have already taken a toll on Chinese firms
Beijing and Brussels are expected to reach a compromise this week on the price of China's solar panel exports to Europe after two rounds of tough negotiations.
The talks have been held behind closed doors in both cities due to widespread concern over the general ramifications of an escalating trade dispute.
The dispute arose from a European Commission investigation into the alleged dumping of solar panels by Chinese companies, and a provisional tariff of 11.8 percent it imposed early last month on Chinese exports.
It did not matter that the majority of EU member states were opposed to Brussels' decision, fearing the deal would bring major job losses in the solar panel installations and electricity-generation sectors.
Depending on the response from Chinese solar companies - or, more likely, the outcome of the negotiations - the EC says it will consider raising the tariffs to 47.6 percent on August 6.
According to a source close to the high-pressure negotiations there is hope a solution will be found, as both sides wish to avoid a trade war.
Whatever happens, the EC's actions have already had a marked effect on the solar industry and changed the level of the playing field for European and Chinese companies.
The solar sectors are expecting solid results from the negotiating table, but the dispute has taken its toll, as was evident at the Intersolar Europe exhibition last month in Munich, the industry's main trade fair.
The shining examples of the Chinese solar industry have been truly dimmed.
A Korean company at the show sported the slogan "Anti-dumping free". Its stand was surrounded by Chinese enterprises.
One of them, Suntech Power Holdings Co Ltd, used to be the highlight of the trade show. Once the largest Chinese solar panel provider, it used to be hard for customers to find an available salesperson to talk to because its stand was so crowded.
This year it was a different story, its stand was quiet and had only a few people. Suntech was the first big Chinese solar panel company reported to have serious financial problems as a result of the EC investigation, and is now facing bankruptcy.
Yingli Green Energy Holding Co Ltd, the current leading solar panel maker in China and globally, had set up shop next to Suntech's. Compared with its competitor's desolation, Yingli's stand was full of people during the three days of the event.
Jerry Stokes, Suntech's first European employee, appointed seven years ago, was at the show - but this time representing his own company, Innotech Solar AS. Due to "construction adjustment from the Chinese headquarters", he left Suntech in March.
Stokes, a veteran of the industry, maintains many Chinese companies were doing well in the European market without government support.
But these were most likely to be big companies that had adjusted their sales expectations and strategies for the European market. Many small- and medium-sized Chinese companies were missing from their industry's biggest trade show this year.
According to a manager who has attended the trade show for many years, in 2009 about 600 companies from China took part. This year there were about 200 due, it is believed, to the EC investigation and anti-dumping tariffs.
"Overall, the duties will range from 37.2 to 67.9 percent. Those Chinese companies which have cooperated will face lower tariffs. Those which have not cooperated will face higher tariffs," European Trade Commissioner Karel De Gucht has warned.
Most Chinese solar panel companies have encountered difficulties doing business in the European market since the investigation began last October. Some reduced their stand area at Intersolar Europe following the EC's announcement.
"If the EU imposes the anti-dumping taxes on Chinese companies, most of our export companies will not be able to sell a single product there," says Wang Donghong, publicity officer at Jingwei Electronic Material, which was absent from the trade show this year.
Although its stand was still attracting many customers, Yingli has lowered its sales target in Europe from 60 percent of global sales revenue last year to 40 percent this year.
"Our total shipment is still to increase this year, but we will cater for our domestic market to absorb about 20 percent," says Fan Zhenhua, Yingli's director of legal affairs.
He says the European market will shrink this year, whereas demand in China is increasing.
Many other Chinese solar panel companies are also retreating from the European market and turning to others, including Japan, South Africa and the domestic market.
Another top-10 company, JA Solar, says it will lower its sales target in Europe and place greater emphasis on Japan.
Fu Shengui, marketing department senior manager of JA Solar, says although the company will increase production this year, it will no longer expect the European market to drive sales.
In March, the top three Chinese solar companies signed a cooperation deal with Siemens for five projects in Israel - three in the Arava Desert and two in the Negev Desert.
Shanghai-based JinKo Solar Co Ltd's global branding director Dany Qian says that the European market accounted for about 40 percent of the company's sales revenue last year. This year, because of the EU tariff, it has only set a 20 percent sales target. She says JinKo will embrace the South Africa market instead.
"Last year, our domestic market accounted for about 40 percent of our global sales revenue," she adds. "This year we will increase it to 50 percent, and will also place greater emphasis on the Japanese and Indian markets."
Shanghai Aerospace Automobile Electromechanical Co Ltd, a state-owned company ranked among the top 10 in China, started producing solar panels in 2000, one of the first group PV producers in China.
In 2009, about 90 percent its sales revenue came from the European market. This dropped to 40 percent in 2012 and it will be even smaller this year.
Before the EC investigation, the company had six employees in Germany. Now it has two. It also decided to cut its exhibition area at Intersolar Europe by one-third a few days before the trade show.
Wang Pengzhao, finance manager at Guigu Solar Co, says with low profit margins solar product companies are not able to afford high taxes. If the EC decided to impose the 47.6 percent tariff on August 6, it would mean an end of exports to Europe, Wang says.
Chinese Ministry of Commerce spokesman Shen Danyang says the imposition of a temporary tariff for two months indicates the dispute between China and the EU is open to being solved through negotiation.
Shen also maintains that Chinese solar products are less expensive because of cheaper raw materials and Chinese technological improvements, not because of the so-called dumping subsidy.
Andrea Maibaum, spokeswoman for the Alliance for Affordable Solar Energy, says independent economic research has concluded that duties of 20 percent would cost the European economy up to 175,500 jobs and 18.4 billion euros over the next three years.
Now that the price of Chinese products is only few cents less than German products, many European customers have decided to turn to domestic suppliers.
Last year, German companies held the largest share of the European market at about 33.4 percent, says Markus Elsasser, the founder and CEO of Solar Promotio.
However, many German enterprises are against the tariff.
"It reduces competitiveness in the market which in the end will result in higher costs for a sustainable energy supply in Europe. The European solar industry needs competition in order to create value," says Dennis Gieselaar, managing director of Oskomera Solar Power Solutions BV.
Zheng Jinran contributed to this story.