Snowden seeks temporary asylum in Russia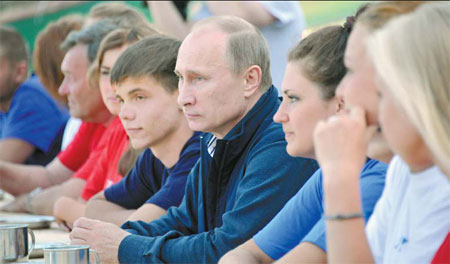 Russia's President Vladimir Putin meets with students on Gogland Island in the Gulf of Finland in the Baltic Sea on Monday. Putin said Russia had told Edward Snowden, the former US spy agency contractor, who leaked secrets, that Russia would not damage its ties with the United States for his sake. Reuters
Putin says US responsible for intelligence leaker being trapped in Moscow airport
Former US spy agency contractor Edward Snowden, who is wanted in the United States on espionage charges, has requested temporary asylum in Russia, a Russian lawyer said on Tuesday.
Snowden, who revealed details of US government surveillance programs, has been stranded at a Moscow airport since June 23. Lawyer Anatoly Kucherena confirmed Snowden had filed an application for temporary asylum, although the American has said he wants eventually to travel to Latin America.
On Monday, Russian President Vladimir Putin accused the United States of trapping Snowden in Moscow, saying he would leave Russia as soon as possible.
"As soon as there's the chance to move somewhere he will certainly do this," Putin said in his first public remarks since Snowden summoned several rights activists and lawyers for a dramatic meeting on Friday at Sheremetyevo airport.
Putin accused Washington of preventing Snowden from leaving Russia after the fugitive ex-intelligence analyst arrived from Hong Kong on June 23.
"He arrived on our territory uninvited, he did not fly to us, he was flying in transit to other countries," Putin said in televised remarks.
"But as soon as he was in the air, it became known, and our American partners essentially blocked off his further flight."
Washington has revoked Snowden's passport and wants him extradited to the United States to face espionage charges.
Snowden was checked in for a flight from Moscow to Havana, Cuba, on June 24 but never boarded the plane.
"They themselves scared off all the other countries, no one wants to take him, and therefore they essentially themselves trapped him on our territory," Putin said.
"A nice gift to us for Christmas," the president was quoted as saying by Russian reporters traveling with him on a visit to the island of Gogland in the Gulf of Finland.
Asked what will happen to Snowden, Putin said: "How would I know? That's his life, his fate."
The Russian president conspicuously refrained from indicating if or when he might grant asylum to the world's most famous fugitive.
Putin said earlier this month that Snowden could claim asylum in Russia only if he stopped his leaks.
The condition initially prompted Snowden to withdraw his application, before the rights activists who met him on Friday said he had promised not to harm US interests in the future.
Putin, who is set to host US President Barack Obama for a bilateral summit in Moscow followed by the G20 summit in Saint Petersburg in early September, reiterated Russia's refusal to damage ties with Washington for Snowden's sake.
Putin said Russia had told Snowden: "We have certain ties with the United States. We do not want you through your activity to damage our ties with the States."
"He said 'no'. You are laughing but I am serious," added Putin, addressing a group of students.
"We said: 'That will be without us, then. We have other battles to fight,'" he said with a smile.
Snowden, whose passport has been revoked by Washington, has been marooned in the airport's transit zone for the past three weeks.
Washington has reacted sharply to the possibility that Moscow might offer Snowden a safe haven and accused it of providing him a "propaganda platform".
AFP-Reuters