Rape victim's mother wins appeal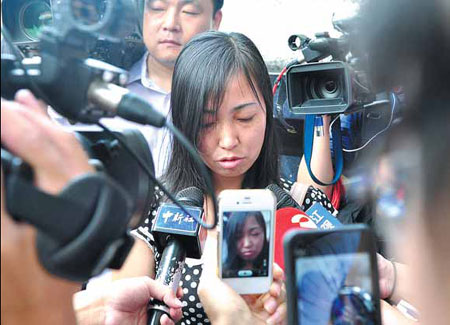 Tang Hui is surrounded by the media after winning the lawsuit at Hunan Provincial High People's Court in Changsha, capital of Hunan province, on Monday. Lei Xiaoshan / for China Daily
Ruling may signal change to system, say experts
For Tang Hui, who was once put behind bars under the controversial re-education through labor system, the ruling by a Hunan court on Monday is a case of justice done.
But some lawyers and legal experts believe the decision signals that the controversial penalty system, in place since 1957 and commonly known as laojiao, which can confine people for up to four years without an open trial, is coming to an end.
Tang, a former laojiao inmate and mother of a rape victim, won a lawsuit at Hunan Provincial High People's Court, which ruled that local laojiao authorities in Yongzhou city pay her 1,641.15 yuan ($267.20) in compensation for their "inappropriate" decision to put her in a labor camp. She was awarded another 1,000 yuan to compensate her for "mental injury".
But Tang's request for a written apology from the local laojiao authorities was turned down because they had already made a verbal apology to her, according to the court.
On hearing the court's decision, 40-year-old Tang burst into tears. "This is a ruling that I've longed for and I got a feeling yesterday (Sunday) that I would win," she said.
"Although it is a small sum of money, it means a lot to my family. From now on, I will try to get back to having a normal life. I can finally put behind me what has haunted me for so long."
Tang was sentenced to 18 months in a labor camp by the local laojiao commission in August 2012 for her "relentless" petitioning over her daughter's rape case.
She "seriously disrupted social order", according to a decision made by the commission. Tang was released after nine days, during which her sentence sparked intense criticism nationwide.
Tang was petitioning for her daughter, who was kidnapped, raped and forced into prostitution in October 2006, when she was 11. Hunan Provincial High People's Court sentenced two of the girl's kidnappers to death, four others to life imprisonment and another one to 15 years in prison. But Tang demanded death sentences for all of them.
Jiang Jianxiang, head of Yongzhou laojiao commission, told Beijing News on Monday the commission will accept the ruling and learn lessons from Tang's case.
Pu Zhiqiang, one of Tang's lawyers, said the ruling is a remedy for the family to some degree.
But Pu said it will take time and be painful for Tang and her daughter to recover from the mental trauma that the case has brought them. "I hope the public can continue to support them as they did before," he said.
Pu described the court's ruling as a remarkable step taken by the legal authorities in response to public anticipation for reform of the laojiao system, which he expects to be abolished this year.
"I hope the ruling can set a precedent for similar cases and accelerate the pace for changing the system."
Premier Li Keqiang pledged in March to work out a reform plan for the laojiao system this year. A draft law on the correction of illegal behavior, which may put an end to laojiao, has been under discussion for years at the National People's Congress, China's top legislature.
Wang Gongyi, former director of the Ministry of Justice's research office, said the government has been determined to reform the system, but this has to be conducted in a safe and feasible way.
"The most pragmatic way to reform the system is not to abolish it entirely, but to regulate its approval and implementation procedures, since laojiao is still needed in China."
Wang said about 50,000 inmates were imprisoned under laojiao in China in 2012, most of them juvenile delinquents and repeat offenders whose illegal behavior did not constitute a crime.
"Community correction may be a substitute to punish them, but that is only possible when these inmates do not pose a danger to the local community."
Wang said the relevant departments are still divided over how to carry out the reform, but discussion has started, which is a good sign.
"I believe a decision will be made soon," he said.