Survey: Market power moving inland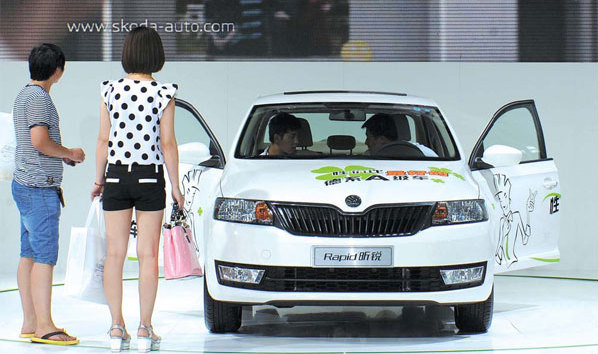 Women car buyers are on the rise in China. Their top preferences in a buying decision are safety, comfort and style, according to a recent survey. Pan Yulong / Xinhua
Lower-tier cities are now home to the majority of potential new car buyers
As markets in first-tier cities slow in the wake of policies to ease environmental and traffic impacts, first-time buyers in lower-tier cities will be the major force driving the automobile industry's future growth, said a joint report released last week by research company Nielsen Holdings NV and the China Association of Automobile Manufacturers.
Compact car and SUV segments will take the lead, said the report.
Based on a nationwide survey of consumers in cities across the country, the report found that 68 percent of China's potential car buyers in the next 12 months will come from third- and fourth-tier cities. Of the potential buyers, 56 percent would be first-time owners.
"Due to the continuing urbanization and the overall improvements in living standards, the purchasing power of consumers in third- and fourth-tier cities is further strengthened," said Dong Yang, executive vice-chairman and secretary-general of CAAM.
"The major demand for passenger cars is moving from coastal areas to central and western China, and to lower-tier cities."
Shi Jianhua, deputy secretary-general of the association, said that eight more cities are considering curbs on new car purchases following restrictions in Beijing, Shanghai, Guangzhou and Guiyang.
If implemented, the new restrictions could cut vehicle sales by 25 percent in cities including Tianjin, Chongqing, Chengdu, Hangzhou, Shenzhen, Qingdao, Shijiazhuang and Wuhan. That would result in 400,000 fewer cars sold, equivalent to 2 percent of total domestic sales, and have a "certain impact" on overall economic growth, said Shi.
Price range
But the move in demand to smaller cities also means concerns over price, the report found. Nearly 60 percent of potential buyers in third- and fourth-tier cities plan to buy a car with a price tag below 120,000 yuan ($19,672). One-third have a budget between 80,000 and 120,000 yuan, said the report.
Utility stands out among lower-tier consumers, who rank fuel efficiency, safety and quality at the top their needs. Comfort, brand reputation and extra features carried much less weight for them.
The report found fewer potential buyers in first- and second-tier cities - some 23 percent of the total nationwide - as many already own private cars.
But higher-tier markets are vital. Among the 23 percent of reported potential buyers, 65 percent said they want to replace their current vehicle or buy an additional car.
The research also showed higher-priced sedans and SUVs are the most desired models in higher-tier cities.
"Cars with advanced powertrain technology and smart features are likely to win over more consumers in this highly competitive market" in large cities, said Alice Yu, vice-president of Nielsen China.
But "the great importance of first-time buyers in lower-tier cities means the compact car sector should be another focus for automakers to expand their market share", added Yu.
Women drivers
The report also found that from the first quarter of 2009 to the first three months in 2013, the purchase intention by women increased dramatically.
Male consumers want high-performance, well-equipped cars with sophisticated handling, but female consumers are quite different - their car has to be safe, comfortable and stylish. Personal leisure and family life are major purchase motivations.
The report also found that female consumers prefer hatchbacks over sedans and women also pay more attention to product quality, price, comfort and after-sales services than men.
Half of car owners in China today were born after 1970, a percentage that will further increase, the report found. Some 32 percent of those born after that date and 34 percent born after 1980 say they are planning to buy a car in the next 12 months.
Different generations claim different pursuits in car ownership. Instead of perceiving cars as a symbol of social status as did their predecessors, younger consumers regard cars as a "tool for their social life" and independence, the report said
Some one-third of young consumers prefer a car priced between 80,000 and 120,000 yuan. The hatchback is their favorite body style, followed by sedans and SUVs.
"If more investment is made to further develop technologies for a compact car priced between 80,000 and 180,000 yuan to make them even more safe, comfortable and entertaining, and then mix in more personalized designs, automakers have a bigger chance to win the hearts of more and more young consumers," Yu said.