Finding turtle heaven in Thailand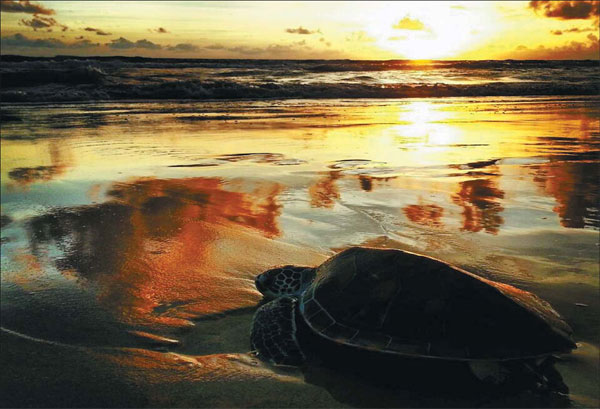 A turtle makes its way into the sea during the "golden hour". Photos by Mark Hughes / China Daily
An exotic resort does more than please the minds and souls of its human visitors. It's also a sanctuary for turtles, as Mark Hughes discovers.
On Phuket's 13-kilometer Thai Muang Beach, part of one of many Thai national parks, the young leatherback turtle stands stock still, wearing that blank look his species has perfected over 90 million years of evolution. But there is another, more prosaic reason for his apparent bewilderment. It was the first time he had actually seen the sea, which would become his home for hopefully scores of years to come. Let's call him Terry. Terry has hatched at Phang Nga Coastal Fisheries Research and Development Center, a sanctuary for turtles, sponsored in part by Akaryn Hospitality and Management Services, which owns and manages four boutique hotels in Thailand.
All are set on pristine beaches and employ the concept of "barefoot luxury", which, in my experience, involved superb but not over-attentive service, great food at all hours, fantastic accommodation in a wonderful environment offering the opportunity to do nothing or lots all day long.
My magnificent beachside villa, part of AHMS' Aleenta Resort and Spa, Phuket-Phang-Na, has its own pool, a huge, open-plan lounge, verandahs, a garden and immediate access to a remote, pristine sandy beach kissing the warm waters of the Andaman Sea.
It could sleep 11, although I am sharing with just two journalist colleagues from Hong Kong. We have our own butler, full maid service and access to a chauffeur-driven BMW 24 hours a day.
I guess that is what AHMS' founder, owner, visionary and managing director Anchalika Kijkanakorn, a Thai-born Chinese businesswoman, means by "barefoot luxury". Even had we worn shoes, someone would probably have arrived to lace them. Anyway, back to Terry and two of his fellow sanctuary survivors. They eventually overcome their apprehension of entering the sea at what the locals call magic hour. (It's what I call cocktail hour - not much difference, really.)
They head out to open waters and self-subsistence with our best wishes, while we return to a course in DIY cocktail-making, advised by Aleenta's knowledgeable staff as the sun sets majestically over the horizon.
The beach is still used by turtles to lay their eggs, but in far fewer numbers than before. Of the four species local to the area, all are endangered.
The months of December and February are the best time to see turtles, usually after 10 pm. The services of a local warden can be arranged by hotel staff, who will be able to guide you safely to the most likely turtle-nesting site. They are also there to protect recently discovered nests and laying adults from human interference.
One can also visit the Phang Nga Coastal Fisheries Research and Development Center, a short BMW drive from the hotel, free of charge at any time.
It houses recently hatched baby turtles, breeding-age adults and injured and rehabilitated turtles, many of which are there after being hit by a boat or being caught in fishing nets. There are also thousands of tropical fish, including that animation favorite: Nemo, the clown fish.
Conservation and barefoot luxury are what distinguishes Kijkanakorn's business model. "Why? Self-preservation and self-interest," she says. "Whenever we look for a business I look for the most pristine location. When I go there I do not want to be the cause of trouble. I want to preserve it. But I realized very quickly I can't do it alone.
"So I need a voice or a mascot, which I found in the turtles to help make everybody understand the need to preserve nature," she says. "If you destroy what you make a living out of, you are not going to have a place to make a living out of. We have turtles laying eggs on the beach. It is an important attraction."
AHMS hotels doubled in size in 2012 after Kijkanakorn added Akaryn Samui Resort and Spa as well as Akyra Chura Samui to the portfolio, to complement Aleenta Resort and Spa Phuket-Phang Nga and Aleenta Resort and Spa Hua Hin-Pranburi - the first resort she launched on the site of her family's original beach home in 2003.
The AHMS flagship boutique resort, Akaryn Samui Resort and Spa, located at private and secluded Hanuman Bay, picked up Best New Luxury Hotel at the 2012 World Luxury Hotel Awards, as well as making it on to DestinAsian magazine's coveted Luxe List less than a year after welcoming its first guests.
The busy 42-year-old mother of two children aged 3 and 4 found time to launch the Pure Blue Foundation, dedicated to marine conservation. That includes regeneration of damaged coral reefs, working with endangered sea turtles, and educating communities on how to protect their natural resources.
Akaryn Koh Krabeay Retreat and Spa, a resort she plans to open in 2015 on the Cambodian island of Koh Krabeay, will feature cutting-edge anti-aging treatments, advanced meditation and yoga, and the latest thinking on harmonious living in nature.
It will offer an ultra-exclusive spa retreat with sustainability and environmental preservation as its watchwords - on an emerald island accessible from the town of Sihanoukville by luxury speedboat.
"Guests will be given all the tools in the organic arsenal, the finest technology will be deployed and we will have the absolute state-of-the-art in terms of weight loss, weight control and reaching your body's desired equilibrium."
But will it have chauffeur-driven BMWs? I shall have to wait to find out. But it seems like something worth waiting for.
Contact the writer at sundayed@chinadaily.com.cn.