Easing the way for car sharing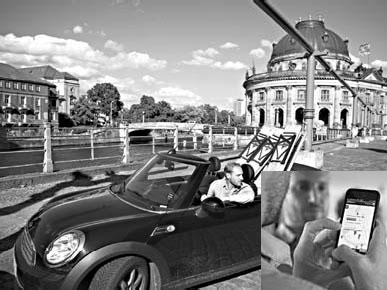 Smartphone apps can find free-floating cars, which have no particular home. Right, a DriveNow car. Photographs by Gordon Welters for The New York Times
BERLIN - Marc Clemens gave up owning a car a year and a half ago. When he wants to drive to work, he checks his smartphone to see where a particular BMW, Smart car or Mini is parked and takes it.
Once he gets to his destination, Mr. Clemens parks the car on the street and forgets about it.
He uses two car-sharing services, DriveNow and Car2Go. "I use this three to four times a day," he said. "To get to work, for business meetings, going out to a bar. I like it because it's one-way."
Car sharing has been around for decades in Europe and has caught on in the United States with Zipcar. These station-based services require members to pick up vehicles from a particular place. Users usually need to reserve a car for prearranged, prepaid blocks of time and have to return it to the same place.
Berlin, though, has become the largest one-way, car-sharing city in the world. One-way or free-floating services use GPS and smartphone apps. Cars are parked on city streets, and users leave the cars wherever they find parking. They are charged for the amount of time they drive.
Since the first commercial one-way, car-sharing systems started in Germany two years ago, 183,000 people have signed up, according to Bundesverband CarSharing. Many long-established car-sharing systems in Germany have 262,000 members. Car2Go has started service in 11 American cities.
"It's going to alter what car sharing is," said Susan Shaheen, co-director of the Transportation Sustainability Research Center at the University of California, Berkeley. "We didn't have the technology to do this in the '90s."
Two of Germany's biggest automakers are squarely behind the idea. DriveNow is a joint venture of BMW and the car rental company Sixt, and Car2Go is a subsidiary of Daimler.
"We grew up having everything; maybe our parents had two cars. And now, with the current generation, there's a trend toward shared economies," said Michael Fischer, a spokesman for DriveNow in Germany. "As a car manufacturer, do you want to lose this group? Or offer them something? Because, apparently, you cannot sell to them."
Car2Go, which uses Daimler's Smart cars, pioneered the one-way model with a pilot project in Ulm, Germany, in 2009. Now in 21 cities, Car2Go puts its worldwide membership at 400,000. DriveNow's fleet is made up of Minis and other BMWs.
A short trip should cost less than taxi fare. DriveNow costs about $39 to register and 32 to 46 cents a minute to drive. The Car2Go registration is about $27 and it costs 39 cents a minute to drive.
One-way car sharers tend to be about 30 years old, male and technophiles. But both Car2Go and DriveNow report that the longer they are in a city, the more women and older people join.
Christoph Menzel, a professor with the Institute for Traffic Management at the Ostfalia University of Applied Sciences, predicts that the market for free-floating cars will soon explode, but he has doubts about profitability. "It's working well for the people using it," he said. "But the concern is that companies' costs are higher than benefits."
Car2Go says four cities are profitable so far. "We want to make money," said Andreas Leo, a company spokesman.
In Berlin, some are concerned that the new type of car-sharing will encourage people to drive rather than walk or use buses, subways or bicycles. "Environmentally speaking, that would be a step backward," said Gabi Lambrecht, a spokeswoman for Bundesverband CarSharing.
Kathrin Ilic signed up for a Car2Go membership in June. She said she would use the service to take her daughter to visit a friend on the other side of the city. "I have to transfer three times using public transportation," said Ms. Ilic. "My little mouse is 5, and with all the toys and the blankets, it would be nice to have a car."
The New York Times