Turkish cuisine to delight your palate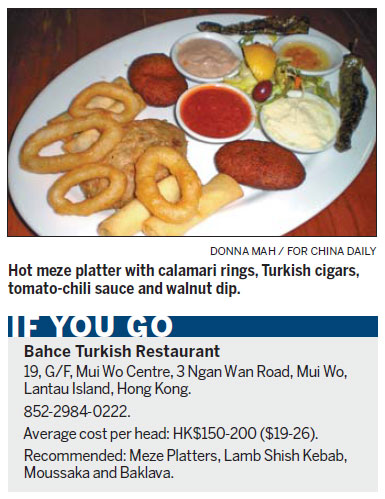 Grilled meat on skewers, various vegetarian dips with soft, warm flat bread, and small cups of very strong coffee. This is what comes to my mind when I think of Turkish food. Obviously I don't know a lot about this cuisine.
Having said that, I decided to do a bit of reading about Turkish food and went to check out the Turkish restaurant located on Lantau Island in Mui Wo.
Bahce Turkish Restaurant opened its doors about a decade ago in this quiet island retreat and is managed by Sertug Gunal, from Turkey.
Nowadays, with the growing expatriate population on Lantau, you'll find the tables along the sidewalk filled with diners from all over the world enjoying the hot and cold meze platters, the generous skewers of grilled lamb, beef, and chicken, and ice cold beers.
Gunal, who is a tourism and hotel management graduate, says the first few years were tough, but business has picked up in the last few years. Bahce has become a favorite meeting spot for residents as well as a popular destination for visitors out for a hike on the island or from Discovery Bay.
Though the restaurant is not on the beach, the friendly service and relaxed vibe makes it feel very much like a beachside restaurant and bar. Family-friendly with a children's menu selection and paper and crayons for them to color with, it is also a good spot for a family meal.
While you can choose to order from the list of cold and hot mezes, Bahce also offers cold (HK$112; $14.44), hot (HK$132), and mixed (HK$122) meze platters.
Dolma (vine leaves filled with rice with herbs, pine nuts and raisins), hummus, Gunal's father's recipe for eggplant dip, kisir (made with bulgur wheat, parsley, and tomato paste), calamari rings, cigarette boret (feta cheese and parsley spring rolls), Turkish cigars (spring rolls stuffed with minced lamb and pine nuts), chili peppers, and green beans are just a few of the mezes prepared here. Prices for individual dishes range from HK$42 to 88.
While an entire meal can be made up of the mezes alone, some of the main dishes served here are worth a try.
The grilled kebab skewers are a good size and come with salad, tomato-chili sauce, pita bread or Turkish pilau rice, and a dip (hummus, babaganoush, or Gunal's father's eggplant recipe). The lamb shish kebab (HK$145) is tender, and well seasoned with grilled vegetables on the long metal skewer. Chicken (HK$132), fish (HK$138), and beef kofte (HK$128) are also offered, but our favorite was the lamb.
The moussaka (HK$108) served at Bahce is made with minced beef, eggplant, peppers, onion and potato, topped with bechamel sauce and grated cheese, and baked until golden brown. Served with a choice of Turkish pilau rice or french fries, this is a great dish to order if you crave comfort food.
The moussaka comes with a dish of tomato-chili sauce for dipping as well. A vegetarian version made with lentils and kidney beans is also available.
End your meal with a creamy Turkish rice pudding (HK$30), flaky, honey-flavored baklava (HK$60), or light Turkish delight (HK$30) and a strong Turkish coffee. Ice cream by the scoop is also available.
sundayed.chinadaily.com.cn
(China Daily 07/13/2013 page12)