Snowden mulls Russia asylum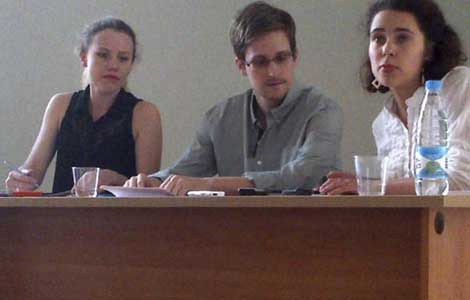 Former intelligence agency contractor Edward Snowden (right) and Sarah Harrison of WikiLeaks speak to human rights representatives in Moscow's Sheremetyevo Airport on Friday. Snowden is seeking temporary asylum in Russia and plans to go to Latin America eventually, an organization endorsed by anti-secrecy group Wikileaks said on Twitter on Friday. Human Rights Watch via Reuters
Former intelligence agency contractor Edward Snowden will seek temporary political asylum in Russia, according to human rights groups that met him on Friday.
The Kremlin told Snowden, who has been on the run since disclosing details of United States electronic surveillance programs, that he should refrain from criticizing the US if he wants refuge in Russia.
Participants in a meeting with human rights groups at Moscow's Sheremetyevo Airport, where he has been stranded in the transit area since June 23, said Snowden would seek to travel on to Latin America.
"Snowden is serious about obtaining political asylum in the Russian Federation," said Vyacheslav Nikonov, a pro-Kremlin lawmaker who attended the meeting.
President Vladimir Putin's spokesman repeated earlier conditions that Snowden should stop harming the interests of the US if he wants asylum.
"We need to check this information, but as far as we know, he considers himself a defender of human rights and a campaigner for democratic ideals," said spokesman Dmitry Pesko.
Nikonov said that this message had got through.
"He said it would be easy for him to fulfil this requirement," Nikonov told reporters. He added that Snowden did not consider his actions to be harmful to his country.
Peskov said he was unaware of a formal request for political asylum from Snowden. Separately, a Russian official said Snowden was expected to submit one.
A grainy picture of Snowden taken by one participant, with legal assistant Sarah Harrison to his right side, soon surfaced on social media and news sites. He wore a grey jacket and looked in good health.
Snowden, 30, had not been seen in public since his arrival, and Russian officials have shown increasing impatience over his stay. But it has also become clear that Snowden has no clear route to a safe haven from Moscow.
Venezuela, Bolivia and Nicaragua have offered Snowden asylum, but he has not revealed his plans.
Washington, which seeks to arrest Snowden on charges of espionage in divulging details of secret US surveillance programs, has revoked Snowden's passport and pressed nations not to take him in or help him travel.
"In recent weeks we have witnessed an unlawful campaign by officials in the US government to deny my right to seek and enjoy this asylum under Article 14 of the Universal Declaration of Human Rights," he wrote earlier to the rights groups.
Reuters-AFP