US, China hopeful of BIT after talks reignited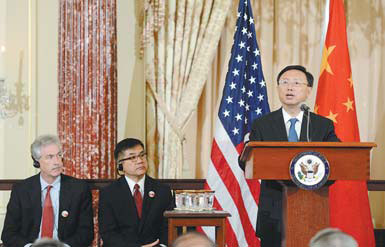 US Deputy Secretary of State William Burns (left) and US Ambassador to China Gary Locke (center) listen to China's State Councilor Yang Jiechi at the State Department. Wang Lei / Xinhua
If Chinese and United States leaders hammer out and agree on their long-discussed investment treaty, Chinese officials and observers believe the deal will further encourage Chinese outbound investment in the US.
With Chinese outbound direct investment rising dramatically, leaders from both nations reignited negotiations on the Bilateral Investment Treaty at the just-concluded China-US Strategic and Economic Dialogue in Washington.
"The two sides agreed to enter a more substantive stage of negotiation as soon as possible," said Chinese Minister of Commerce Gao Hucheng on Thursday in Washington.
Talks on a BIT have gone through nine rounds of preliminary discussions between the two countries, drawing a great deal of attention from business communities in both China and the US. Gao described the previous talks on a BIT as "technical negotiations" that laid a foundation for more substantive talks.
China was the world's third-largest outbound investor last year. Its direct investment into the US reached $20 billion, compared to $70 billion in US direct investment within China. In recent years, Chinese outbound investment has been rapidly growing.
"This requires us to establish a better legal framework with our partners that will better protect the interests of Chinese investors," Gao said.
He predicted that in the next three to five years, the amount of Chinese outbound investments will exceed US investments into China.
Gao said leaders stepped up negotiations on a BIT as a result of the consensus reached a month ago by Chinese President Xi Jinping and US President Barack Obama in Sunnylands, California.
He said investment is an important part of the China-US economic and trade relationship.
"It requires creative thinking to build a cooperative and mutually beneficial environment," he said.
A senior official from the US Treasury Department hailed the discussion on the BIT at the S&ED, applauding some of the concessions from China, especially involving the service sector.
"A high-standard US-China BIT is a priority for the US and would work to level the playing field for American workers and businesses by opening markets for fair competition," said US Treasury Secretary Jack Lew in a statement on Thursday afternoon.
Orville Schell, director of the Center on US-China Relations at the Asia Society, said if the two countries are serious about cementing better relations, it is essential that Chinese FDI in the US be explicitly welcomed.
"By helping the US to capture more of the significant new investment capital now starting to seek exit from China, a US-China BIT would serve a critical purpose. One can only hope the treaty will find early agreement and lead to a more cooperative atmosphere that enables other more intractable, but even more important, bilateral issues to resolutions," Schell said.
While the US claims it offers the most open environment for foreign investors, many Chinese feel that Chinese FDI within the US has been unjustly targeted.
Besides a possible BIT, a wide range of economic and trade issues were discussed over the two-day S&ED. China raised its concerns over US restrictions on high-tech exports to China and the US' review process of Chinese FDI into the US. Both sides also discussed trade protectionism.