Urges on monetary loosening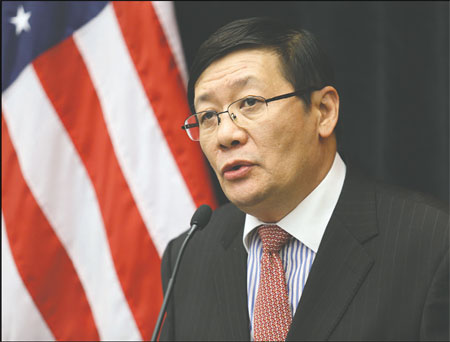 Lou Jiwei, Chinese finance minister, speaks on Thursday in Washington. Sun Chenbei / China Daily
China's Finance Minister Lou Jiwei cautioned the US Federal Reserve to beware of risks to the global financial system as the central bank considers quitting its loose-money policy, saying his country supports the plan but takes no position on when it should be implemented.
"We support the considerations of the Fed of its QE exit, but we should pay high attention to the impact of its policy on the international financial system, and properly handle the timing, tempo and intensity of its QE monetary-policy exit and guard against the possible financial risks," Lou told reporters on Thursday during the fifth US-China Strategic and Economic Dialogue in Washington.
"The monetary policy of the United States does not exert impact only on itself, but also has a spillover effect on the global economy," he said.
The minister said China's leadership supports plans by the Fed to end its stimulative bond-buying policy known as quantitative easing, or QE, as conditions allow. He also expressed Beijing's view that although the Fed will exit QE "sooner or later", the Chinese government would find it difficult "to make a specific comment" as to the timing.
"But if measured by the unemployment rate, which is 7.6 percent, probably it is an earlier exit," Lou said.
He pointed out that developing countries would likely be worst hit by volatility once a wind-down of QE occurs. Economists say slower growth, exchange-rate volatility and tighter credit caused by investors directing capital to US markets in anticipation of bigger returns from interest-rate increases.
"The impact on China is not very serious," Lou said, explaining that risk from a QE pullback is limited because the country's capital account - the difference between inbound and outbound spending flows - "has not been fully liberalized" and remains largely closed to the free movement of capital across borders.
Fed Chairman Ben Bernanke, who during this week's S&ED met with Chinese central bank officials, told a conference of American economists on Wednesday that QE was here to stay for the foreseeable future. He said a "highly accommodative monetary policy for the foreseeable future" would be needed even after the US unemployment rate reaches 6.5 percent.
Regarding China's economy, Lou said government data on GDP that's set for release on Monday will likely show growth during the first half of this year was "slightly lower" than the 7.7 percent recorded for the first quarter. Chinese GDP increased 7.8 in 2012, and this year's target is 7.0 percent amid continuation of reforms meant to make the economy more reliant on consumption than on exports and investment.
Slower-paced growth "is a necessary phenomenon from restructuring, though there will be no possibility of a 'hard landing'", Lou said, referring to a severe growth slowdown that pushes an economy into recession.
"Structural reform is paying off", the minister added, with consumption and service-sector output both contributing more as percentages of GDP.
Also Thursday, toward the end of the two-day S&ED, Yi Gang, vice-governor of the People's Bank of China, echoed Lou's reassurances about limited impact on the country from an end to the Fed's loose monetary policy.
"We are fully prepared for these kind of risks. China has abundant liquidity and a high reserve-requirement ratio [for banks' short-term lending], so we have an adequate buffer to tackle such challenges," Yi said. "We will take the necessary measures to ensure that there is adequate liquidity in the money market and to maintain stability."
Both Lou and Yi said their discussions with US counterparts at the S&ED this week focused on cooperation and coordination on macroeconomic policies, structural reforms and governance of global economic bodies such as the Group of 20.
"In face of the complex and severe global economic situation, the two sides agreed to strengthen coordination and communication on macroeconomic policy while promoting their respective reform and development," Lou told reporters. "They agreed to promote international cooperation and make their contributions to global economic recovery and growth."
The world's largest and second-largest economies, he said, "should first and foremost well-manage their respective economic reform and development agenda, and play their due role in global economic recovery and growth. Europe should continue to promote its integration process; Japan should make a determination to accelerate economic restructuring. The US economy continues to maintain positive growth, which is good news to the world economy."
josephboris@chinadailyusa.com