Nuclear plants request restart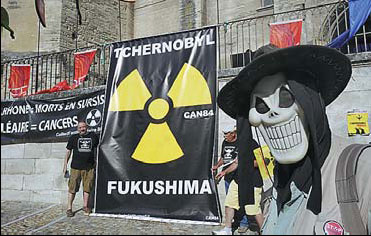 Activists demonstrate on Sunday in Avignon, France, to protest against nuclear projects. Boris Horvat / Agence France-Presse
Japanese nuclear operators applied on Monday to restart reactors under new rules drawn up after the Fukushima disaster, but early approval is unlikely as a more independent regulator strives to show a skeptical public it is serious about safety.
The ruling Liberal Democratic Party of Japan and the utilities are eager to get reactors running again, with Prime Minister Shizo Abe singling out reining in soaring fuel costs as a key part of his economic reform plans.
But the pro-nuclear LDP has to tread carefully to avoid compromising the independence of the new regulator, which is battling to build credibility with a public whose faith in nuclear power was damaged after meltdowns at Tokyo Electric Power Co's Fukushima Daiichi station.
The Nuclear Regulation Authority has said it will take at least six months to review nuclear units, after which the consent of communities hosting reactors is needed.
The NRA calls the level of the nuclear regulations the world's toughest. Kyodo News said that utilities may also choose to give up efforts to restart some of the country's 50 commercial reactors and abandon them rather than investing in expensive safety measures.
Four regional utilities filed applications to restart 10 reactors at five nuclear power plants in Hokkaido, Fukui, Ehime and Kagoshima prefectures on Monday.
Among those applying for restarts, reactors that could power up before others include the No 3 unit at Shikoku Electric Power Co's Ikata plant in Ehime prefecture, which has been found not to have geologic faults and has already prepared a newly required seismic-isolated emergency response center, Kyodo News reported.
The regulations also stipulate reactors must have a venting system with filters that can reduce the amount of radioactive substances when pressure needs to be released from reactor containers during emergencies. However, pressurized water reactors such as the No 3 unit at the Ikata plant are given a five-year grace period to meet the requirement.
The requirements are stricter for aging units, which not only will have to comply with the new regulations but also undergo inspections to continue to operate beyond 40 years, according to local media reports.
All but two of Japan's 50 reactors have been closed following the disaster in March 2011, which forced 160,000 people from their homes, many of whom are unlikely to be able to return for decades.
Reuters-Xinhua