Ghost of Perry haunts Murray in showdown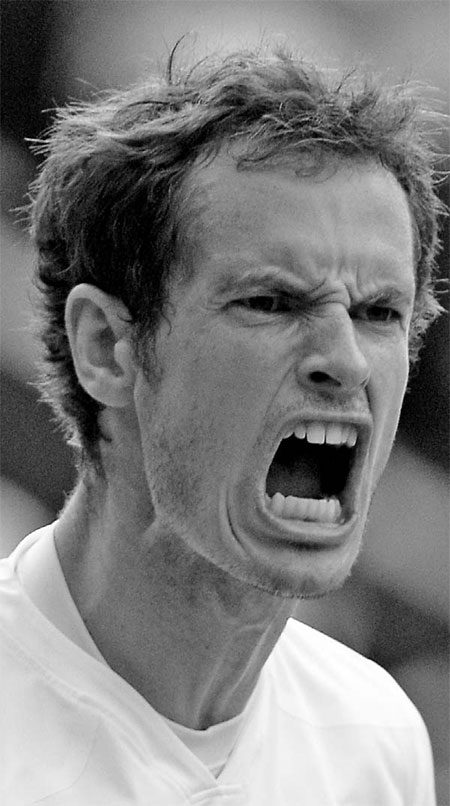 Andy Murray celebrates winning a game in the third set against Jerzy Janowicz in their semifinal at Wimbledon on Friday. Murray won 6-7 (2), 6-4, 6-4, 6-3 and faces top seed Novak Djokovic in the final. It took Djokovic four hours and 43 minutes to defeat Argentinian Juan Martin del Potro 7-5, 4-6, 7-6 (2), 6-7 (6), 6-3 in the other semifinal. Adrian Dennis / Agence France-Presse
Local hero poised to break 77-year drought at Wimbledon
Andy Murray will on Sunday again attempt to finally rid Britain of one of its most painful sporting millstones when he bids to become his country's first Wimbledon men's champion since 1936.
Not since Fred Perry 77 years ago, in the days of amateurism, flannel trousers and wooden rackets and when the storm clouds of World War II gathered in Europe, has Britain had a men's champion at the All-England Club.
Murray's 2012 campaign ended in a tearful final defeat to Roger Federer, a deluge of sobbing on live television which instantly won over a British public previously sceptical of the tough-as-teak Scot.
On Sunday, he takes on world No 1 Novak Djokovic, who beat him in the Australian Open final in January although Murray won the pair's only meeting on grass at Wimbledon at last year's Olympics when he went on to win gold.
"I think I learnt a lot from last year's Wimbledon," said the 26-year-old.
"The one thing that stands out is I knew how I needed to play the sort of big matches, or try to play the big matches after Wimbledon, because I didn't come away from that final doubting myself or the decisions I made on the court, because I went for it.
"I lost, but I didn't have any regrets as such."
This will be Murray's seventh major final with his only Grand Slam title coming in New York last year when he defeated Djokovic in a five-set final.
The Serb, the Wimbledon champion in 2011, will be playing in his 11th major final and seeking a seventh title.
Djokovic beat Murray in the title matches in Melbourne this year and 2011.
"I think I'll be probably in a better place mentally. I would hope so just because I've been there before. I have won a Grand Slam. I would hope I would be a little bit calmer going into Sunday," said Murray, who will be playing in his fourth successive Grand Slam final having skipped Roland Garros with a back injury.
"But you don't know. I might wake up on Sunday and be unbelievably nervous, more nervous than I ever have been before."
Murray needed five sets to beat Fernando Verdasco in the quarterfinals and four sets to see off giant Pole, Jerzy Janowicz, in a bad-tempered semifinal.
Djokovic had cruised to the semifinals but needed five sets to defeat Juan Martin del Potro on Friday in the longest last-four clash at Wimbledon.
Despite the four-hour, 43-minute epic, Djokovic, who spent a record five hours and 53 minutes beating Rafael Nadal in the 2012 Australian Open final, insists fatigue will not be a problem.
"I'm not the first time in this situation. I was in worse situations actually before, like in the Australian Open 2012, or several occasions where I managed to recover, managed to win the title, managed to feel fresh and play another six hours," he said.
"Of course, when you feel good physically, when you know you're fit and you don't feel a huge fatigue, that gives you mental confidence and the strength that is necessary when you're playing a top player. "
Djokovic also believes he is destined to win a second Wimbledon title in honor of his first coach, Jelena Gencic, who passed away during the French Open.
The 77-year-old Gencic, who Djokovic described as a "second mother", nurtured the Serb's talent when he was six, training him for five years before he left for further coaching in Germany.
"She was the mentor and she was the lady that kind of made me understand this life. I inherited that passion and love towards the sport from her," said Djokovic.
"I owe a lot to her. Her passing away a few weeks ago was very hurtful and obviously very sad moment for me. I'm sure that she wants me to be here and she wants me to fight for the title."
Murray, meanwhile, sees Sunday's title clash as a battle of the game's best returners.
"Both of us return well. That's probably the strongest part of our games. Both play predominantly from the baseline. We both move well, but a different sort of movement.
"He's extremely flexible and he slides into shots even on the courts here. He slides more. He's quite a bit lighter than me. So I'd say I probably move with more power and he's much more flexible than me."