Queen of Confections' Hong Kong kingdom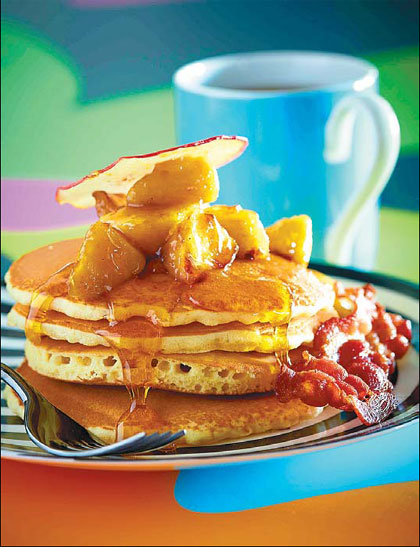 Banana Hot Cakes served at C'est la B cafe-bar outlet in Tsim Sha Tsui, Hong Kong. Photos provided to China Daily
Bonnae Gokson's pastries are as pretty as they are tasty, inspiring renowned American wedding event guru Colin Cowie to crown her the "Queen of Confections".
Gokson has won a loyal slice of territory in Hong Kong in the past few years and recently opened a C'est la B cafe-bar outlet in Tsim Sha Tsui.
The branch will remain the exclusive source of her latest creation, the Lollipop Cake - a light multicolored chiffon cake covered with fresh cream and adorned with candied popcorn - for its first month.
It also offers the Sweet Treats Box with nine dessert pots, including blueberry, grape jelly and yogurt cream. Another specialty is the creamy vanilla bean panna cotta and caramel crunch cup presented in a Japanese bento box.
C'est la B also offers all-day breakfasts, signature bento boxes, noodles, salads, soup, sandwiches and potpies.
Fluffy pancakes are all served with vanilla ice cream or fresh whipped cream, making them a decadent indulgence.
The chocolate hot cakes with berries, chocolate hazelnut crunch and chocolate sauce are a must-try.
The signature bento boxes, such as the Canto, Gangnam, Tokyo, Saigon, NYC and Roma varieties, are served in the namesake containers from Japan.
The Canto Box contains egg noodles with black beans and chili prawns, salad and C'est la B's own curry-flavored pan-fried dumplings.
The Gangnam Box contains Korean short ribs, fried rice, salad and dumplings. The Saigon Box contains ginger lemongrass chicken and cold Vietnamese rice noodles, salad and pan-fried chicken.
The Roma Box contains meatballs and penne pasta, salad and a grilled prawn.
They're carefully arranged with fresh ingredients and attention to detail.
One of the most beautiful items is the Rainbow Club Sandwich (HK$125; $16).
For some foodies, the club sandwich colors a restaurant's quality and character.
The "Rainbow" variety points to Gokson's vision of creating food with vibrant hues that's not only appetizing but visually stunning.
Slices of artisan bread - each colored with a different ingredient, including spinach, beetroot, bamboo charcoal and saffron - are stuffed with French ham, cheese, omelette, avocado, roasted chicken and salad.
To truly understand how aesthetically amazing C'est la B's offerings are - well, you have to see it to believe it.
sundayed@chinadaily.com.cn