Flipkens defies doctors' orders to light up Wimbledon courts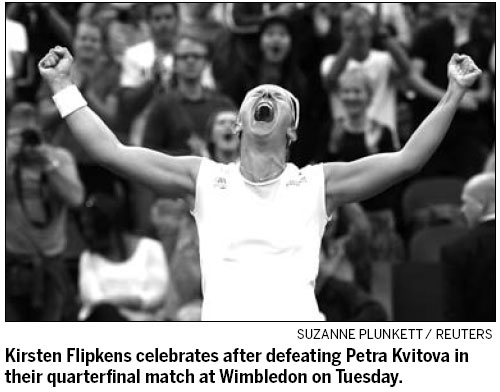 It is just as well Kirsten Flipkens is not one to follow doctors' orders. If she had, her career would have been long over - not once but twice.
The bespectacled Belgian proved it was the doctors, and not she, who were short-sighted as she defied the odds to reach her first Grand Slam semifinal on Tuesday with a stunning win over 2011 champion Petra Kvitova.
"I've been through a lot of ups and downs throughout my career. I've had so many injuries," Flipkens said after becoming the first Belgian to reach the last four at Wimbledon since Justine Henin in 2007.
"Even after the juniors. I was the world junior champion (in 2003) and the year after I had a really bad back injury. All doctors said my career should have been over."
The medical experts presented her with another bleak prognosis in April 2012 when four blood clots were discovered in her leg, putting her at risk of a pulmonary embolism or thrombosis.
What they, or many of those around Flipkens, had not taken into account was her never-say-die attitude.
"I'm just the kind of person that doesn't like to break, and I keep on fighting back every time. I don't regret my decision last year and I'm still fighting back," said Flipkens, who until this year had never gone beyond the third round of a Slam.
The fightback was no mean feat as last year's emergency meant her ranking plummeted to 262nd in the world in June.
It left her so far out in the tennis wilderness, she was not even deemed good enough to play in the qualifying rounds.
"Last year, I didn't get into the qualifying of Wimbledon. I was ranked 262; today I'm a semifinalist in a Grand Slam," said the 27-year-old who will face Marion Bartoli for a place in the final.
"It's a dream - more than a dream - coming true."
For Flipkens, the fairytale run was "even more special" as she made it into the last four "on my mom's birthday".
Her triumph completed a Wimbledon wipeout as Kvitova's exit meant no Grand Slam champion made it into the women's semifinals.
With Agnieszka Radwanska taking on Serena Williams's conqueror Sabine Lisicki in the other semifinal, Flipkens knows that there may be no better time to become the first Belgian to triumph at Wimbledon.
"If you would have told me at the beginning of the tournament who was going to be in the last four, I would never say the four who are still in actually," she said.
"I think I'm the most surprising name in the last four but I don't really care!"
Should she win her next two matches to hold aloft the Rosewater Dish on Saturday, 11 million Belgians will be eager to show just how much they care.