Wimbledon exit means net it be for China's Li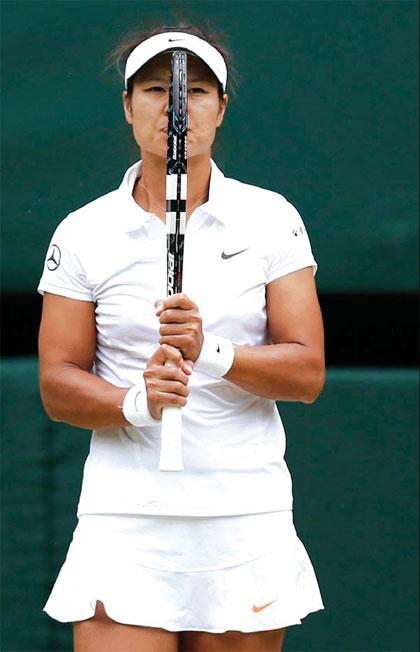 Li Na in a comtemplative mood during her quarterfinal against Agnieszka Radwanska at Wimbledon on Tuesday. Radwanska won 7-6 (5), 4-6, 6-2. Sang Tan / Associated Press
World No 6 vows to stick with serve-and-volley tactics in future
Li Na confessed she is a convert to serve-and-volley tennis and has vowed to take her new-found skills at the net with her into the US hard-court season.
The Chinese No 1 tried out the tactics at Wimbledon and though it did not get her into the semifinals, the 31-year-old is keen to prove she can mix it with the best of them in the dying art.
The 2011 French Open champion is going to take a month off after her Wimbledon exploits, freshening up to tackle the run-up ahead of the US Open, which gets under way on Aug 26.
Li was beaten by No 4 seed Agnieszka Radwanska 7-6 (5), 4-6, 6-2 in an epic quarterfinal on Tuesday between the highest seeds left standing at Wimbledon.
Li saw off seven match points before finally succumbing.
Throughout, to counter Radwanska's trademark drop shots and deft play, she charged the net 71 times, winning points 48 times in the process and mixing up her regular baseline rhythm.
The world No 6 had worked on the plan with her coach, Carlos Rodriguez, who guided Belgian former world No 1 Justine Henin.
"I'm proud of myself, because at least I was trying to come to the net. I can now use it in important matches. So it's pretty positive," the right-hander said.
Li insisted it had been a good Wimbledon. In reaching the quarterfinals, she matched her previous best, achieved in 2006 and 2010. In her previous two outings at the All-England Club, she had been dumped out in the second round.
"It was pretty good, really. At least better than the last two years. And also I proved a new thing, proved so many things on the court," she said. "Before, I never thought I could come to the net so many times.
"So at least now we have a job to do, me and Carlos. We know what we should do for the next step. Maybe I came to the net much more than in my whole life. So it's good proof.
"The first time I was feeling, oh, I really can come to the net! Before I was thinking, no, no, this not my style, I have to stay on the baseline."
Li said she will taking her new style with her on the North American hard-court swing next month.
"I think I will try to continue it on the hard courts as well, because I feel the pace now," she said.
Li said she will have four weeks off before returning at Toronto in the build-up to the next Grand Slam at Flushing Meadows.
"I need time for recovery," she said, adding she had no interest in seeing who will be the new Wimbledon champion.
"I will get out of London as soon as possible. It's very tough after you lose a match to still pay attention to the tournament. Always after a match I will leave and never see about the tennis," she said.
"Maybe I'll go shopping. Maybe go somewhere else. Just try relax a little bit."
see "flipkens" page 23