After Fed's announcement on QE3, what's next?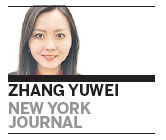 When Federal Reserve head Ben Bernanke speaks, global markets react to his words immediately. It's no surprise that the world's largest economy sets the tone for global economic trends, but sometimes it can go too far and raise unnecessary anxiety among investors, including the Chinese.
The Fed chairman's recent remarks about the possible withdrawal of the stimulus efforts known as quantitative easing round 3 has rattled markets in Asia and Europe. Chinese shares reacted with a drastic slump, as the Shanghai Composite Index dropped in one day to its lowest point in nearly seven months.
Chris Martenson, founder of Peak Prosperity, a consulting firm, believes it was a "bad sign" the way the markets reacted.
"It reveals the extent to which market gains were dependent on money printing vs real growth and solid economic prospects," Martenson explained. "Hot money, best illustrated by hedge funds, now dominates international trading and financial market prices."
Martenson said this hot money is also leveraged, which stimulates excellent gains on the way up, and horrifying losses on the way down. "The Asian markets have not reacted particularly badly, given the recent volatility in global bond and equity markets," he said.
Whether tapering off the massive bond purchase program - or the QE 3 - is a reflection of the improved US economy throughout the past few years since the 2008 financial crisis or not, the fact that ending the stimulus leading to less consumption is for sure a concern for many investors, including the Chinese, which is currently the third largest importer of US goods.
China and other Asian investors had no choice but to react to Bernanke's comment on ending QE3, noted Daniel Hwang, chief foreign-exchange strategist at New York-based Gallant Capital Markets.
"The US economy is still turning the corner, but uncertainties remain about whether it can sustain positive economic performance," Hwang said.
"Ending QE3 essentially brings a stop to stimulus and the US still remains the largest economy in the world with most of its GDP coming from consumer spending. An end to stimulus would likely lead to higher savings and less consumer spending in the US, which is a concern for many foreign export-based economies in Asia," he added.
Bernanke, who is set to leave his post early next year, indicated at a policy meeting last month that later this year the central bank would start reducing its bond-buying program of buying $85 billion in Treasurys and mortgage-backed securities to lower long-term interest rates if the economy improves as expected and would end the program by mid-2014.
The notice posed a challenge for investors from emerging markets, which are set to contribute about 45 percent of global GDP growth in the coming decade, with China being a major driver of that growth.
QE3 introduces additional uncertainty to global financial markets and in its early phase, it meant a weaker dollar and additional capital flows to emerging economies, noted Guo Feng, a senior economist of the Asia Pacific department at the Washington-based Institute of International Finance (IIF).
"The exit of QE3 is accompanied by some retrenchment of foreign capital from emerging economies, especially with some Asian economies that depend on external financing most at risk," said Guo.
The interbank rate in China spiked at record highs in the past several weeks, noted the IIF economist, adding that China has more strict capital controls and structural balance of payments surplus as well as the limited role of foreign investor's participation in China's stock market - all of which lead to a smaller impact on China than on other emerging markets.
Despite the volatility in the markets, the US economic expansion is "evolving broadly as expected", which was reflected in IIF's forecast for about 2.2 percent GDP growth in 2013 and 2.6 percent in 2014, said Guo.
"As the economic recovery and the end of QE3 in the US coincide with the slowing economic activities in China, we see that some international capital flew out of China, which put some pressure on Yuan's depreciation," noted Guo.
Hwang predicts China will eventually follow the US path in transitioning from a manufacturing- based economy to a consumer-spending economy. "China will continue to support markets and be the engine of global growth and the US will remain an economic powerhouse, but with waning influence," he said.
But Hwang warns that the world's two largest economies need each other as "critical trading partners" and it's likely both nations will work as cohorts to keep the global economy afloat.