I can cope with favorite tag, says Murray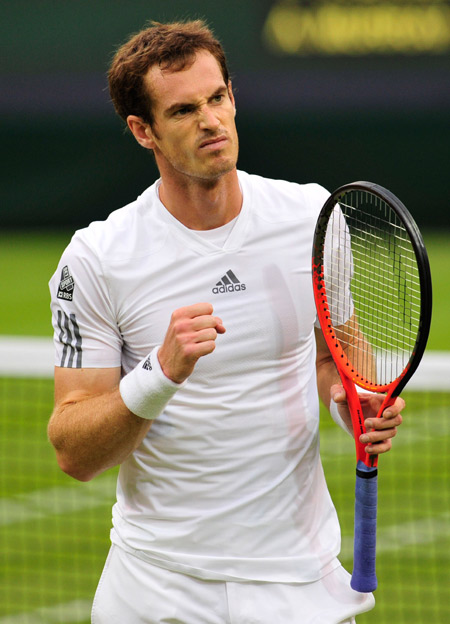 Britain's Andy Murray celebrates taking advantage in the fifth game of the second set against Spain's Tommy Robredo during their third-round match at Wimbledon on Friday. Glyn Kirk / Agence France-Presse
World No 2 signs off first week at Wimbledon in stylish fashion
Andy Murray insists he can cope with the pressure of being a favorite for the Wimbledon title after the world No 2 swept into the fourth round in emphatic fashion.
While Rafael Nadal, Roger Federer and a host of other leading seeds have crashed out in a chaotic opening week at the All-England Club, Murray has enjoyed the perfect start to his challenge.
The US Open champion brushed aside Spanish 32nd seed Tommy Robredo 6-2, 6-4, 7-5 in the third round on Friday to move into the second week without dropping a set in his first three matches.
With Nadal, Federer, Jo-Wilfried Tsonga and Marin Cilic all eliminated from Murray's half of the draw, the 26-year-old's path to the final is looking less treacherous by the day.
Mikhail Youzhny is the highest ranked player left in his half and the Russian 20th seed is Murray's scheduled last-16 opponent if he can defeat Serbia's Victor Troicki in a rain-delayed tie.
In the circumstances, many pundits are tipping Murray to finally end Britain's 77-year wait for a first male singles winner at Wimbledon since Fred Perry.
American great John McEnroe claimed this week that it would be a disaster for Murray if he didn't reach the final and the Scot is well aware expectations are mounting.
"I think there's a lot more pressure on me now with them being out," Murray said.
"I don't read the papers. But there are papers in the locker room, so you see some of the headlines. It's not that helpful.
"But you need to be professional enough to not let that stuff bother you and just concentrate on each match.
"I think I did a good job of that. I played well, my best match of the tournament so far."
Murray, on a 14-match winning run on grass courts, won't be getting carried away as he is likely to have to face world No 1 Novak Djokovic in the final, but the fates seem to be aligning in his favor.
Not only has Murray been helped by the list of big-name casualties, but he will also enjoy a two-day rest before returning to action on Monday.
Youzhny and Troicki will have to play their postponed match on Saturday, giving the winner a day less recovery time than Murray.
"I haven't played that many times on the Friday at Wimbledon, so it's a little bit new for me. I've only had the extra day of rest once or maybe twice in seven or eight years here," Murray said.
"Roger (Federer) often played on Friday. He had a pretty good record here. But I don't know if it's got anything to do with the two days off over the weekend."
Murray will also be keeping a close eye on the weather forecast for Monday after admitting he found it hard to adjust to playing under the Centre Court roof.
Murray finished off Robredo in confident fashion under the roof, but he still recalls his Wimbledon final defeat against Federer last year, when the Swiss great took control only after rain forced the court to be covered.
"It changes the way the court plays, for sure. Anyone will tell you that. If you play on an outdoor hard court compared to indoors, it's just different conditions," Murray said.
"I'm sure Tommy, he's in his 30s, would never have played on indoor grass before. So it's just different for everyone.
"I would rather there was good weather and we played without the roof. It's an outdoor tournament. It's better if we get to play outside."