Scolari insists Brazil on track after Uruguay test
Brazil coach Luiz Felipe conceded his team cannot yet start dreaming of a sixth World Cup title next year - but it is now just one match away from a third straight Confederations Cup success after edging out Uruguay.
Pretty it was not, and Scolari admitted as much after an oddly uninspired Selacao dug out a 2-1 success over the Celeste, who have haunted them ever since a World Cup final success over the Samba stars in Rio 63 years ago.
"I think we are on the right road," said "Big Phil" after a Paulinho header saw Brazil drag itself over the line when it seemed Uruguay, having leveled Fred's bundled opener shortly before the break with a fine Edinson Cavani finish, looked as if it might repeat its 1950 exploits.
"We are putting together a group which is on the right track," said Scolari, who has been tasked for a second time with turning Brazil into a world champion and who now must plot a way past either world champion Spain or Italy in Sunday's final in Rio.
The Cup is but a dress rehearsal and on taking the job seven months ago, 11 years on from World Cup glory in Japan, Scolari insisted the ongoing event is a sideshow and should not detract from the true aim of success in a year's time.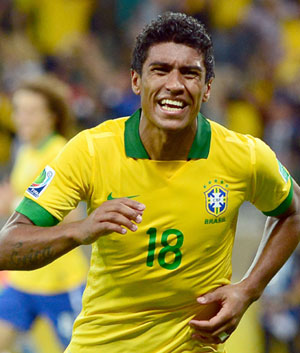 Brazil's Paulinho celebrates after scoring against Uruguay during their Confederations Cup semifinal on Wednesday.|
Christophe Simon/AFP
After some patchy form going into the event, Brazil looked to have found some of its traditional samba rhythm with entertaining wins over Japan, Mexico and Italy in the group stage.
But by its exalted standards, Wednesday was all about winning ugly - which did not unduly concern Gene Hackman lookalike Scolari.
"We have to grow as a team and mature. We need games to do so," he said.
Star man Neymar admitted Brazil had to fight "but we showed a lot of class to get past a really tough rival".
Scolari says he thinks Italy might just surprise the Spaniards in Fortaleza in the other semifinal.
The Spanish swamped the Azzurri in the Euro 2012 final but Scolari says that means nothing a year on.
"In soccer everything is possible - I think Italy will cause them a few difficulties," Scolari said.
Uruguayan counterpart Oscar Tabarez saw his team denied again - not least by Brazilian keeper Julio Cesar saving Diego Forlan's early spotkick when the scoreline was goalless - taking his winless streak over Brazil to five matches - his first loss coming at the Maracana in the 1989 Copa America in his first spell in charge of Los Charruas.
Tabarez was sanguine, saluting his men's "passion" and insisting they would learn from the loss as they attempt to find some form to reignite a rocky World Cup qualifying campaign.
Asked for his view on the final, he said Spain should complete the lineup and win its first title for a fourth straight major tournament success.
"Spain is the team of the decade," said Tabarez, nicknamed El Maestro. "I am very curious to see how (the final) pans out."