EU wines face drenching from tariffs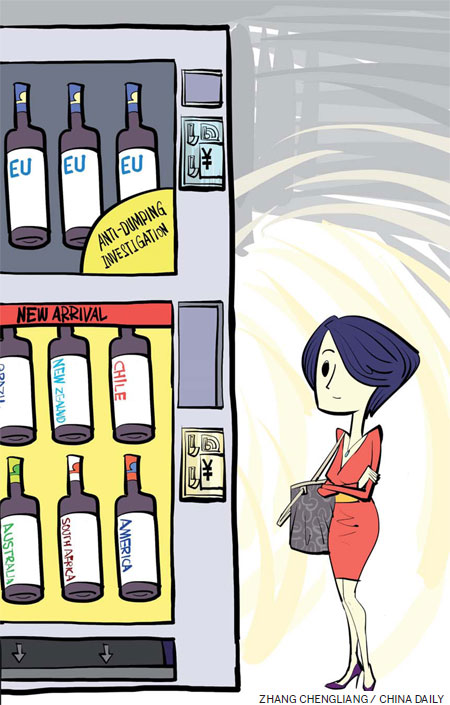 Taxes open door for Europe's competitors in Chinese market
A month or so ago, less than 24 hours after the European Commission announced a temporary tariff on photovoltaic products from China, the Ministry of Commerce announced that it was opening an anti-dumping inquiry on European wine imports worth an estimated $1.7 billion (1.3 billion euros).
Whether the Chinese move is retaliatory or not - and China says it isn't - if it does raise tariffs on European wine imports it will hamper the growth of European wine sales in China.
The Chinese wine market is growing rapidly, and many reckon that the rise will be with us for decades to come. It is obvious the country's domestic wine enterprises alone cannot fulfill demand, so the market is bound to include more foreign wine brands.
The anti-dumping investigation poses a threat not only to EU wines financially in the short term, but also to their market prospects in the long term.
The Ministry of Commerce says that the country imported wine worth 763 million euros ($1 billion) from the EU last year. Wine imports from the EU increased from 64,000 kiloliters in 2009 to 257,000 kiloliters last year, an average annual increase of nearly 60 percent. EU imports accounted for 65 percent of China's total wine imports last year, compared with 37 percent in 2009.
The top three EU wine exporters are France, Spain and Italy. Last year they exported to China more than 140,000 kiloliters of wine (worth 546 million euros), 71,400 kiloliters of wine (worth 89 million euros), and 31,200 kiloliters of wine (worth 77 million euros) respectively. The wine exports of the above three countries accounted for 90 percent of the wine exports of the entire EU to China. Last year EU wine exports to China accounted for 8.6 percent of its total exports.
Clearly, China is awash with wine from the EU, and even if the government raises tariffs on them, they will continue to dominate.
Last year wine brought into China from France cost 3 euros ($3.90) a 750ml bottle to import on average. For wine from Spain the price was 0.93 euro a bottle, and from Italy 1.85 euros. So the advantage that EU wine enjoys in China is not branding or quality but low prices.
If China increases its tariffs on EU wines, they will lose that advantage, presenting huge opportunities for wines from countries such as Australia, Chile, New Zealand, South Africa and the United States, which have stepped up their marketing efforts in China in recent years, with imports growing more than 20 percent a year on average. It is not difficult to see them significantly increasing their market share.
The tariff on EU wine in China is 14 percent for bottled imports, 10 percent for bulk imports, and a composite tax rate of 48.2 percent. The tariff on wines from Chile is only 2.8 percent, plus consumption tax, and value-added tax, so the composite tax rate is 33.64 percent. The tariff on New Zealand wines is close to zero, and the composite tax rate just 30 percent.
The EU clearly subsidizes grape growing and the wine industry, the Common Agricultural Policy mandating that the focus of EU economic policy is agricultural subsidies, so subsidies and funds for the grape growing industry have constantly risen.
During the Ministry of Commerce's anti-dumping inquiry on EU wine it will be simple to point to those facts as evidence that EU wines have gained unfair advantages, increasing the possibility of higher tariffs.
A survey has shown that more than 75 percent of Chinese consumers are willing to buy wine that costs less than 20 euros a bottle. Apart from big names like Lafite, most European wine brands do not enjoy the consumer recognition they do in the EU. If the EU sells its wine at more than 6 euros a bottle after tax, it will be difficult for distributors, taking other overheads into account, to keep the retail price at 20 euros or less.
Old World wines still dominate globally but the Chinese wine market and the ability of Chinese people to appreciate wines are still in their very early stages. The industry in China is dominated by the interests of dealers and is volatile, which means the advantage EU wine brands enjoy could easily evaporate.
For Chinese consumers, the appeal of Old World wines is their history, culture and strict production standards, but there are more extensive variations and selections in New World wines.
Among wine drinkers in China, it is novices who dominate, and they seem to prefer sweeter, more fruity wines, something the New World wines specialize in.
For all the rich tradition behind Old World wines, many of their New World counterparts have something a lot richer, and a lot more accessible, to convey: the delight felt in soaking ones taste buds with their wines.
The author is director of Beijing Vogue Glamour Brand Marketing Inc, a brand consultancy. Contact the writer at voguead@163.com. The views do not necessarily reflect those of China Daily.