Orchestra celebrates 40-year relationship with China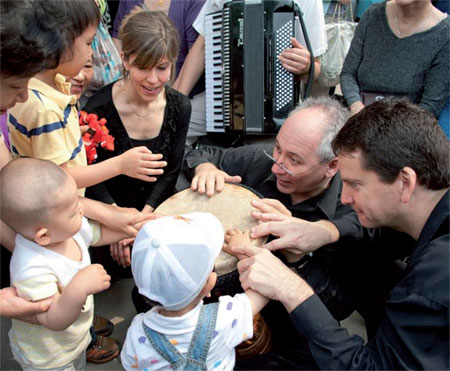 The Philadelphia Orchestra's series of pop-up performances in Tianjin included an interactive percussion performance. Timpani players Angela Zator Nelson (left), Don Liuzzi (center) and Chris Deviney enjoy a jam session with fans in the city. Provided to China Daily
When the Philadelphia Orchestra performed in China in 1973, the musicians found the audience's enthusiasm muffled. Forty years later, they felt like they were performing for a crowd at a football game.
"(Back then) it was like going to a golf match where the people would give this very polite applause that sounded like their hands were in white gloves," said percussionist Anthony Orlando, who has been with the Philadelphia Orchestra since 1972. "Now, it's terrific - people cheer and shout and stamp their feet. I really enjoy the audiences in China."
Orlando was one of nine Philadelphia Orchestra musicians who participated in the 40th Anniversary Tour, which coincided with the orchestra's 2013 residency in China earlier this month.
"None of us could have predicted what would follow," said violinist Herbert Light, who has played with the orchestra for 53 years. "I think the impact from this relationship on our orchestra has been tremendous and resurged our visibility globally."
The two-week residency and anniversary tour took the orchestra to Beijing, Shanghai, Tianjin, Hangzhou and Macao, for concert and pop-up performances, master classes, special lectures, a variety of community outreach visits, as well as anniversary ceremonial and diplomatic functions.
"(This celebration) is more than the artistic quality and appreciation of classical music," said Craig Hamilton, vice-president of global initiatives and government relations for the Philadelphia Orchestra.
"It's an appreciation in that moment of time when the Philadelphia Orchestra really cemented the opening of relations between the Western world and China," Hamilton said. "I think there are generations of people that truly don't forget that."
One highlight for Light was hearing from the Chinese about their experiences and impressions of the initial exchange 40 years ago.
"One older guy said that our visit at that time was a catalyst for the surge in interest in Western music because there had been very little before that, if any," said Light, who has returned to China with the orchestra on eight occasions. "That was quite a revelation for me, actually."
After US President Richard Nixon's visit to Beijing in 1972 to re-establish US-China relations, the president specifically chose the Philadelphia Orchestra to go to China the following year as a cultural ambassador.
The group was the first American orchestra to play in Communist-led China and performed in front of a packed audience at the Cultural Palace of Nationalities.
Ambassador Nicholas Platt, who facilitated the orchestra's 1973 tour, accompanied the group this month to give his presentation, "China: Then and Now", with footage of Nixon's historic trip, as well as read from his memoir, China Boys and lead a discussion on current conditions in China.
Hamilton said the orchestra will meet in the next few weeks to discuss what worked from this month's trip, what didn't work and what could be better. The tour marked the first time a professional American orchestra performed in Hangzhou. Hamilton hopes the orchestra will play in another new city in the 2014 residency program.
"We particularly sustain the idea of co-creating these residencies in China, so that each is unique to the community in which we're performing," Hamilton said. "It's important for us not to come in with a pre-determined menu of opportunities."
Hamilton said the pop-up performances, which usually occurred in popular and historic sites such as the Great Wall and Beijing's Temple of Heaven, are a hallmark of the residency program.
One particularly memorable, and truly surprising, pop-up performance happened on the Beijing airport tarmac while members of the orchestra waited three hours for their flight to Macao to take off.
More than 2.1 million people have watched the pop-up's footage on YouTube of a group of the orchestra's string musicians playing Antonin Dvorak's String Quartet No.12 in F (Op. 96) 'American': IV. Finale (Vivace ma non troppo) in the middle of the plane's cramped coach section.
"I look forward to doing more with the residency next year," Orlando said. "I was thinking about writing a piece that uses some of the Chinese tom-tom drums I bought over the years and mixing them in with our Latin percussion or snare drums or something more Western."
Orlando said he might also try to arrange a partnership with a music group like the Shanghai Percussion Ensemble.
Corporate support from businesses including the Venetian Macao; Cigna; Coca-Cola China; White and Williams, LLP; Shanghai Charity Foundation Haipai Qingkou Charity Fund; the Commonwealth of Pennsylvania; Drexel University; and Hershey's: The Hershey Company; was integral to the planning and development of the 2013 residency and tour.
"This is a relationship whose legacy we honor, but it's a relationship that's really very much forward focused," Hamilton said. "To me, the fact that we're growing the relationship is what's going to help both countries do business at every level by way of these people-to-people exchanges."
carolineberg@chinadailyusa.com