Dedicated nurse goes beyond call of duty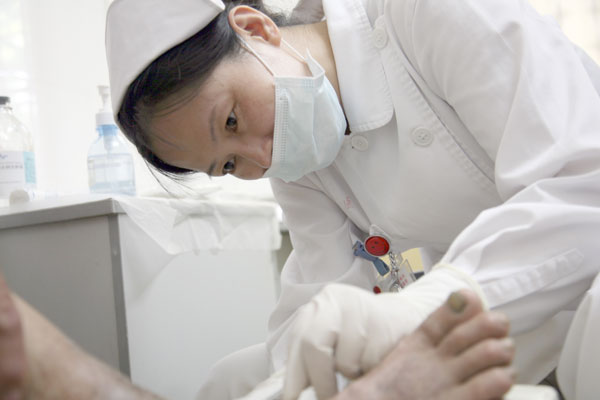 Cai Yunmin tends to a patient's wound at Shanghai's Jinshan Hospital. Provided to China Daily
Cai Yunmin has for decades helped patients live with dignity through her loving care and nursing.
The 43-year-old is a specialist nurse in stoma care. As one of China's leading enterostomal therapists, she currently leads a five-member nursing team at Shanghai's Jinshan Hospital. The team is named after her, as her outstanding services earned her the moniker of "Rose Angel".
Stoma care involves dealing with festering wounds and sometimes with wiggling maggots. Twenty years of nursing has made her virtually fearless.
"Many young nurses would have panicked when confronted with blood, not to mention those creepy maggots. My hands were trembling the first time I took out the stitches," she says. "But someone has to take care of this."
In Cai's words, practice makes perfect. She once took hours removing 66 maggots from a patients' wound, leaving an unbearable stink in the corridor.
But work can present more challenges than wounds and blood.
Unreasonable demands from patients' families are often received, but Cai says she has always listened and tried to understand.
Longtime suffering from illnesses has made some family members less concerned about patients. "Patients would regard themselves as unwanted individuals, but I won't let it happen," Cai says. "I talk to them and encourage them to express their feelings."
Cai's efforts have paid off. Many patients and their families are grateful for her work and they've become friends.
One patient surnamed Xue wrote a letter to her before she died. The girl said she would like to thank Cai for the patience and care, which included 84 home visits. Another patient's family even brought several pairs of handmade shoes for her after overhearing Cai mention how hard it was to buy shoes that fit her feet.
During her career, Cai has taken thousands of pictures of cases and noticed the increase of rectal and bladder cancers. Using her extensive professional knowledge, she switched from basic nursery to enterostomal therapist nursing.
In 2008, she was recognized as one of 45 therapists in Shanghai and one of only seven full-time specialists in her field. Since 2009, she has also been training professional therapists.
To honor her dedication to nursing, Cai has been selected as one of the 10 Best Nurses in Shanghai and as a "dedicated worker in the national hygiene system".
"She deserved better pay," says her former superior. Despite the many honors Cai had been granted, she receives the same pay as her colleagues.
Because of Cai's excellent performance in stoma nursing, she received attractive offers from other hospitals. But Cai turned them down. "To be honest, it was a hard decision to make and finally I choose to stay," she says.
Cai is a practical woman and she stays focused on her career. She asks her students "to be led by your conscience, not by your desire".