Hobbled Nadal clings onto Wimbledon dream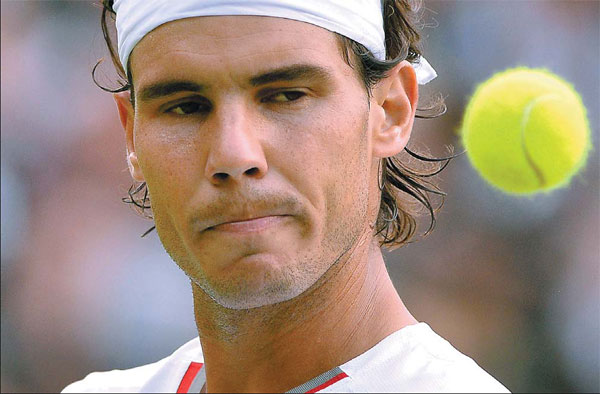 Spain's Rafael Nadal looks displeased after a point against Belgium's Steve Darcis during their first-round match of the Wimbledon Championships at the All England Club in Wimbledon, southwest London, on Monday. Darcis won 7-6, 7-6, 6-4. Ben Stansall / Agence France-Presse
Possible long-term hiatus looms again for 12-time GS winner
Rafael Nadal may have been hobbled by the suspect staying power of his knees, but the Spaniard insists that despite back-to-back Wimbledon flops, he can still lift a third All England Club title.
Nadal suffered his first ever opening round loss at a Grand Slam when Belgian world number 135 Steve Darcis inflicted a humiliating 7-6 (4), 7-6 (8), 6-4 defeat on Monday.
The shock came 12 months after Nadal had been sent packing in the second round by Lukas Rosol, equally as unheralded as Darcis who had lost 12 of his previous 18 Grand Slam first round appearances before Monday's upset.
No one, except possibly Nadal himself, saw it coming.
The world No 5 was fresh from a record-setting eighth French Open title and had racked up 43 wins in 45 matches and seven titles in nine finals since returning to the tour in February after seven months on the sidelines.
That was an absence that followed in the aftermath of the Rosol shocker with Nadal heading home to Mallorca to rest those knees once again.
Even in the immediate afterglow of his French Open triumph, Nadal had warned that the knees may not take the stress of Wimbledon, where the lower bounce on grass means he has to crouch more to reach every ball, and where his limbs jar to a stop.
But don't tell him he's finished.
Nadal, the champion in 2008 and 2010, skipped the 2009 tournament due to injury, but still came back to reach the final in 2011.
He also suffered final defeats to Roger Federer in 2006 and 2007 before he finally cracked the code.
"I know the grass is a difficult surface for the way that I need to play to play well here," said 12-time Grand Slam title winner Nadal.
"Was not possible this year. I'm going to try my best for the next couple of years. I said it's probably the toughest surface for me because I have to move and I have to play in a lower position than on the rest of the surfaces.
"So that's the real thing. I am not lying."
But Nadal will be 28 by the time the next Wimbledon comes around and he has already hinted that he needs to be more prudent when it comes to his scheduling.
When he lost to Rosol last year, he went on to miss the Olympics and US and Australian Opens. He is adamant that he won't be taking such a long break again, but cannot give cast-iron assurances.
"Today is not the day to talk about these kind of things. I am confident that I will have a good recovery and be ready for the next tournaments," he said.
"I cannot predict the future. I cannot say when I do a calendar if it was wrong or if it was positive. Six hours ago it was a perfect calendar, now it is a very negative calendar.
"I arrived here to try as well as possible at this tournament, knowing that probably this year will be harder than ever, and it really was."
"The only thing I can say is I will keep working hard and keep giving me chances on this surface. I think and I hope to have a few more years to play here and to play at the right level."
He added: "Life continues. Two weeks ago I was in a fantastic situation, winning a fantastic tournament. Two weeks later I lost here in the first round.
"Nobody remembers the losers. People remember the victories. And I don't want to remember that losses."