IP rights to rubber duck in focus for design week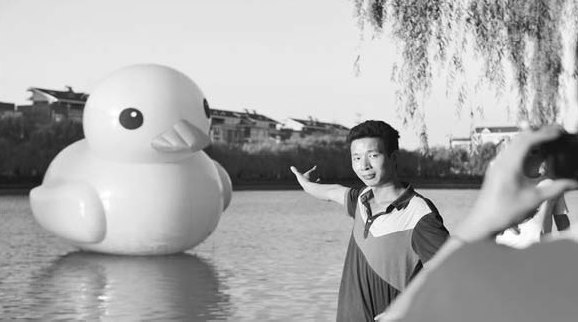 Local in Luoyang, Henan province poses for a photo with a smaller, copied version of artist Florentijn Hofman's now-famous rubber duck. Huang Zhengwei / For China Daily
Though it may seem child's play to some, the ongoing issue over rights to a rubber duck design will be a highlight of this year's Beijing Design Week.
Dutch artist Florentijn Hofman will bring his now-famous giant rubber duck to Beijing in September as part of the weeklong event, according to a press conference in Beijing on June 22.
The towering duck was an immediate nationwide hit after it arrived at Hong Kong's Victoria Harbor last month. It has since attracted more than 8 million visitors.
But unauthorized replicas soon showed up in many places on the Chinese mainland along with derivative T-shirts, caps and toys.
According to the Beijing Design Week organizing committee, copyright protection of the artist's work will now be a focus of the event. The committee has invited lawyers to provide copyright consultation.
"We want to use the rubber duck case to promote awareness of intellectual property rights among the Chinese people," Wang Jun, a senior consultant at the event's IP protection office, said at the press conference.
"Any opportunistic copying is great disrespect to the original work of artist and is harmful to the development of China's creative industries," he added.
Beijing will be the second Chinese city to welcome the famed fowl after Hong Kong.
Nanning lawyer Zhu Jibin told the local Nanguo Morning News that the copyright of the rubber duck should be protected as a work of art.
"If an individual makes a replica just for study or research, it is not infringement," he said. "But it could constitute infringement if someone copies it for commercial use to generate profit, whether for exhibition or for sale."
Hofman and the Beijing Design Week's organizing committee will "take action" against those look-alikes, said Wang Jun. They will also design and license official derivatives during the week.
"The rubber duck knows no frontiers," the 36-year-old Dutch artist wrote on the duck's official webpage. "The friendly, floating rubber duck has healing properties: it can relieve mondial (or global) tensions. The rubber duck is soft, friendly and suitable for all ages."
But a commentary in the People's Daily earlier this month noted that too many copycats and excessive commercial use of the duck have degraded the art into kitsch.
The idea came to Hofman in 2001. His first rendition, some 26 meters tall, was completed in five years and shown in the Netherlands in 2007.
He has since made several ducks of different sizes displayed in cities ranging from London and Osaka to Sydney and Sao Paolo. Hong Kong was the duck's 13th destination.
Zeng Hui, an official of the Beijing Design Week's organizing committee, said every one of the massive rubber ducks must be made for individual destinations because their size and inner structure have varied requirements due to differences in the local environment and climate.
The duck in Beijing is planned to be about 10 meters tall and expected to stay for a month.