China at forefront of African change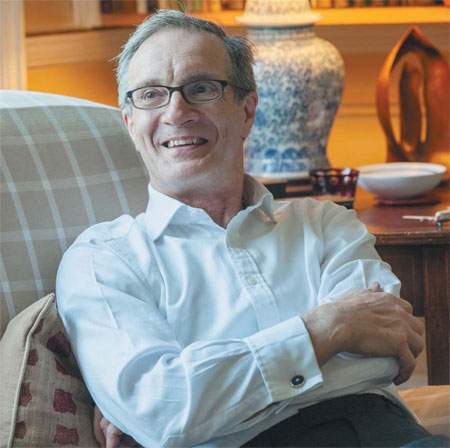 Richard Dowden believes China's involvement in Africa has been transformative. Nick J. B. Moore / for China Daily
It's not just state corporations but also entrepreneurs making impact, says Africa society director
Richard Dowden believes Chinese have been a vital catalyst in reversing the economic fortunes of the African continent.
The executive director of the Royal African Society says China's investment and trade over the past decade have been transformative.
"On the whole I am very positive about Chinese involvement in Africa. It is the main thing that has turned the African economies around."
He says a lot of the Western negativity around the China-Africa relationship comes from the resentment of some Western firms that deserted the continent when times were difficult at the end of the last century.
"I think it is a bit like one of those fairy tales. The porridge became too hot to eat and they all left and suddenly the Chinese came through the window and gobbled it all up," he says.
"When Western firms were thinking of going back to places like Mozambique and Zambia there was a panic because there was now a real competitor. They felt they owned the place and it was theirs to take what that they wanted. So they complained bitterly about Chinese methods."
Dowden, 64, was speaking in the sitting room of his late Georgian house in north London, which was built by the master builder Thomas Cubitt and retains many period features.
With the clock ticking on the mantelpiece, one could be forgiven for thinking one had entered into the home of someone who fittingly heads a colonial institution.
"That is the Royal Geographical Society," he laughs. "They are the ones that funded the exploration that led to the carve-up of Africa and have all the records from (explorer Henry Morton) Stanley. They celebrate that and we don't. We try and celebrate Africa."
Dowden, who readily confesses to not being a "great monarchist", says his institution is not particularly "royal" either.
"I would be quite happy to call it 'the Republican African Society'. I would say we get no support from them or anything else. There are lots and lots of royal societies. I am not sure how it happened but it is not a major part of who we are," he says.
The RAS was actually founded in memory of Mary Kingsley, the British explorer and author of Travels in West Africa, who died of typhoid during the Boer War at 38.
"She was very ambivalent about colonialism," Dowden says. "Her view was if you are going to do it then do it properly, bring with you health and education and take Africa seriously, study its languages and culture. It is very much the agenda we would follow now.
"The belief at the time was that these were primitive cultures and that they didn't have any history. Her view was that they were very rich old cultures and we should go and write about them."
The society, which employs 14 staff, is best known for publishing African Affairs, reputedly the world's leading African studies journal. It is also a membership organization that holds many events and is a forum for debate about Africa.
One of the first things Dowden did when he took over as director in 2002 was to form an all-party African group in the UK parliament and institute an annual party there for the African diaspora.
"We brought all these young Africans together who said it was the first time they had ever been invited to parliament to meet MPs and talk about Africa," he says.
One of the major topics of debate within the RAS is the role of China in Africa.
Dowden, who is also the author of Africa: Altered States, Ordinary Miracles, which is seen as a landmark book on modern Africa, says the impact is not just from major Chinese state corporations but small entrepreneurs everywhere.
"I know a Chinese woman who is doing a study of around 100 lone Chinese people operating in Africa," he says. "She has come across this woman in the copper belt in the Congo buying hand-dug copper. You could understand it if it was hand-dug gold but she has made a business out of it.
Dowden first went to Africa shortly after reading history at London University, teaching in Uganda under the auspices of the Catholic missionary group White Fathers.
"I had the best two years of my life. I went there thinking I was going to suffer and experience absolute deprivation and I had an absolute ball," he says.
He left suddenly when the then Idi Amin regime began looking for British spies in the area and returned to the UK and began working for the Catholic Justice and Peace Commission, which took him to Northern Ireland at the height of sectarian unrest.
"I went there to see what I could do on the peace front and then got rather tired with that and then started writing about it," he says.
This led to a career in journalism. He became editor of the Catholic Herald at just 28 and then took a job on the foreign desk of The Times.
"I wrote to the editor who was then William Rees-Mogg (also a Catholic) and asked him to give me a job. He took me to lunch and over the pudding he asked me whether I would like to be a foreign correspondent," Dowden recalls.
He went on to be Africa editor of The Independent and then performed the same role at The Economist and was there when it published the now infamous "Hopeless Continent" cover about Africa in 2000.
"I realized I hadn't got my point across (at editorial meetings). I couldn't put my finger on it but what I realized was that I had never seen in Africa was hopelessness. Even in the worst of times, it was a place of terrific enthusiasm and positivity.
"I had edited a religious newspaper but I have never worked for a more religious newspaper than The Economist. Its belief in the market to solve all the world's problems was so absolutely ingrained."
Dowden believes the last decade - which The Economist itself now acknowledges - has proved that cover wrong.
He thinks China has been at the forefront of change, in particular, its massive investment in infrastructure.
"It takes the World Bank 20 years to build a road but it takes the Chinese only 20 months. You can actually see what the Chinese are doing," he says.
He says one of the negative sides of Chinese involvement has been the waning of local traditional industries that have not been able to compete with inexpensive Chinese imports.
"For the first time millions of Africans have been able to buy a pair of shoes or even a second pair of shoes, a nice shirt and a watch at prices they can afford but Chinese goods have swamped the market."
Dowden believes the development in Africa over the past decade is "absolutely real" and has not just been a China-fueled resources boom, with the younger generation being far more aspirational than previous generations.
But he is concerned that some of the new wealth is only being enjoyed by the middle class.
"The question is whether the wealth is just been contained in those who live within a bubble of beautiful houses, 4x4 cars and lovely air-conditioned houses or whether it is spreading."
Dowden says that for African development to take a proper hold it needs to pick up some of the 80 million manufacturing jobs to be shed by China over the next five years, according to a World Bank forecast.
"Some of the jobs should go to Africa but there are no clear signs of them coming yet. This though is what needs to happen," he says.