Beijing luxury property market rebounds in May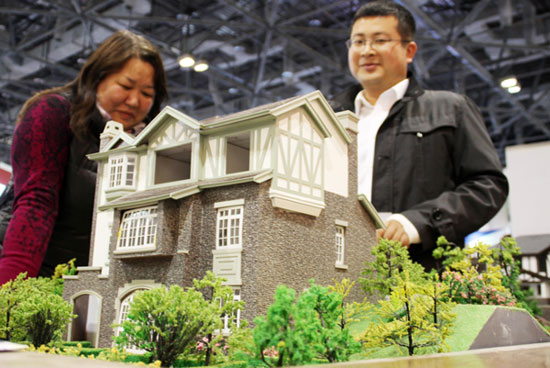 Potential buyers examine a model of a villa project at a housing show in Beijing. In May, 82 luxury apartments priced at more than 15 million yuan ($2.45 million) changed hands in the capital, up 74 percent month-on-month. Wu Changqing / For China Daily
Sales of domestic upmarket properties seem immune to the tightening policies that aim to rein in rampant housing price hikes and deter speculation, as both transaction volumes and the sales prices of Beijing's luxury apartments soared in May from April.
A total of 82 luxury apartments priced at more than 15 million yuan ($2.45 million) were traded in May in the capital, surging 74 percent month-on-month, according to Yahao Real Estate Selling and Consulting Solution Agency.
The average price of high-end properties sold in May in Beijing rose 5 percent month-on-month to 53,329 yuan per sq m, the highest level in 17 months.
According to the agency, increased transactions in top-tier properties in the capital pushed up the transaction value of the luxury apartment market.
Luxury apartments' transaction volume soared 22 percent month-on-month to 67,000 sq m in gross floor area, and their total value surged to 3.55 billion yuan, up 28 percent month-on-month, said the report.
Guo Yi, manager of the brand promotional department of Yahao Real Estate, said April and May are normally the peak season for luxury apartment transactions.
"Luxury flats are not only high-quality buildings, but are also well decorated and have gardens. These properties are targeted at the large families of Chinese billionaires," said Guo.
Guo said as the economic climate is stabilizing, demand for high-end properties will recover for both the purposes of living and investment.
But Zhang Dawei, research director at Beijing Centaline Property, said that he did not see such a trend.
"We have no specific research data on luxury property sales, but according to my observation, there is no particular rise in luxury property trading in the Beijing market," said Zhang.
According to Zhang, the central government's latest tightening measures to curb speculation and investment in the property market won't logically lead to sudden heated sales of more expensive flats.
Guo said the luxury housing sector is the least affected among all residential properties.
"There are more ways than you can imagine for billionaires to buy a new house, either in the name of their companies, or in the name of their relatives."
A total of 96 luxury properties priced at more than 60,000 yuan per sq m were traded in Shanghai in May, remaining flat compared with April, according to Song Huiyong, a research director at Shanghai Centaline Property Consultants.
By the end of May, 40 luxury properties priced at more than 100,000 yuan per sq m were sold in Shanghai, nine less than in the same period of last year, said Zhang Hongwei, research director of Shanghai-based property consultancy ToSpur.