A singer who chose the role of backup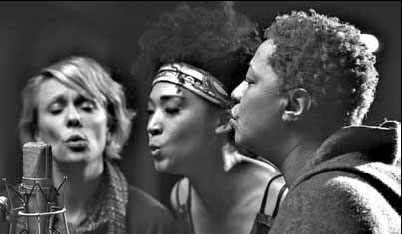 Jo Lawry, Judith Hill and Lisa Fischer in "20 Feet From Stardom," directed by Morgan Neville. Ms. Fischer beat out Aretha Franklin for a Grammy. Graham Willoughby / Sundance Film Festival
SAN FRANCISCO - Imagine if there was no "sock it to me" at the end of "Respect." Think about "Like a Prayer" without the choir or "Wanna Be Startin' Somethin'" without its big "ma ma se, ma ma sa, ma ma coo sa" finish.
If a background singer had not contributed her ferocious "rape, murder - it's just a shot away" to "Gimme Shelter," would it have even become a hit?
"When you start listening for us, honey, we're everywhere," said Lisa Fischer, a vocalist who, at 54, is the music industry's reigning backup queen.
Ms. Fischer, a New York-based vocalist, is featured in the documentary "20 Feet From Stardom," just released in New York. Directed by Morgan Neville ("Johnny Cash's America"), the film delves deep into this often-ignored corner of the music business - the history, the histrionics, the heartache.
Especially the heartache. Mr. Neville lingers on people like Darlene Love, who was a brick in Phil Spector's Wall of Sound - that's her voice on "Da Doo Ron Ron" - but got beat up by the music industry; she ended up cleaning houses before restarting her career in the 1980s. The film also highlights Merry Clayton, who provided that searing "Gimme Shelter" performance in 1969, but never managed to achieve the solo superstardom she wanted so badly.
But it is Ms. Fischer who has become the star of the film, at least as it has traveled the festival circuit.
"I reject the notion that the job you excel at is somehow not enough to aspire to, that there has to be something more," Ms. Fischer explained. "I love supporting other artists."
Ms. Fischer had a hit of her own. She won a Grammy Award in 1992 for her first single, "How Can I Ease the Pain," beating out none other than Aretha Franklin. But she never completed a second record, in large part because she decided that the heat of the spotlight wasn't for her. Backup singing was her calling.
Good backup singers have to put their egos aside, meshing their identities with the other background performers. Remaining pliable is crucial. They also must be able to immediately understand what the band wants, often without explicit instructions.
Ms. Fischer has backed up Tina Turner, Luther Vandross, Chaka Khan, Sting, Dolly Parton, Beyonce, Alicia Keys, Ms. Franklin, and the Rolling Stones.
At Ms. Fischer's audition for Mick Jagger, he surprised her by starting to dance around her. "I thought, 'He's really weird, man!'" she said. "He was trying to feel my energy but nobody gave me the memo. I just kept singing and didn't let it throw me."
Ms. Fischer has been singing with the Rolling Stones since 1989, and her "Gimme Shelter" duets with Mick Jagger are now a highlight for many fans.
As for her solo career, after her success with "How Can I Ease the Pain," she decided not to work on a follow up. "Some people will do anything to be famous," she said. "I just wanted to sing."