China in Africa: Developing a continent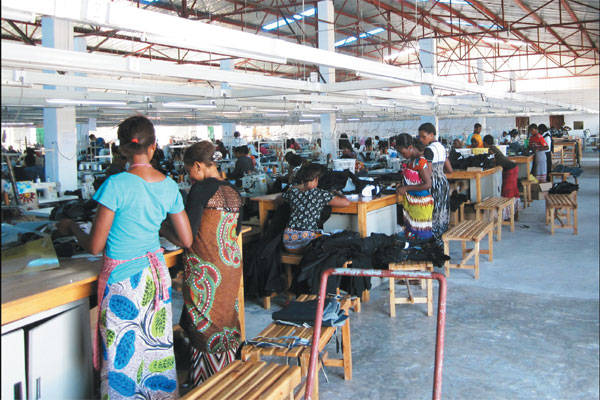 A Chinese textile factory set up by a Wenzhou entrepreneur in Dar es Salaam, Tanzania, last December. Provided To China Daily
In the last decade, investment in Africa by the world's second-largest economy has surged to $2.9 billion from $75 million, and with it China's influence can be seen everywhere, Zhang Yuwei reports from New York.
When Asoka Ranaweera helped on a project to build an Ethiopia glass factory backed by the China Africa Development Fund in 2009, he considered it a "flagship investment" given the size of the investment at the time.
It was to be Ethiopia's first glass factory - worth $15 million - and built by Chinese investors through the CADF, a private-equity fund. The fund set up in 2007 planned to spend about $300 million on projects on the continent in 2008.
Located in the suburb of the capital city of Addis Ababa, the factory - built by China's construction firm CGC Overseas Construction Group Co Ltd - was to produce up to 60,000 tons of glass sheet every year, with about 30 percent of that for local use and the remainder for export to East African countries.
"At the time it was considered to be a flagship investment," says Ranaweera, founder and CEO of Grid2Grid, a Washington-based investment-consulting firm, which was approached by the CADF for assistance in locating viable projects in Africa.
That was four years ago. Now, China's footprint in Africa is big and getting bigger. Chinese investment surged to $2.9 billion last year from $75 million in 2003, with an average annual growth rate of 50 percent, according to China's National Development and Reform Commission.
China's investments and influence are seen everywhere in Africa, drawing criticism from some Western pundits who often connect Chinese investments to "colonialism". But many believe China brings hope to Africa.
Zambian-born economist Dambisa Moyo is one of them. Moyo has been outspoken about international aid to Africa. She argued in her New York Times best-selling book Dead Aid: Why Aid is Not Working and How There is a Better Way for Africa (2009) how foreign aid could hinder Africa's growth. But she recently said investment from the world's second largest economy is transforming Africa.
"I'm not saying that China should be given a red carpet, carte blanche, to come into Africa or, indeed, anywhere in the world, and do what they like," the economist recently said in a CNN interview. "We do need the investment, we need job creation and we do need actual trade in these places, but I think what's really essential is to focus on what China can do for Africa, as well as what Africa can do for China. And I think that discussion has not been as objective as it should be."
In street markets in cities such as Cairo, Luanda, and Johannesburg, all kinds of Chinese goods - clothing, jewelry, and electronics - are popular among Africans because of their affordable prices.
"As per capita incomes grew, Chinese consumer goods like microwaves, refrigerators and washing machines - among a host of other goods - entered the African market," says Ranaweera. "These goods, which were far cheaper than American or European products, became affordable to many in Africa's growing middle-classes."
Best partner now
Mthuli Ncube, chief economist and vice-president of the African Development Bank, said China is probably the best partner Africa can have now. "But Africa needs to step up and develop a strategy for engaging China, so both regions can move higher," he added.
Robert Rotberg, a visiting Fulbright scholar at Canada-based Centre for International Governance Innovation, says while China's investment in Africa has a positive impact, African countries need to "diversify to best use Chinese cash inflows".
"It [Africa] needs to develop manufacturing and others; China can offer to transfer knowledge," said Rotberg.
Ncube says that while China is increasing its investment in Africa, the continent should develop a strategy for China and use China as its example in many areas. The chief economist says Africa's manufacturing sector should begin to make different parts for various final goods which are produced in China. Ncube recommends that Africa should see China as a "ladder" which it can climb to reposition its role in the global economy. "Africa should become the factory to the world just like China became one in the last 15-20 years," says Ncube.
Ranaweera says China's current investments in Africa mirror exactly the same pattern of American and European investments on the continent, with the bulk of Chinese investment in minerals and natural resources (oil and gas, mining, forestry)."
And the criticism of China comes from competitive concerns of Americans and Europeans, he says. "Americans and Europeans criticize China, but the pattern of trade is exactly the same; Africa provides primary commodities to America, Europe and China," he said.
China overtook the US in 2009 to become Africa's largest trading partner. Trade between China and Africa was $10.5 billion in 2000, $40 billion in 2005 and $166 billion in 2011.
"China has had the experience in the last 35 years of going from a low industrial base to an advanced industrial country. This experience can prove invaluable to African countries," says Ranaweera. "These experiences can lead greatly to increasing the skills, knowledge and experience base of African countries."
In late March, China's new president Xi Jinping kicked off his first foreign trip since taking office less than two weeks before. The trip included a six-day Africa tour in Tanzania, the Republic of Congo and South Africa where he attended the 5th BRICS Leaders Summit in Durban. His trip to Africa showed how much importance China attaches to extending ties with the continent in the coming years.
Xi was the first Chinese head of state to visit the Republic of the Congo since the two countries established diplomatic relations in 1964. Two-way trade between China and the Republic of the Congo jumped to $5 billion in 2012 from $290 million in 2002.
In a speech in Dar es Salaam, the seaside economic hub of Tanzania, Xi set the tone for the future of Sino-African relations, reassuring that China's own growth and rising international stature will not change the bilateral relations, and "the importance of Sino-African relations will not decline, but will instead rise."
China faces up to the new circumstances and new problems in Sino-African relations, the Chinese leader told the audience. "China has and will continue to work alongside African countries to take practical measures to appropriately solve problems in trade and economic cooperation so that African countries gain more from that cooperation."
Xi reassured continuing investment from China by announcing a plan to provide training for 30,000 Africans over the next three years, including 18,000 scholarships.
Xi also said China will strengthen mutually beneficial cooperation with African countries in agricultural, manufacturing and other areas, helping these countries convert their resource advantages into developmental advantages.
Xi's pledge for "never-ending support for Africa" at the BRICS summit is not surprising, given the history of Sino-African relations, says Jon Taylor, a political science professor at the University of St. Thomas in Houston, Texas.
"To be frank, China differs from the US and Europe by providing more infrastructure construction and investment in exchange for development, with an eye on trade relations. With such strong economic ties, it should come as little surprise that China's development model is viewed by African leaders as viable as the Western development model," says Taylor, an avid China watcher.
Key economic player
Douglas Zeng, a senior economist who focuses on the global market and the Chinese and African economies with the World Bank, says while China is rapidly emerging as a key economic player in Africa, its overseas activities are closely scrutinized by international media, research institutions, and donor agencies, "yet much of the conventional wisdom about Chinese development finance rests on untested assumptions, individual case studies, and incomplete data sources".
In 2006, China announced that it would help establish as many as 50 special economic zones in Africa. So far, China has developed eight of those, including six in Sub-Sahara Africa.
"These zones can help jump-start the manufacturing sectors in Africa," says Zeng.
"Some of these zones have made good progress in terms of building infrastructures and attracting investments," Zeng notes, adding that they also face some challenges, including improving the management capability of the zone developers and difficulties in coordination with host government counterparts.
There were more than 1,600 Chinese development finance projects worth $75 billion in 50 African countries from 2000 to 2011, according to data from the Center for Global Development, a Washington-based non-profit think tank that focuses on international development, and AidData, which collects information on individual foreign aid projects financed by governments and aid agencies. Health, education and transport and storage projects received the largest Chinese funding.
"The sectoral distribution of Chinese aid to Africa stands in contrast to the pattern of traditional donors, which have channeled the lion's share of their funding - nearly 50 percent - into social and humanitarian sectors. In this sense, Chinese aid is complementary to assistance from Western donors," says Zeng.
Most recently, China's HNA Group, the largest privately owned air transport company and the fourth-largest airline in terms of fleet size in China, signed a partnership with the United Nations World Food Program to help provide take-home rations to promote girls' education under its school meals program in Ghana.
Last year, HNA Group extended its Brightness Action - a 10-year charitable program the company launched with Beijing Tongren Hospital in 2004 to tackle avoidable blindness - to the African continent. The program helped restore the vision of more than 1,400 people in Zimbabwe, Malawi and Mozambique.
HNA Group also has business projects in Africa. Last year, it signed a cooperation agreement with the Ghanaian Africa World Airlines to launch a joint venture co-financed with the China Africa Development Fund among others. It was the first-ever aviation investment made by a Chinese company in Africa.
HNA's involvement in Africa reflects a new trend of Chinese investment of carrying out corporate social responsibility on the continent, and it could foreshadow where Chinese investment is heading.
"China's investments in Africa have come primarily from state-owned companies. In the future one key area to look out for is private Chinese companies and individuals making investments in Africa," says Ranaweera.
"The next great wave will come when medium to large private enterprises from China deploy capital in partnership with Africans to make money," he says. "An example of this might be in the future a large Chinese property developer links up with an African partner to develop commercial and residential real estate in a fast-growing African city."