As China's cities grow, future lies in migrants and money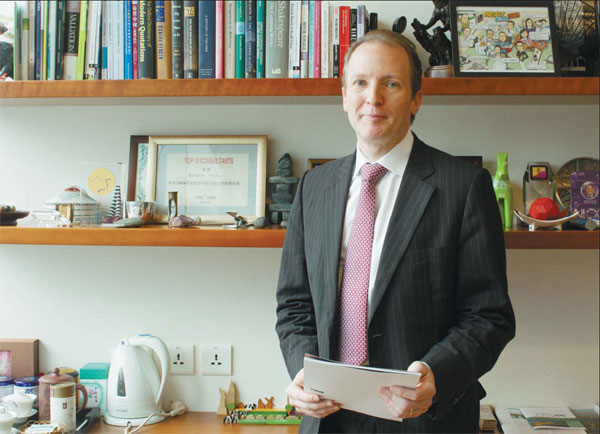 Jonathan Woetzel, director of McKinsey & Co, says the biggest challenge China faces is to integrate migrants and create opportunities for people who come to cities. Gao Erqiang / China Daily
Local governments need access to funds to make urbanization work, expert says
The Chinese government urgently needs to come up with a sustainable basis for local government financing to support rapid urbanization, says Jonathan Woetzel, director with global management consultancy McKinsey & Co.
Woetzel co-chairs the Urban China Initiative, a joint program among McKinsey, Columbia University and Tsinghua University to develop and implement solutions to China's urbanization challenge.
"Sustainable local government financing will allow governments to have money to spend on better education and healthcare," Woetzel says. "Another thing is to change financial policy so that banks are encouraged to lend money to small business."
Woetzel's conclusion is based on his analysis of the biggest challenges China faces.
"The biggest challenge is to integrate migrants, and create opportunities for people who come to cities to genuinely participate in the city. It's about urbanizing people, not urbanizing land.
"Urbanizing people means first of all creating jobs, so the single biggest issue is creating good service-sector jobs for floating migrants, which is a problem because banks do not want to lend money to services, usually small and medium-sized enterprises."
Each year about 1 to 1.5 percent of the total 1.3 billion population move from villages to cities, and farmers without land have to find jobs in cities to make a living, Woetzel says.
"The major job growth is in the service sector. However, there are not enough jobs being created in this sector to employ all the new migrants. As a result, they have to find informal employment or part-time jobs, which may lead to crime among the under-educated migrants and is a very severe challenge for China's society."
Housing is also a critical issue, he says.
"Lowering the housing price is a big step historically, but not enough. We need this opportunity for floating migrants to be able to afford houses. Currently only 5 to 10 percent of the floating population have their own housing, which is a problem."
Woetzel says other big challenges include education and healthcare, which are particularly important for children and old people.
"Although we have recently read a lot about gaokao (the university entrance exam), the more important thing is the education of primary schoolchildren and migrant kids."
Second-tier cities such as Zhengzhou are short of decent primary education for migrant children, he says, "so China is undereducating an entire generation. We have 50 million to 200 million children who do not receive good education because of the current system of education."
If all of those challenges are to be tackled successfully, Woetzel says, Chinese cities need to have the funds to do the job.
"Today's Chinese cities do not have enough money. They meet their funding need by selling land, which is not a long-term solution. In the short-term, China needs to have property tax. All city governments in the developed world have property tax."
Woetzel, 47, has lived in Shanghai for 15 years and is a frequent visitor to Beijing. Comparing the development of the two cities, he says urban planning in Shanghai is better.
"If you are a performing artist you have to live in Beijing because it is where the resources are. But (for the average person) Shanghai's planning is more progressively executed."
Over the past 200 years, Western cities in the process of urbanizing have made mistakes, Woetzel says, examples being the low density of US cities and low-income ghettos in Paris, and to him it seems Beijing is repeating some of those mistakes, especially with low density.
"A denser city is a more accessible city. The building of Beijing's metro is a very important part of the planning as a way of creating more access for more people."
Large high-rise complexes should be built around metro stations to provide more access to more people, he says.
If that is not done, the result will be two Beijings, he says, one with access for its people and the other without it, the former populated by richer people who have access to better facilities for children, better education, better healthcare and welfare.
Compared with European cities, Chinese cities are generally bigger and supposedly denser with many metros built, he says. However, there is less technology than in many European cities.
"There are a lot of technologies that have been introduced in Western cities because they have had more time to experiment, so China should take advantage of that."
Using such technologies includes adopting the idea of the smart city, he says.
"For me, first of all, smart city means using the best planning concept. So I think density is part of being smart. A dense city is smarter than a sprawling city. A dense city will also allow people to use technology better. So the first step is to have more information through sensors so that you can tell people where the traffic jams are and how much electricity they are using. More information helps people make better choices."
McKinsey predicts that China will have 10 to 12 megacities with populations of 15 to 20 million, around which city clusters will form. A cluster consists of one megacity and 20 to 50 other smaller cities. Most of the population will live in medium-sized cities with populations of between 500,000 and 5 million. In the future most Chinese people will live in small-and medium-sized cities. That will be 70 percent of China's population.