Jinzhou hosts marathon cultural gala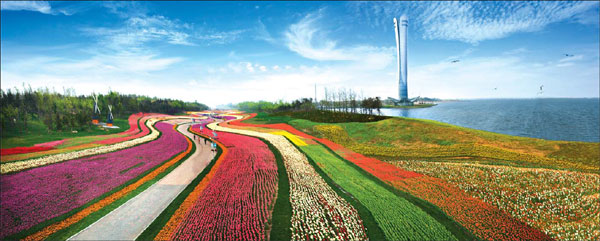 The huge flower field against the background of the seaside Hundred Flowers Tower constitutes one of the most gorgeous sights of the expo. Hu Yitian / For China Daily
Millions expected to attend six-month expo
The ongoing 2013 World Landscape Art Exposition in Jinzhou, Liaoning province, has attracted more than 1 million visitors from China and abroad since it opened on May 10.
The six-month event was co-organized by the International Federation of Landscape Architects and the Jinzhou city government, and supported by the International Association of Horticultural Producers.
With the theme of "City and Sea: Harmonious Future", it focuses on environmental protection and sustainable development.
Beautiful gardens
A total of 57 sub-expos and 108 scenic spots are part of the expo. Organizers say the must-see sights include the three main exhibition venues and the 128-meter Hundred Flowers Tower, which provides a bird's-eye view of everything. It is the central sightseeing spot and dominant landmark of the expo.
Shaped like a flower, the tower has been praised as a symbol of the glamour and dynamism that is Jinzhou.
One of the three venues is the Marine Science Museum. Covering 7,550 square meters, it shows the world's latest achievements in marine science and technology. Organizers said all the interesting experiences it provides promise to pique the curiosity of visitors about the mysteries of nature.
And the 7,800 sq m International Paleoecology Museum is the first exhibition hall for ancient ecosystem restoration in the world. It displays an ecological landscape of ancient animals with a glacial-era ecology as the background, with fossils donated by local collector Zhang He.
Another appealing venue is the Water Rhyme Theater, the major performing center of the expo, which provides a regular dancing show called "Splendid China".
In addition, the expo's central area features the International Exhibition Park and 20 gardens, bringing to life the designs selected from hundreds of works by renowned landscape architects from all over the world.
Organizers said visitors can also experience the charms of 14 Liaoning cities in the city exhibition areas.
Diverse activities
The 2013 World Landscape Art Exposition features a variety of different cultural performances, including the "Splendid China" show at the Water Rhyme Theater, as well as a stunt show and float parades.
On stages scattered throughout the various venues, there are different performances from more than 10 countries, including Australia, Brazil, Canada, South Korea, Cuba, the Netherlands, the United States, Burundi, Russia and India.
In addition, other performances like Peking Opera, local storytelling, folk dancing, acrobatics and puppetry are available.
A number of international forums have been held during the period, including the world gardening development forum on May 11 and the world ocean city forum on June 8.
At the June 8 forum, the mayors of 10 foreign coastal cities and 20 Chinese coastal cities announced the establishment of the International Ocean Cities Alliance and released the Jinzhou Declaration on the sustainable development of coastal cities.
The first international dragon boat races in Northern China opened on June 12. Forty teams from more than 20 countries participated in a series of competitions, according to the organizers.