Two new funds to boost trade with Africa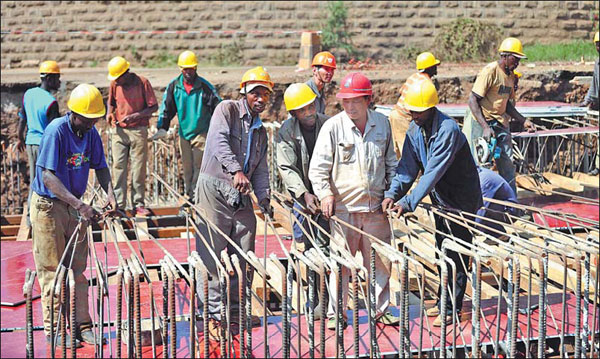 Chinese technicians and African workers at an expressway construction site in Nairobi, Kenya. China has established two funds to finance Chinese enterprises investing in Africa. Zhao Yingquan / Xinhua
New initiatives to lift investment in the continent
The China-Africa Business Council and the China-Africa Development Fund have decided to set up two new funds this year boost China's investment in Africa. One fund is for commercial ventures, and the other, for mining activities.
Zheng Yuewen, chairman of CABC, which represents the interests of more than 550 Chinese companies in Africa, said each fund will raise $1 billion in its initial phase from member companies and the CADFund, China's largest private equity fund focusing on African investments.
Offices for the funds will be established in Beijing this month.
"China has been looking to invest in different ways in Africa, instead of focusing only on building infrastructure projects such as roads, bridges, ports and stadiums throughout the continent," said Zheng.
The changing global investment environment and the lingering debt crisis in the eurozone have prompted major economies such as the United States, the United Kingdom, France, India and Japan to shift their investment focus from traditional markets in Europe and Asia, to Africa.
Additionally, Africa's hunger for urbanization, commodities, jobs, new overseas markets, and improved manufacturing, trade, services and resource sectors, has presented unprecedented business opportunities to foreign investors.
"African countries have good opportunities to capitalize on high international commodity prices, their young energetic labor forces and abundant resources," Zheng said.
"They also have the opportunity of taking advantage of the global investment trend to seek solutions to poor levels of infrastructure, the high unemployment and poverty by accelerating transformation through commodity-based industrialization.
"The continent can go through the same industrial transformation as China did three decades ago, and in time it will become a major goods producer, rather than just being a shipper of raw materials to different foreign destinations," Zheng said.
He said that during this long-term transition, more Chinese companies will move their factories to Africa to help the continent upgrade its technological ability.
The two new funds will provide capital to Chinese enterprises seeking investment opportunities in Africa, particularly in the mining sectors, commercial and trade investment.
To further strengthen cooperation with Africa, the Chinese government has consistently encouraged capable State-owned and private companies to invest there.
It has also supported the African Development Bank and the West African Development Bank by injecting funds, canceling debts, and establishing joint funds for a number of manufacturing and construction projects.
China-Africa trade stood at nearly $200 billion last year, while Chinese investment in Africa has reached $17 billion, according to the department of African affairs at China's Ministry of Foreign Affairs.
In December of 2012, CABC surveyed the 198 member companies which had established a presence in 32 countries across Africa. With 34,000 local employees and 6,400 Chinese workers, the companies had trade relations with 51 African countries and $2.4 billion in sales revenue last year, representing about 16 percent of their total business revenues.
The 198 companies, including Chongqing-based automobile producer Lifan Group, Guangdong-based shoemaker Huajian Group and power supplier Shenzhen Energy Corporation, have so far invested $1.1 billion in the 32 African countries and have plans to invest an additional $5 billion over the next three years.
Around 80 percent of CABC's members are private companies and the rest are State-owned enterprises.
Chi Jianxin, president of the CADFund, said: "In contrast to State-owned enterprises, whose African sales are largely based on huge infrastructure projects, private-sector Chinese companies are more sophisticated in processing local products like cotton and leather into manufactured goods such as garments and shoes."
Chi added that even though logistics costs remain high in Africa, preferential tariffs for African exports to developed markets, low labor costs and favorable investment policies can make up for this.
More than 700,000 people have benefited from the CADFund throughout the continent over the past six years. Its investment now contributes $1 billion in tax revenues to different African governments, and funds the export of some $2 billion worth of goods each year.
The latest China-Africa ventures to be created include a partnership between Chinese cement producer Tangshan Jidong Cement Co Ltd and household appliance manufacturer Hisense Group, who have created a cement plant with 1 million tons of annual production capacity, and a home appliance factory that will be operational in South Africa this month.
Elsewhere, a cotton spinning industrial park in Tanzania and an iron mine that produces 1 million tons per year in Liberia, will be launched in the second half of this year.