Xi meets with 'old friend' Gov Brown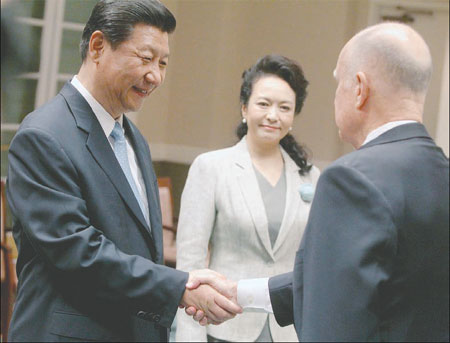 President Xi Jinping and his wife Peng Liyuan greet California Governor Jerry Brown on Saturday in Indian Wells, California. Richard Lui / AP
In a Saturday morning meeting that lasted twice as long as scheduled, California Governor Jerry Brown and his wife Anne Gust Brown sat down with Chinese President Xi Jinping and the Chinese first lady Peng Liyuan, who had just finished two days of meetings with US President Barack Obama.
After exchanging warm greetings at the resort of Indian Wells, Xi opened the conversation by saying, through a translator, that he was glad to see "an old friend of mine".
"It is a great privilege for me to meet with you," Brown said, "especially after the important work done at Sunnylands. You grace our state with your presence."
Both men sitting with their wives at their side, Xi continued: "I recall very well my visit to California 16 months ago and since that visit, I can tell that, as governor, you have made efforts to promote the changes and I can see the outcomes of your efforts."
"I believe you can claim the bulk of all those achievements," Xi told Brown.
Xi also mentioned Brown's efforts to reopen the California trade and investment office in Shanghai this past April.
During Brown's one-week visit to China in April, he led a trade and investment delegation of 75 business leaders. their stops included Beijing, Nanjing, Guangzhou and Shenzhen. Most of the delegation members made application months earlier to a leading business group in the San Francisco Bay Area, which contributed $1 million to reopening the California trade office in Shanghai.
Frequent high-level official interaction and the substantial number of economic exchanges between California and China in recent years have made the trade office's investors feel confident about doing business with China. After the dot-com bubble in the late 1990s, California closed many overseas offices to save money.
When former California governor Gray Davis decided to shut down the offices, he told California taxpayers it would save them $6 million a year.
But many California businesses argued that closing the mission was a handicap in trying to vie for investment from China and could make them fall behind other US states.
Brown and Xi spent about 40 minutes discussing what Brown described as ways to "advance our mutual goals of new energy technologies, agriculture, tourism and exchange of students and scientists." the meeting wound up nearly 20 minutes longer than scheduled.
"It's a very encouraging sign to improve relations between the two countries," said Jim Wunderman, president and CEO of the Bay Area Council. "there are so many constructive things to do together and it is a new step that definitely improves the engagement between China and the US."
Wunderman noted the leaders recognize the cooperation between the US and China and they have very much in common. "As for common interests, I think it starts with the economy, each one is very independent of the other. That's why I think they both make the effort."
Everyone benefits from the China trade trip led by Gov Brown earlier this year, because they know the power and potential China has. "the interaction and communication between two leaders will further discussions, bring more cooperation, contact and investment," he said.
Understanding each other is difficult, it takes time and effort, he added.
According to the Ministry of Commerce, China is California's third-largest trading partner and imported $14 billion of merchandise from the Golden State in 2012, 28 percent of which was computer and electronic products.
The ministry also said thatone third of Chinese exports to the US pass through California or end up there, making it an important gateway for China.
According to an earlier survey jointly released by the New York-based research firm Rhodium and the Asia Society, California has the potential to attract up to $60 billion of direct investment from China by 2020.
chenjia@chinadailyusa.com