Suspect in fatal Xiamen bus blaze identified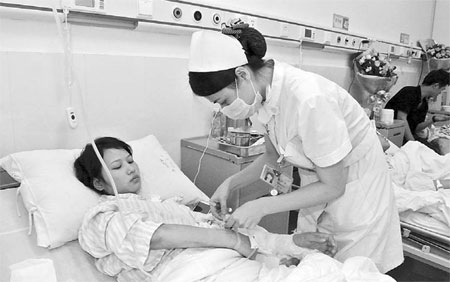 A nurse at the PLA 174th Hospital treats a woman who was injured in the Xiamen bus blaze. Wang Jingfeng / for China Daily
Police in Xiamen have identified a suspect they believe responsible for the bus blaze that killed 47 people on Friday.
On Saturday, authorities named Chen Shuizong, a native of the city in Fujian province, as the prime suspect. He was among the passengers who died.
According to the city government's information office, police raided Chen's home and discovered a will "in which he revealed despair about his life".
He was identified through footage recorded by a security camera on the bus, a police officer close to the investigation said on condition of anonymity.
He said initial findings suggested at least 10 liters of gasoline was used to start the blaze.
Flames swept through the rapid transit bus as it traveled on an elevated road between the city's Caitang and Jinshan stations at about 6:20 pm.
The vehicle had been carrying about 90 passengers, Huang Wenhui, spokesman for the city government, said on Saturday.
He confirmed the death toll and said 34 people had also been injured.
An inspection team led by Minister of Public Security Guo Shengkun arrived early on Saturday. The team found the oil tank and tires of the bus had remained intact, and that gasoline had been used to accelerate the blaze, while the bus was fueled by diesel.
After an initial investigation, authorities said the incident was being treated as arson.
Photos posted online and widely circulated by netizens showed victims with bare feet, smoke-covered faces and torn clothes walking from the scene, some were bleeding and visibly burned.
Lyu Shangbin, an 18-year-old passenger who managed to escape the inferno by climbing through a window, said afterward that he had smelled gasoline just minutes before the fire and had thought there was a leak.
Zeng Demeng, a veteran firefighter, said the fire was so fierce the bus was still smoldering half an hour after the flames had been extinguished, while barriers along the elevated road had also been scorched.
Fujian Provincial Health Department has sent a team of eight burns specialists to the scene to help survivors.
On Saturday, Guo Xianwen, deputy director of Xiamen education bureau said four of the injured were students who had just finished their first day of the national college entrance exams.
Contact the writer at sunli@chinadaily.com.cn