Mayor: Balanced growth for maturing Chengdu
Fortune Global Forum now underway in Sichuan capital, Zhuan Ti and Peng Chao report
Chengdu has an "initial value, industrial and supply chain" for Fortune Global 500 and other leading international firms, Mayor Ge Honglin said on the opening day of the Fortune Global Forum on Thursday.
While noting that 238 Fortune Global 500 companies now have operations in Chengdu, Ge also stressed the important contributions made by local firms to the city's economic growth.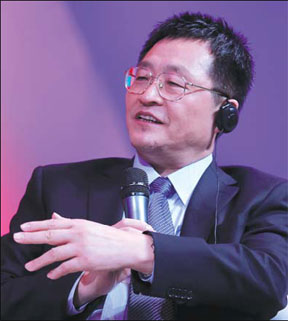 Optimistic about the future of Chengdu, he said the city will take a more balanced path to development.
Ge made the remarks during the first major discussions of this year's forum - the Fortune/CCTV Roundtable that started at 9 am in Chengdu's Shangri-La Hotel.
During the three-hour session, Ge's remarks focused on how the city managed to become a magnet for the world's leading businesses. He was a panelist in the discussion on "the rise of western China".
Quoting the city's spirit of harmony and inclusiveness, he said Chengdu is helpful to all foreign investors.
"My philosophy is that they must have many concerns after traveling a long way to the west," he told the audience of multinational and domestic corporate executives.
"The key is how to serve them better when they arrive in Chengdu, so our belief is that we can only attract more investors when we serve those who are already here well."
Ge said Fortune Global 500 companies will always check before arriving to see if a region's industrial base and supply chain are mature enough.
"What we have been doing is we persuade them set up a sales company in Chengdu first, and then a R&D body, to develop a new type of R&D bodies according to local products. It's like some preliminary work before setting up a manufacture center," he said.
The US chemical giant announced last August it would establish a Chengdu branch, a move expected to further enhance cooperation with local partners and better serve the western markets of China.
It marks a milestone in the growth of DuPont China as it looks to expand its presence in the region and support China's "Go-West" strategy, said the company's executives.
Ellen Kullman, chair and CEO of DuPont, acknowledged Chengdu's role as a manufacturing center during the same panel discussion.
She highlighted the development of the city's auto industry and praised the work done by the Chengdu mayor in her company's local development.
"Chengdu has an initial value, industrial and supply chain for Fortune Global 500 companies and other global leading high-end firms," Ge said, highlighting the city's strength in auto industry.
Chengdu's auto industry surged 30 percent as it produced more than 410,000 vehicles last year, a growth rate more than four times the national average for passenger vehicles.
Auto strength
The capital of Sichuan province is now the nation's third-largest automobile producer and the biggest in the western region.
About two million vehicles are now on the road in the city.
Revenue from Chengdu's auto industry hit 71.6 billion yuan ($11.6 billion) last year, an increase of 51.6 percent over 2011.
Chengdu is now an important production base for FAW-Volkswagen, FAW Toyota, Volvo and Geely. It has 275 related enterprises, 19 of them making finished autos.
But while he stressed the city's experience in attracting foreign firms, Ge also acknowledged the significance of local companies, which he termed "the subject" of Chengdu's economy.
"It's a concern in many places that small local firms cannot compete with Fortune Global 500 companies, so they face the danger of being absorbed. But we can resolve this issue well and we encourage local firms, particularly SMEs and technology firms, to join hands with Fortune Global 500 companies," he added.
Ge said keeping a balance is another of Chengdu's achievements in reaching the level of development it has today.
"It's a balanced development when there is no rush and when environmental protection, the economy and other facets of the society are taken into consideration," he said. "I think Chengdu's growth in the future will be balanced and dynamic."
The city had double-digit growth in the first quarter of this year despite the prevailing slackness in China's economy.
Chengdu's GDP grew 10.5 percent from a year earlier to 215.1 billion yuan, according to the city's statistics bureau, surpassing the GDP growth of 7.7 percent recorded nationwide and 10.2 percent for the whole of Sichuan province.
The city's growth in the first quarter was led by a 13.7 percent expansion in its manufacturing sector amid advances in information technology, aerospace, solar panels, biomedicine, green technologies, advanced industrial materials and automobiles.
Disposable income of urban residents in Chengdu edged up 8.5 percent.
Northern renovation
The city government is now pushing forward a massive renovation plan in its northern area, which hasn't grown as fast as the south.
Fixed-asset investment increased 17.2 percent in the first quarter of this year in the northern region.
A total of 27 infrastructure construction projects have begun in 2013, Chen Xianlong, deputy director of general office of the leading group for the northern renovation project, told a briefing on the sidelines of the forum.
The massive renovation is planned to cover 211 square kilometers that has a population of 1.5 million. Chen said 30 projects have already been signed.