Major deals penned in Costa Rica
By Zhu Zhe in San Jose, Costa Rica, and Zhang Yuwei at the United Nations | China Daily | Updated: 2013-06-04 11:47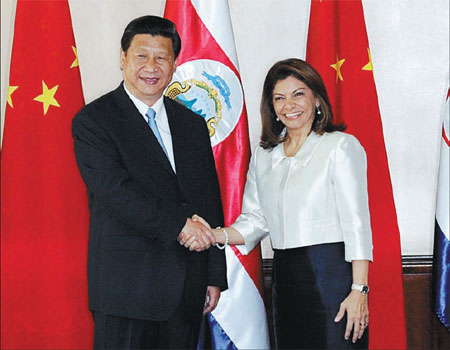 Chinese President Xi Jinping meets with Costa Rican President Laura Chinchilla in San Jose on Monday. Rao Aiming / Xinhua
Chinese President Xi Jinping's visit to the Central American country of Costa Rica boosted economic ties between the two countries after a series of agreements in infrastructure and trade and investment were signed on Monday.
The two countries concluded agreements on economic and technical cooperation, quality inspection of pork products exported to China, the construction of a joint oil refinery on Costa Rica's Caribbean coast, and Chinese funding for the expansion of a highway between San Jose and the city of Limon, which is 200 km east of the capital.
The two sides also agreed on substantial purchase orders of cow leather and timber exported to China, but the exact price tag on these orders was not released.
Xi told reporters after the meeting that China would like to have more pragmatic cooperation with Costa Rica and further expand bilateral trade.
President Laura Chinchilla said that Costa Rica highly values the Chinese market. She said the first batch of dairy products from Costa Rica would be exported to China soon, and the country hopes to follow it up with exports of more agricultural and industrial products.
"The export of our dairy products shows that if you bravely explore the Chinese market, you will definitely have gains," Chinchilla said.
The Costa Rican president said her country is also willing to have more cooperation with China in tourism, finance, infrastructure, clean energy and education, adding that Costa Rica would issue policies to make it easier for Chinese people to secure visas to Costa Rica.
Eduardo Ulibarri, Costa Rica's permanent representative to the United Nations in New York, hailed Xi's visit, noting that it has given "new momentum" to a young relationship between the two countries, which established diplomatic ties in 2007.
"These trade agreements will help boost the free trade agreement between China and Costa Rica, and for us it is very important," said Ulibarri.
China and Costa Rica signed a free trade agreement in 2011. It covers a wide range of areas with more than 90 percent of goods traded between the two countries enjoying zero tariff on a stage-by-stage basis.
The infrastructure agreements signed during Xi's visit would also help move the country's developmental strategy forward, said Ulibarri. "The impact from China is very significant," the Costa Rican diplomat said.
Ariel Armony, director for Center for Latin American Studies at the University of Miami, said some of the cooperation agreements discussed by the two presidents - such as a joint oil refinery and expansion of the highway between San Jose and Puerto Limon - are auspicious.
"But they should follow strict environmental standards," Armony added. "China should look at Costa Rica's successful experience in the production of semiconductors and medical equipment, and Costa Rica offers very attractive opportunities for Chinese investment in high-tech industries."
China is Costa Rica's second largest trading partner, just behind the United States, while Costa Rica is China's ninth largest trading partner in Latin America. Two-way trade - with a 30 percent growth rate - had risen from $4.7 billion in 2011 to $6.2 billion in 2012.
Xi said that China and Costa Rica are developing countries and face the same challenges of growing an economy and improving its people's lives. He proposed the two countries maintain high-level visits and "firmly support each other on issues of core concern to the other side".
"With our joint efforts, relations between China and Costa Rica could become a model for cooperation between countries that are of different size and conditions," Xi said.
"China and Costa Rica - despite having established diplomatic ties six years ago - has comprehensive relationship," said Ulibarri, adding that the two countries have been in good exchanges on both political and economic fronts.
Despite differences between the two countries, said Ulibarri, what the two sides have in common is "more important than its differences" and that helps push their relationship forward.
Xi arrived at San Jose on Sunday evening for his second stop of a three-nation tour of Latin America and the Caribbean - his first Latin America trip since he assumed the presidency in March. Xi will hold a summit with US President Barack Obama in California on June 7-8.