Huawei a victim of its success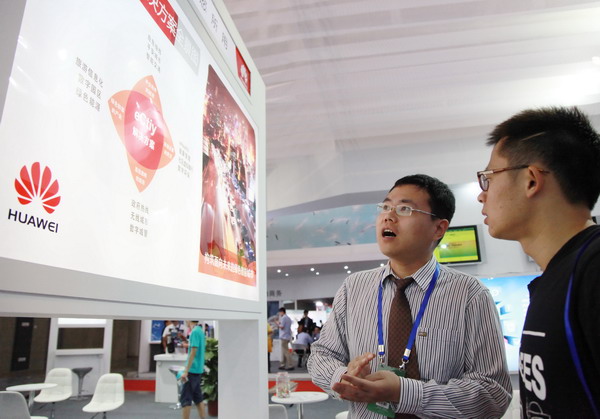 The booth of Huawei Technologies Co Ltd at the 8th China (Nanjing) International Software Product & Information Service Expo in Jiangsu province on Sept 6. Huawei, as a privately held but highly globalized company, has generated most of its sales from the world market. Jian Hua / For China Daily
Tech firm targeted in trade probes due to its high overseas profile
China's symbols used to be the Great Wall and panda bears. But now, a most atypical corporation has found itself, much against its will, become a national symbol attracting trade war bullets from the outside world.
It is Huawei Technologies Co Ltd, the Chinese information and communications technology solution provider.
Huawei was one of the earliest Chinese companies to seek globalization and has depended on markets outside the Chinese mainland for the larger part of its business revenue - more than 60 percent in recent years.
But precisely because it is more active and more well known abroad, it has often become the focus of other countries' trade remedy measures against China.
In October, the US House of Representatives' intelligence committee claimed that Huawei posed a threat to US national security.
On May 15, the European Commission agreed "in principle" to investigate the dumping of and subsidies for Chinese mobile-network equipment, of which the European Union imports more than 1 billion euro-worth ($1.3 billion) a year.
The two decisions represent two different directions.
The US decision is a much harsher one and has become a diplomatic issue.
Chinese economists and trade experts have said that a solution cannot be achieved until the two governments can build stronger mutual trust.
Meanwhile, the European Commission's decision is not a diplomatic issue. It appears to be based more on economic concerns. It seems more can be done, at both the government and corporate levels, through better communication with the EU and its key member states, so that a mutually beneficial compromise can be arrived at.
The government, suggested Han Liyu, a professor at Renmin University of China's school of law, should learn a lesson by staying away from the market and not interfering in it so often and so heavily.
Consumer subsidies, he said, should be extended directly to customers rather than suppliers.
On the corporate level, Yao Weiqun, associate president of Shanghai WTO Affairs Consultation Center, said Chinese companies should learn to integrate themselves at least as much as Western multinational corporations do in China.
China's local governments, Yao pointed out, should also realize that strictly complying with WTO rules can benefit China's own economy as much as foreign businesses.
As for Huawei, it is unfairly selected as a target for having succeeded on the basis of government subsidies, said Tu Xinquan, deputy director of the University of International Business and Economics' WTO institute.
Huawei, as a privately held but highly globalized company, has all along generated most of its sales from the world market.
It has not benefited much from government-subsidized programs at home, he said.
Huawei was launched in 1987 in Shenzhen, initially as a sales agent for telecom switch units imported from Hong Kong.
That was only in the early days of China's reform. Shenzhen was one of the first special economic zones to open up to foreign investment and more liberal international trade ties.
In 1992, it began to sell the switch units it made to small users. Most of its income of 1.5 billion yuan was from rural China in 1995. But 10 years later, it was already been able to generate some $500 million sales from markets outside China, becoming a champion of Chinese companies actively expanding in the world.
Industry observers said the most likely reason why Huawei had to expand overseas so quickly and much earlier than most other Chinese companies, was because of a domestic market that was already divided by major monopolies. Although there have long been rumors about Huawei's allegedly powerful background, that background was apparently not enough to help the company make money at home.
Since then, its global operations have continued to grow faster and accounted for a larger share of the company's sales.
In 2010, the company announced 182.5 billion yuan in total revenue, of which around 120 billion yuan was from overseas.
In 2011, as its revenue rose to 203.9 billion yuan, 138 billion yuan was from overseas.