Xi-Obama meet a 'first step'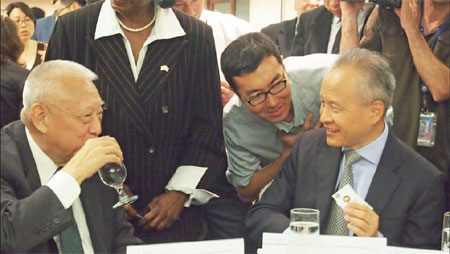 Cui Tiankai (right), China's ambassador to the United States, answers a reporter's question while Tung Chee Hwa (left), the former Hong Kong chief executive, looks on after a meeting on US-China economic relations held at the Center for Strategic and International Studies in Washington on Wednesday. Hong Kong-based China-United States Exchange Foundation and CSIS sponsored the meeting. Chen Weihua / China Daily
With anticipation running high for the recently announced meeting between Presidents Xi Jinping and Barack Obama next month in California, China's ambassador in the US said people shouldn't expect immediate, concrete results from the informal summit.
The Foreign Ministry announced on Tuesday that Xi will meet Obama on June 7 and 8 at Sunnylands, the former estate of deceased publisher Walter Annenberg and his late wife, Leonore. Xi will stop at the Rancho Mirage, California, compound after state visits to Trinidad and Tobago, Costa Rica and Mexico.
On Wednesday, Ambassador Cui Tiankai said the first face-to-face meeting between the leaders since Xi became China's president in March would have "special significance".
"It may not have a long list of what we call 'deliverables', but it will enable us and enable our cooperation to deliver more in the future," Cui said in a speech at a seminar in Washington on the future of China-US economic relations.
He said the two presidents will have a substantive exchange of views on the strategic aspects of their countries' relationship.
"This is certainly different from a normal state visit, because for a state visit, we have to spend so much time and energy on formalities and protocol. But that's not the case for this meeting," said Cui, who had just returned early Wednesday from a preparatory visit to Sunnylands.
"It's a beautiful place," he said.
Orville Schell, director of the Asia Society's Center on US-China Relations, described the site - sometimes called the "West Coast Camp David" for its past retreats of US and world leaders - as "the perfect place for informal and personal discussions". He said it provides "the best of all possible environments for two leaders to get to know each other without undue formalities".
The no-neckties setting is "unprecedented" for a meeting between US and Chinese leaders, Cui said.
"We are confident this meeting will be the first step, or the beginning of more meetings like this in the future, between our heads of state and between our two governments," the diplomat said.
He said Xi and Obama are determined that China and the US will work together to build a new type of big-power relationship, as the Chinese president has alluded.
"This is indeed a new effort by both of our nations to try to open up a new (chapter) in international relations," Cui said.
Top officials in each country have talked about avoiding a replay of a historical narrative in which existing and emerging powers inevitably become rivals and go to war.
The increasingly interdependent relationship between China and the US is also marked by a lack of trust. Many Chinese believe the US strategic rebalancing, or "pivot", toward Asia is aimed at containing China. The US has accused China of unfair trade practices and the Chinese government of orchestrating cyberattacks against American companies, which Beijing denies.
Richard Bush, director of the Center for Northeast Asian Policy Studies at the Brookings Institution, wrote on the think tank's website that the purpose of the Xi-Obama meeting isn't to bargain or solve problems, "but to set a tone and create a sense of shared fate" between the two men. This, Bush said, will follow from the leaders establishing a good personal relationship, "a precondition for the successful conduct of their bilateral relations".
Although the two met in February 2012 when Xi visited the US as China's vice-president, the two days in Southern California will give them more time and an informal environment in which to discuss their respective domestic challenges, visions for the future, the two countries' international roles and how US-China relations fit with all of those, Bush said.
The Brookings scholar believes such an exchange is especially important because each president sits atop a complex, massive bureaucracy that is hard to monitor or control.
"This is one of the reasons for recent frictions between the two countries," Bush said, without elaborating. "Their California encounter provides Xi and Obama the opportunity to identify and enlarge the areas of overlap in the interests of their two countries, and then, when they return to their capitals, to set priorities in their systems accordingly.
"Having seen the value of creating this opportunity, they should seize it," he said.
The Sunnylands summit will come a month before US Secretary of State John Kerry and Treasury Secretary Jacob Lew meet their Chinese counterparts in Washington for the annual Strategic and Economic Dialogue meeting, where a number of bilateral issues are expected to be discussed.
chenweihua@chinadailyusa.com