China, India in talks on trade strategy: Li
By Ding Qingfen, Gao Changxin in Mumbai and Chen Jia in Beijing | China Daily | Updated: 2013-05-22 07:48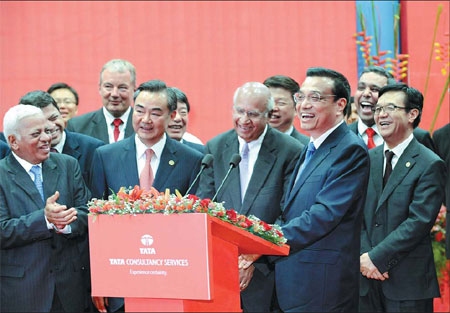 Premier Li Keqiang laughs during a video conference with Chinese employees of India's tea-to-software conglomerate Tata Group at the Tata Consultancy Services software facility in Mumbai on Tuesday. Indranil Mukherjee / AFP
China and India are discussing boosting an equal and fair environment to promote two-way trade and investment, Premier Li Keqiang said on Tuesday in Mumbai.
"There are solutions to helping the two countries maintain rapid growth in bilateral trade and investment," Li said during an evening banquet at the China-India Commercial Summit.
China has great potential to add investment in India, Li said, and is committed to addressing the trade imbalance with India.
Beijing is encouraging Chinese companies to invest abroad and India has launched its 12th five-year plan (2012-16) in which it plans to largely develop its infrastructure.
Li also encouraged entrepreneurs from both countries to join hands to seek more business opportunities. "They have the wisdom and capability to do this," he said.
China will open its market wider and work with India to jointly mitigate the bilateral trade imbalance, Li told business leaders in New Delhi earlier.
He pledged support for Chinese companies stepping up investment in India, and help for Indian products to access the Chinese market.
On the third day of his first foreign tour since taking office as premier two months ago, he reiterated the importance of cooperation between the two countries, describing the bilateral relationship as "one of the most important in the 21 century".
"We have the ability to address the issue of trade imbalance," said Li. "China never has the intention to pursue a trade surplus. Only a dynamic trade balance is a sustainable trade relation."
The two nations signed deals on Tuesday to increase Indian access to China's drugs market and to promote trade in fish and meat products.
After Li met Indian Prime Minister Manmohan Singh on Monday, the two leaders agreed to develop extensive cooperation in infrastructure construction, technology, agriculture, energy and culture.
China is willing to start official negotiations on a regional trade agreement with India, and to jointly resist trade protectionism, Li said.
Feasibility studies on regional trade between the two countries were completed in October 2007. However, official negotiations to achieve an agreement have not yet started, because of differences about specific schemes.
Later, Li traveled to India's financial hub Mumbai before heading to Pakistan. He will also visit Switzerland and Germany.
Wang Rui, a researcher at the Chinese Academy of International Trade and Economic Cooperation, a Commerce Ministry think tank, said the biggest obstacle to improving the negotiations is the trade imbalance between the two nations.
According to the General Administration of Customs, China's trade surplus with India was $28.87 billion in 2012, up from $9.38 billion in 2007, which has triggered Indian trade remedy cases targeting China in recent years.
"India may worry about strong competition from Chinese-made products that can seize its domestic market share once the regional trade agreement is reached," Wang said.
The Commerce Ministry is studying setting up new comprehensive economic cooperation zones in Tibet, to link the two biggest emerging economies and to strive to increase two-way trade to $100 billion by 2015, she added.
Madhav Nalapat, an Indian scholar at the Department of Geopolitics and International Relations at Manipal University in India, said, "Wherever India and China compete, both lose. But when China and India work together, both can gain."
He feels India is a perfect market for Chinese telecommunication and infrastructure systems, while India can sell to China information technology, pharmaceuticals, and can benefit from Chinese tourists.
The prolonged global economic slowdown has weakened external demand for China and India.
Zhang Zhiwei, Nomura Securities chief economist in China, predicted China's economic growth may drop to 7.5 percent in the second quarter from 7.7 percent in the first, dragged down by sudden falls in exports to 4 percent from 18.4 percent in the first three months and with imports dropping to 8 percent from 8.3 percent.
Nomura Securities economists Sonal Varma and Aman Mohunta predicted slower growth for exports and imports in India this year compared with 2012, in view of continued sluggish demand in external markets.
Xu Changchun, an international economics expert from the China Center for International Economic Exchanges, a government think tank, said tightened China-India trade cooperation is expected to accelerate economic growth in both countries.