DPRK fires more missiles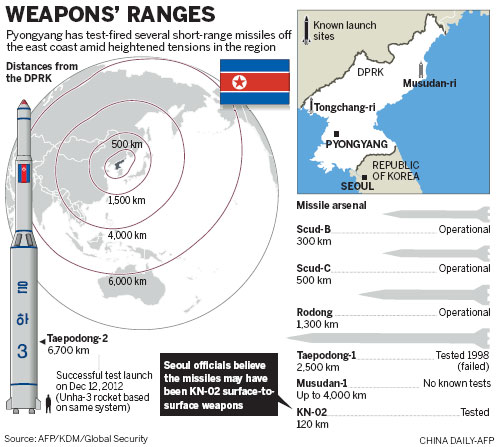 Pyongyang reportedly fired two more short-range missiles on Monday, while Beijing called for parties to "ease the tension".
The Democratic People's Republic of Korea reportedly fired its fifth and sixth short-range missiles in three days in a series of drills that have been condemned by the Republic of Korea and UN chief Ban Ki-moon.
Pyongyang "fired one KN-02 short-range missile between 11 am and 12 am and a second one between 4 pm and 5 pm on Monday. The second missile is the same type as the KN-02 short-range missile launched on Monday morning", the ROK's Yonhap News Agency quoted Seoul military officials as saying.
The DPRK said on Monday that the country's missile launches are part of normal military training for self-defense, and it condemned the US-ROK joint military exercises that ended in late April as a rehearsal for an attack on its territory.
"We are conducting intense military exercises to strengthen our defense capacity," DPRK's official KCNA News Agency quoted the Committee for the Peaceful Reunification of Korea as saying on Monday.
The ROK presidential office urged the DPRK to stop aggravating tensions on the Korean Peninsula after the DPRK launched its fifth missile.
China "took notice" of the reports and reactions, Foreign Ministry spokesman Hong Lei told reporters at a daily news conference in Beijing on Monday.
This is China's first official response to media reports about the DPRK's short-range missile launches.
Maintaining peace and stability on the Korean Peninsula serves the interest of all parties, and is of shared responsibility for all of them, Hong said.
Given the current situation, Beijing expects relevant parties to act in consideration of the big picture of the peninsula's peace and stability, and contribute more to ease the tension and improve ties, Hong added.
The missile launches are more like "diplomatic and political posturing" in response to the recent flurry of diplomacy among the United States, ROK and Japan on the peninsula crisis, said Zhang Liangui, a Korean studies expert at the Party School of Central Committee of Communist Party of China.
"The move is sending a signal that the tense situation has not come to an end," Zhang said.
The DPRK quit the Six-Party Talks in April 2009 to protest international condemnation of its long-range missile tests.