It's lunchtime, let's dance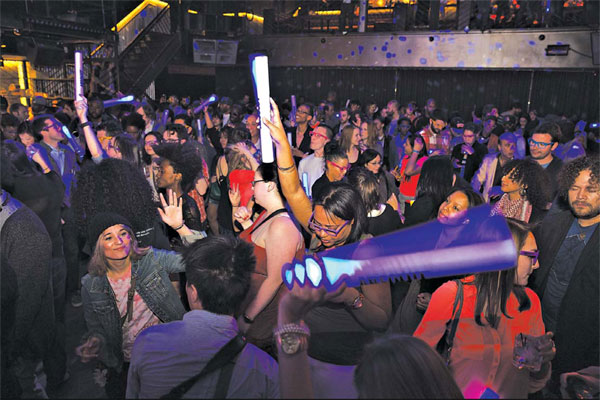 At Lunch Beat, a daytime dance party held at Slate, a New York club, some attendees ate a quick lunch before getting out on the dance floor. Photographs by Benjamin Norman for The New York Times
Midday parties let office workers move and groove, if only for an hour
When lunchtime comes around, Laurie Batista often grabs a salad near the New York ad agency where she works as an executive assistant and eats it at her desk.
But shortly after noon on a Friday in April, Ms. Batista, 31, jumped into a cab with three co-workers and headed to Marquee, a nightclub. After waiting in a long line, she redeemed a drink ticket for a free cocktail of vodka and fruit punch. A half-hour later, she was wearing purple lensless eyeglasses, waving a foam glow stick and mouthing the words to Warren G's "Regulate."
Around her, hundreds of other revelers did similar things. A guy moonwalked across the dance floor. Strobe lights bounced off a giant disco ball. Sweat glistened on foreheads. It was midday, but it could have been 2 a.m.
Ms. Batista was one of more than 300 people who attended the Lunch Break, a free midday party series whose hosts are Flavorpill, the online culture guide, and Absolut vodka. Introduced last summer, it is the most raucous of a group of lunch-hour dance parties starting up in New York City and around the world. The goal: get the computer screen-addicted masses to move and groove. But don't get drunk; and, please, leave the business cards at the office.
"Networking is fine, I'm a big networker myself, but it's work," said Sascha Lewis, a founder of Flavorpill. "Let's just call this what it is: a fun, daytime party for people to enjoy themselves for an hour."
But how do you get young professionals, who find out about these parties online but often arrive without knowing exactly what they've gotten themselves into, to start dancing the moment they get in the club? At Lunch Break, the free cocktail helps but the D.J. carries the burden.
"They told me, right off the gate, get the party started," said Ahmir Thompson, the D.J. and drummer of the hip-hop and soul band the Roots. Known as Questlove, he's provided the soundtrack for three Lunch Breaks, offering a mix of '90s hip-hop and pop hits. He also requests as little light as possible, for the glow sticks and strobes.
"People dance more when they know they're not being watched," he said.
Lunch Break began in August at Le Bain, the nightclub atop the Standard hotel, after marketers for Absolut, a frequent partner in Flavorpill events, told Mr. Lewis about a midday party series that was doing well in Sweden, Lunch Beat. It was founded by Molly Range, 29, whose other day job is developing smartphone apps.
"In the beginning, I dreamt of it developing into a 'secret order,'" Ms. Range wrote in an e-mail. She pictured "men and women sneaking out of garages, closed nightclubs and underground bars, glowing with dance floor sweat and returning to work at 1 p.m." holding brown paper bags.
Her first event was in a Stockholm garage in 2010; 14 people came. Today, she presides over more than 50 Lunch Beat chapters around the world.
Ms. Range discourages alcohol at her events, to "make sure you come to Lunch Beat with the intention to participate, not to be a spectator."
Lunch Beat is nonprofit, and Ms. Range has thus far rejected sponsorship offers.
People in their 20s and 30s throng these parties. Eyeing the 100-plus attendees writhing beneath disco lights during a lunch party at the club Slate, Stephanie Cooper, 25, noted how the daytime dance party was different.
"Well, we're not drunk," she said. "That changes it a little bit."
Ms. Cooper's co-worker Miranda Manganaro, also 25, appreciated the lack of male hangers-on, a species common at nightclubs in their prime hours. "I think it's less creepy of a scene," she said.
Because of their timing, these events also attract a demographic normally absent from Manhattan's club landscape.
"I just happened to be walking by and a young lady gave me a flier and I said, 'O.K., I have nothing else to do for lunch,'" said Dorothy Vazquez, a 68-year-old resident of Brooklyn, who happened on the latest Lunch Beat. Ms. Vazquez said she normally dances at her local seniors center. She smiled, surveying the people filing into the club. "I'm looking forward to boogieing," she said.
Organizers declined to say how much it costs to give a party. Lunch Beat recoups the money spent on the D.J., food and site with ticket prices, generally $10 to $15. Ms. Range said neither she nor the local organizers received monetary compensation.
The primary purpose of the parties, Mr. Lewis suggested, is to counteract the numbing effects of an increasingly digitized culture.
"It brings to life what our mission is," said Mr. Lewis, adding that the company plans to expand to five cities this summer. "Get off the couch, get away from your computer and go have experiences."
Which Lauren Tempera, 26, who works in the food department of Martha Stewart Living Omnimedia, was doing the other day when she skipped her usual midday routine to go to Lunch Break with a co-worker.
"No one was here today, so we snuck out and left our intern with the phone," Ms. Tempera said. "Free peanut butter sandwiches, Absolut and Questlove? You really can't beat that."
The New York Times