Wahaha woos Europe with WAOW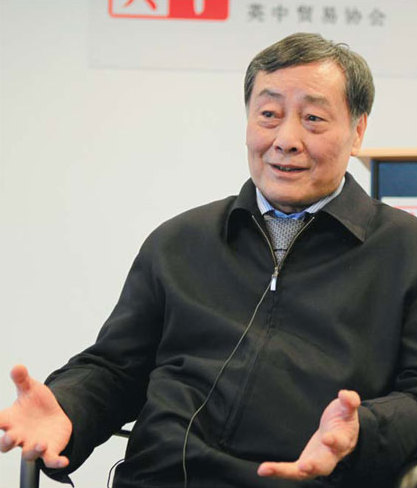 Zong Qinghou says Wahaha's reputation makes his company a trusted distributor for many European companies. Cecily Liu / China Daily
Chinese drinks magnate in hard sell to drum up business for his shopping malls
China's Hangzhou Wahaha Group has been the largest beverage producer in China for more than a decade, with products such as milk drinks, energy drinks, bottled water and fruit juice. It is also famous throughout the country for its canned porridge.
Now, Wahaha is embarking on an ambitious endeavor to bring many mid-market European brands to China through its shopping malls.
The initiative aims to challenge the dominance of high-end luxury brands in China. Chairman Zong Qinghou says his preference for boutique brands lies in the fact that many do not have the resources to enter the Chinese market by themselves or find a trusted partner.
The 67-year-old beverage tycoon, ranked as China's wealthiest man by Forbes magazine, earlier this month concluded a tour of eight European countries to meet retailers.
"Many European brands have difficulty finding a trusted Chinese distributor. On the other hand, many Chinese distributors are reluctant to pay European manufacturers upfront in case the products are not delivered. Our malls provide the perfect solution," Zong says.
He says Wahaha's brand reputation makes European companies feel safe about dispatching their products before a payment. The malls' economy of scale will also drive prices down to benefit Chinese consumers, he adds.
In choosing European brands, Zong says he prefers affordable luxury products, particularly those with high quality, unique designs, to target China's young middle-class consumers.
"We are looking for mid-market boutique brands rather than luxury because the percentage of Chinese population that can afford mid-market brands is far greater," Zong says.
He says one good example is Spanish clothing retailer Zara, which has stylish designs but is much more affordable through mass-scale production.
Zong had talks in Britain, including with Cambridge Satchel Co; T.M. Lewin, a maker of workwear; Hobbs, a women's fashion label; and Nicholas Kirkwood, a designer shoe brand.
Robert Sandicombe, business manager at Nicholas Kirkwood, says it was an honor to meet Zong, although he is unsure whether WAOW Plaza - Wahaha's boutique shopping mall - is the right offer for the brand.
"Mr Zong made a fascinating presentation about the malls, which are ambitious plans. It certainly provides a good starting point for later discussions," Sandicombe says.
Nicholas Kirkwood shoes are distributed in China through retailing companies like On Pedder and Lane Crawford, he says, and the company has no plans to open its own branded shops in China.
Julie Deane, managing director of Cambridge Satchel Co, says Zhong's proposal made her realize that the Chinese market is more accessible than she had imagined.
Deane says her company's bags are already distributed in China through Lane Crawford, but she hopes to also have them sold in shops under the company's own brand.
"We are currently in discussion with several investment companies who have had the experience of supporting retail brands in China, but we are taking the process slowly because finding the right partner is important."
"But I think Wahaha could be a good partner in China because they know the market very well, and more importantly their experience comes from doing business themselves, which is quite different from that of investment companies."
Other retailers Zong met were from Denmark, Germany, Spain, the Netherlands, Switzerland, Italy and France.
"I also met government representatives from European countries, who are very supportive of our project. I think this is because the eurozone crisis has hit retailers hard, so they feel access to the Chinese market is a good opportunity," Zong says.
Wahaha opened its first mall, WAOW Plaza, in Zong's hometown of Hangzhou, Zhejiang province, earlier this year with an initial investment of 1.7 billion yuan ($273 million; 210 million euros). Wahaha says it plans to open 100 WAOW plazas across China in three to five years.
Zong says more than 40 foreign retail brands have already hit the market in the Hangzhou WAOW Plaza, although the challenge is to reduce prices further.
"As we only have one mall now, the quantity sold is small. But we hope to further reduce prices as we make bulk orders for the many more malls across the country," Zong says, adding that the target is to introduce 100 foreign brands before the end of this year.
Zong founded Wahaha in 1987 with a license to sell snacks in schools. The company initially sold ice cream and soft drinks, but later hit upon mineral water, which is its best-selling product. Wahaha's revenue reached 63.6 billion yuan last year.
Zong's rags-to-riches story made him a respected figure in China, although his critics say he can be difficult to deal with.
The most frequently cited example is Wahaha's soured relationship with Danone, the French food-products giant that formed a joint venture with Wahaha in 1996.
In 2007, Danone accused Zong of running parallel companies that competed directly with the joint venture and a settlement was reached in 2009 with Zong buying Danone's 49-percent stake in the joint venture.
In response to his critics, Zong says:"In running a business you have to exercise leadership, otherwise no one will listen to you. But business cooperation is about honesty and mutual benefit, otherwise no business partner will want to do things for you."
He takes advice from others, he says.
"In the process of decision making, I give my team an opportunity to voice their views. But as soon as a decision is reached, I expect them to execute it efficiently," he says.
Last year, Zong led a strategic shift in his business by diversifying into retail malls as China's food and drinks sector faces increasingly low margins and competition.
But the malls have not had the desired success mostly because domestic shoppers are concerned about paying a premium for foreign brands they do not recognize, according to a media report.
Zong remains confident. He says "it is no great harm for the malls to make some loss in the initial stage", but expects them to be profitable. He says he hopes the WAOW plazas can revolutize China's retail industry.
Retailers in China are experiencing thinning margins because shopping mall operators are frequently raising rents and delaying payments of revenue to retailers, he says.
WAOW plazas integrate shopping, dining and fitness facilities, he says. Zong adds that many WAOW plazas will open in China's second and third-tier cities, where retail is more focused in city centers.
"Consumers in these cities are witnessing big increases in purchasing powers. Such an environment provides bigger room for growth than China's first-tier cities where retail sector competition is fierce already," Zong says.
In a move to internationalize its beverage business, Wahaha has in recent years been on the lookout for brands in Europe to acquire or invest in.
Last year the company also signed a five-year joint research agreement with the University of Nottingham to develop new products and technologies.