Doubled Greece-China trade by 2015, Li predicts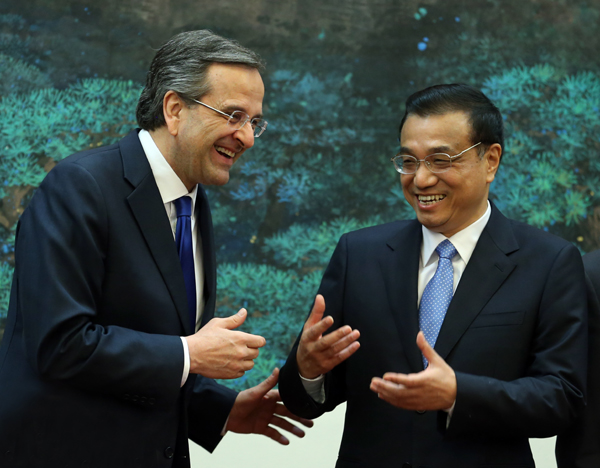 Premier Li Keqiang meets visiting Greek Prime Minister Antonis Samaras in Beijing on Thursday. The two leaders presided over the signing of a series of cooperation documents in sectors including investments, shipping and agriculture. Wu Zhiyi / China Daily
Athens expected to play 'unique role' in relations with EU
China and Greece inked a basket of deals and agreements in Beijing on Thursday, showing China's support for the recovery of the Greek economy.
Premier Li Keqiang told his visiting Greek counterpart Antonis Samaras that he expected to see the current bilateral trade volume double by 2015. Chinese official figures show two-way trade reaching $3.38 billion in 2012.
In their meeting at the Great Hall of the People, Li said China will not forget Greece lending a helping hand to the Chinese citizens urgently evacuated from Libya", according to a statement issued by the Foreign Ministry.
In February 2011, Greece helped China rescue 15,000 Chinese nationals from embattled Libya as two Greek ferries safely carried them to the Mediterranean island of Crete.
It was not the first time Greece assisted China in evacuating nationals from troubled areas. In 1997, when unrest erupted in Albania, a Greek warship carried Chinese nationals from Albania to neighboring Greece.
"China has all along viewed Greece as a trustworthy good friend and partner" and would like to "join hands with Greece to face challenges", Li said.
He suggested the two nations deepen cooperation in fields including new energy, shipping and tourism.
Li added that Beijing expects Athens, which is scheduled to take the rotating EU presidency in 2014, to continue playing a "unique role" in China-EU relations.
He especially noted the EU's ongoing anti-dumping and anti-subsidy investigations on China's mobile telecommunications equipment and solar panel products.
'Positive guiding role'
"China expects Greece to play a positive guiding role inside the EU, urge the EU to be cautious on using trade remedy measures, firmly oppose trade protectionism and protect the overall situation of China-EU economic and trade relations," Li said, according to the statement.
Samaras appreciated the help from Beijing, saying China is a "real friend of the Greek people".
He welcomed Chinese enterprises to invest in his country and promised to push the EU to properly handle trade frictions. After the meeting the two premiers officiated at the signing ceremony of cooperation documents on trade, investment, shipping and agriculture.
Samaras arrived in Beijing on Wednesday for a five-day visit. He will also meet other Chinese leaders and go to Hangzhou, Zhejiang province, to attend the World Cultural Forum.
Accompanied by his ministers of foreign affairs, tourism, development and merchant marine and about 60 Greek entrepreneurs, Samaras is the second leader from EU member nations, after French President Francois Hollande, to visit China since China's new government took power in March.
Samaras is seeking more support from China during his visit, and Li's remarks assured him of Beijing's support, said Jin Ling, a researcher on European studies with the China Institute of International Studies.
On the other side, Greece's ongoing privatization process can bring new opportunities for Chinese enterprises, Jin said.
Greek support for China's past evacuation efforts reflected deep political trust between the two nations, said Song Xiaomin, a researcher on European studies with the Chinese Academy of Social Sciences.
"China and Greece are not only short-time partners based on economic benefits," she said.
In his speech at the Chinese Academy of Social Sciences on Thursday morning, Samaras appreciated Chinese investments during a difficult time for Greece, saying that Chinese investment has created a lot of job opportunities and has been valuable in alleviating the Greek crisis.
Samaras noted that while Greece had restored its credibility, it also paid a high price.