AsiaInfo-Linkage ditches US listing for buyout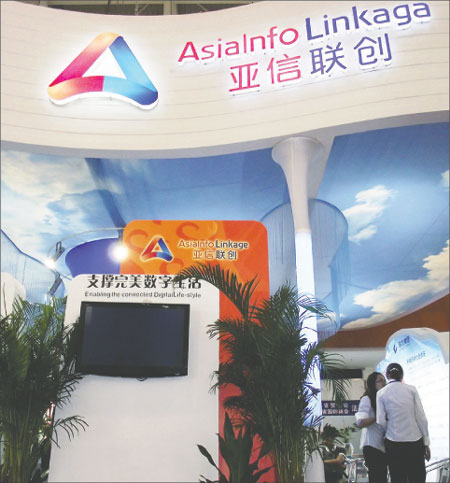 An AsiaInfo-Linkage booth at a software exhibition in Nanjing, Jiangsu province. The Nasdaq-listed software and service company became the latest Chinese company to go private amid sluggish market performance. Wang Qiming / for China Daily
AsiaInfo-Linkage Inc, which sells telecommunications software to China's leading wireless carriers, is the latest Chinese company to abandon the US stock market after accepting an offer to be taken private for almost $900 million by a group led by Chinese private-equity firm Citic Capital Partners.
Last year, at least 25 US-listed companies based in China announced plans to go private through buyouts, as investors dumped shares amid scrutiny by US regulators and short-sellers. About 50 mostly small Chinese firms withdrew registrations with the Securities and Exchange Commission, up from 40 in 2011.
The increase in delistings indicates companies are weighing the value of a US listing for their stock against the challenge of trying to soothe worried investors, and deciding the listing is no longer worth the trouble, Stanford University professor Charles Lee told China Daily in March.
"There is a very strong negative US sentiment about Chinese stocks, even the ones that have absolutely no problem," said Lee, who studies stock value and the psychology that affects share prices.
The biggest going-private deal to date is Focus Media Holding Ltd's August 2012 agreement to be acquired for $3.7 billion by a consortium led by US private-equity firm Carlyle Group LLC. The decision by the Chinese digital-advertising company followed a steep drop in its stock price that was tied to allegations in 2011 by short-selling firm Muddy Waters LLC that Focus Media had, among other accounting irregularities, overstated the number of liquid-crystal-display screens it used to display ads in China.
That deal is expected to close sometime this month.
In December, amid a rash of alleged accounting fraud by US-listed Chinese companies, the SEC sued Chinese affiliates of five accounting firms for failing to turn over audit information on nine unidentified Chinese companies. When the firms refused to comply with the demands to protect what Chinese law views as state secrets, shares of many US-listed Chinese companies tumbled.
Lee, a former global head of equity research at Barclays Global Investors, told China Daily that "some very good Chinese companies have been tainted by this process, and it takes a while for their credibility to be re-established in the US market."
Under the AsiaInfo-Linkage deal announced Monday, the Citic consortium is paying $12 a share - a 52 percent premium to the company's trading price on the Nasdaq Stock Market before the group approached AsiaInfo in January 2012 with a buyout proposal. The consortium also agreed to take on about $330 million in debt. Although AsiaInfo wasn't implicated in any scandals, the price of its shares was cut in half between 2009 and 2011.
AsiaInfo-Linkage's software is used by major telecoms China Mobile, China Unicom and China Telecom for billing, customer-relationship management and other services. With over 11,000 employees, the Beijing-based company also provides secure-networking software and services through its Lenovo-AsiaInfo unit. The company was formed by the merger of AsiaInfo Holdings and Linkage Technologies International Holdings in 2010.
The Citic-led consortium includes Edward Tian, an AsiaInfo-Linkage co-founder who owns 9.3 percent of the company's shares, according an SEC filing this week. It won an auction that concluded in late June and also drew bids from global private-equity firms KKR & Co and TPG Capital (formerly Texas Pacific Group).
Citic Capital Partners is a unit of Citic Capital Holdings, which operates in China, Japan and the US and manages more than $4 billion in capital for "a diverse group of international and Chinese investors". Both entities are part of State-owned Citic Group, one of China's biggest conglomerates.