China, Israel boost cooperation
By Li Xiaokun and Cheng Guangjin in Beijing and Chen Weihua in Washington | China Daily | Updated: 2013-05-09 08:08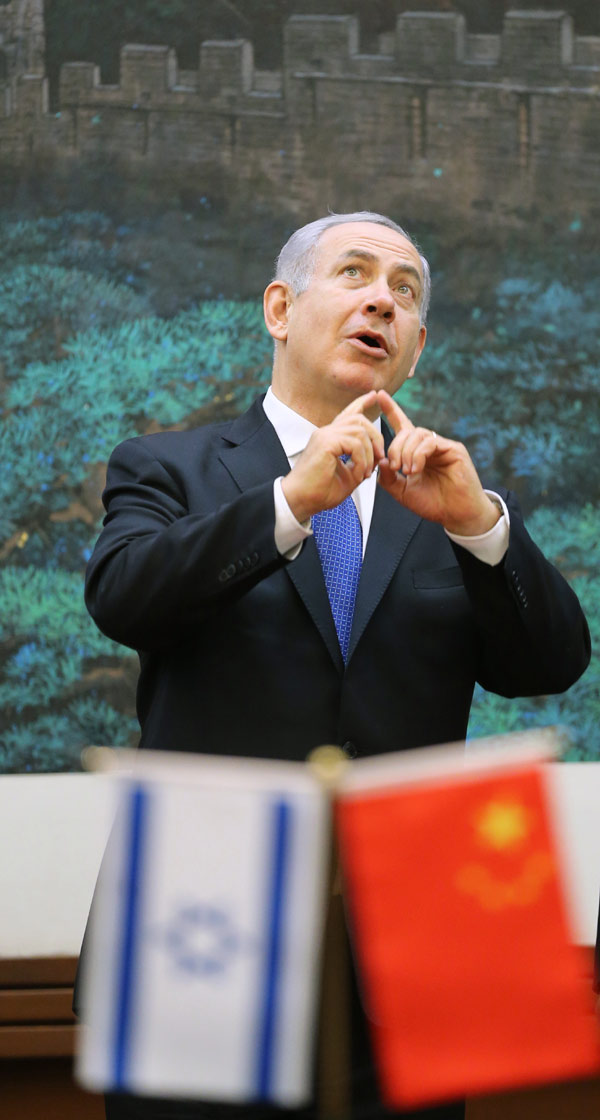 Israeli Prime Minister Benjamin Netanyahu witnesses the signing of cooperation documents on agriculture, technology, financing and education in Beijing on Wednesday. Xu Jingxing / China Daily
China and Israel on Wednesday vowed to join their respective advantages in markets and technology to create a bright future, as leaders of the two nations had their first meeting since the two new governments took office in March.
Premier Li Keqiang told visiting Israeli Prime Minister Benjamin Netanyahu that "the new Chinese government attaches great importance to developing relations with Israel", according to a news release issued by the Foreign Ministry.
This is the first visit by an Israeli prime minister to China since then-prime minister Ehud Olmert's trip in 2007.
The two leaders decided that the two governments will set up a special workgroup to study bilateral economic and social cooperation and come up with a plan as soon as possible.
During the meeting, Li suggested both sides expand trade and investment and raise the level and added value of their trade.
He also advised the two nations to combine Israel's high-tech advantage with China's huge market, and he welcomed Israeli investment in cutting-edge technology.
Besides, China would like to learn from Israeli expertise in agriculture and will encourage capable Chinese companies to participate in Israeli construction projects, Li said.
Netanyahu told Li that peoples of the two nations have long held a great affection toward each other. Israel wants to join hands with China to build a bright future, he said.
On Tuesday, Netanyahu and his wife toured Shanghai's Ohel Moshe synagogue, which was home to many of the 18,000 Jews granted refuge in Shanghai from the horrors of Nazi persecution.
Netanyahu said his country will forever appreciate Shanghai's assistance to the Jewish people during World War II.
After the Wednesday meeting, Li and Netanyahu witnessed the signing of cooperation documents on agriculture, technology, financing and education.
Li Shaoxian, an expert of Middle East studies at the China Institutes of Contemporary International Relations, said the large business delegation accompanying Netanyahu for the visit and his first stop at China's commercial hub, Shanghai, demonstrates his expectations on the two countries' future economic cooperation.
Netanyahu is leading a large delegation, including a group of senior officials on economic affairs and entrepreneurs. He had said that one of his priorities will be pushing forward exports to China.
China is Israel's top trading partner in Asia, and the third worldwide, with bilateral trade in 2012 reaching nearly $10 billion.
Israeli figures show that in 2012, its exports to the United States and Europe shrank 6 percent and 7 percent respectively compared with 2011 because of the global economic turmoil. However, Israel's exports to Asia surged 5 percent.
Israel, on the other side, is an important source of high technology for China.
Netanyahu said during his stay in Shanghai that once the high-tech and creativity of Israel find its match in China's strong producing power and wide access to the global market, it will be the best combination.
Netanyahu arrived in Beijing from Shanghai on Wednesday, just one day after Palestinian President Mahmoud Abbas left Beijing.
The two leaders did not meet in their rare, nearly simultaneous visits to China, though Beijing said it would be willing to help arrange a meeting if requested.
Li told Netanyahu on Wednesday that the Palestine issue is the core of peace and stability in the Middle East, while peaceful settlement through negotiations is the only effective way.
China expects the two sides to create conditions to revive the peace talks and seek tangible progress, he said.
"China, as a friend of both Palestine and Israel, has all along held an objective and fair stance. We would like to make efforts with all parties to actively push forward the Middle East peace process", Li said.
Netanyahu said his country appreciates China's constructive role in the Middle East peace process.
Contact the writer at lixiaokun@chinadaily.com.cn