Beijing urges new Israel-Palestinian peace talks
By Li Xiaokun and Zhao Shengnan in Beijingand Chen Weihua in Washington | China Daily | Updated: 2013-05-07 11:10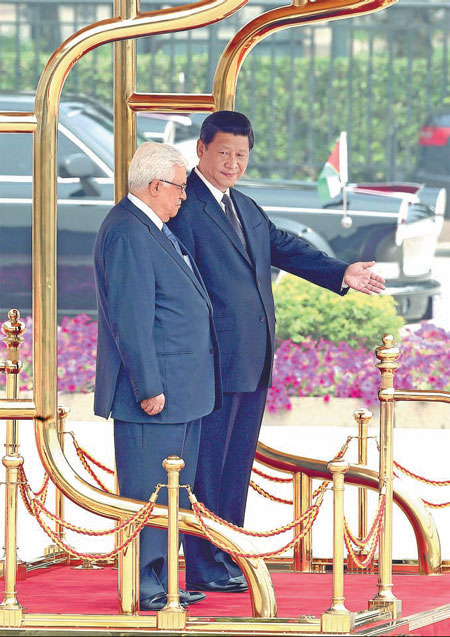 President Xi Jinping welcomes his Palestinian counterpart Mahmoud Abbas outside the Great Hall of the People in Beijing on Monday. Xu Jingxing / China Daily
President Xi Jinping called for talks between the Palestinians and Israelis during an unusual diplomatic situation in which the leader from each nation made overlapping visits to China.
Analysts said the presence of Palestinian President Mahmoud Abbas and Israel's Prime Minister Benjamin Netanyahu show China is in a unique position to help resolve tensions in the Middle East because it maintains good relations with both sides.
Xi made the call for talks while meeting on Monday with Abbas in the Great Hall of the People in Beijing.
According to a statement from the Foreign Ministry, Xi said: "Negotiation should be taken as the only way to peace between Palestine and Israel. The two sides should follow the trend of the times, pursue peace talks, show mutual understanding and accommodation, and meet each other halfway."
Talks aimed at brokering a peace between Israel and the Palestinians have been deadlocked for four years, and there was no indication from the visits in China that a meeting would occur.
The Chinese president also said the right direction should be toward an independent Palestinian state and peaceful coexistence of Palestinians and Israel.
"At the same time, Israel's right to exist and its legitimate security concerns should also be fully respected," Xi said.
Immediate priorities, the Chinese leader said, are to stop Israeli settlements, end violence against innocent civilians, lift the blockade of the Gaza Strip and properly handle the issue of Palestinian prisoners to create conditions needed for resumption of peace talks.
Abbas said the Palestinian Authority appreciates China's objective stance and expects Beijing to continue playing an "important role during the process".
The two leaders later oversaw the signing of agreements on economic-technical cooperation and cultural exchanges.
Abbas also met Premier Li Keqiang on Monday. Li said China would use "its own way and its own impact" to promote peace talks in the Middle East.
Also on Monday, Netanyahu began a visit to the financial hub of Shanghai. The Israeli prime minister is due in Beijing on Wednesday, following Abbas' departure on Tuesday.
This is the first trip by an Israeli leader to China since then-prime minister Ehud Olmert visited in 2007. Netanyahu will reportedly sign a number of deals and discuss the issue of Iran with Chinese officials.
China has maintained close relations with the Palestinians for decades. In recent years it has also developed ties with Israel.
Speaking to Xinhua News Agency ahead of his visit, Abbas said: "It is very good that Netanyahu will visit China, too, because it is a good opportunity that the Chinese listen to both of us."
Last week, the Foreign Ministry said it would be willing to help arrange a meeting between Abbas and Netanyahu if they wanted, but the two leaders weren't expected to be in the same city at the same time.
China's special envoy for the Middle East, Wu Sike, told reporters on Monday that the fact Israeli and Palestinian leaders were invited to China for a visit not long after the new Chinese government was formed indicates the importance China's new leadership attaches to Middle East issues.
Beijing for the first time has proposed taking a bigger role in efforts to promote peace in the Middle East, said Li Shaoxian, who studies the region at China's Institutes of Contemporary International Relations.
China aims to solidify an international consensus, insisting that Israeli-Palestinian peace remains the core issue for the Middle East, and to address urgent matters such as a halt to construction of new Israeli settlements in occupied Palestinian areas, he said.
A US-backed effort to revive Israeli-Palestinians peace talks collapsed in 2010 over the settlement issue. Palestinians say any talks require a halt to settlement construction in the West Bank and East Jerusalem, but Israel rejects the demands and says talks should resume without preconditions.
"The US still enjoys an influential say during the process and China's role can hardly match that of Washington in the region in the near future, but the international community, including China, should all make their contributions to promote the process," Li said.
Nathan Brown, a Middle East scholar at the Carnegie Endowment for International Peace and a professor at George Washington University, said China has traditionally played a limited diplomatic role between Israel and Palestinian. Palestinians have become more interested in bringing in new mediators because they see the US as friendly to Israel, he said.
"There is no doubt that China's profile in the region is rising, but I do not expect that enhanced regional role to manifest itself in a vigorous initiative on the Israeli-Palestinian front," Brown said.
Natan Sachs, a fellow at the Brookings Institution's Saban Center for Middle East Policy, said Chinese involvement in the Middle East negotiations has so far been minimal, but the visits by Netanyahu and Abbas suggest a higher profile for Beijing.
He believes, however, that although both sides would welcome Chinese engagement rhetorically, they would still turn to the US as their main intermediary, a role Washington has played for decades.
"China certainly has an important role to play in garnering international support for efforts to promote peace, both in the UN Security Council and elsewhere. The more closely China can work with the United States on this issue, the more likely these efforts are to be successful," Sachs said.