'New energy': Shining title for a traditional production paradigm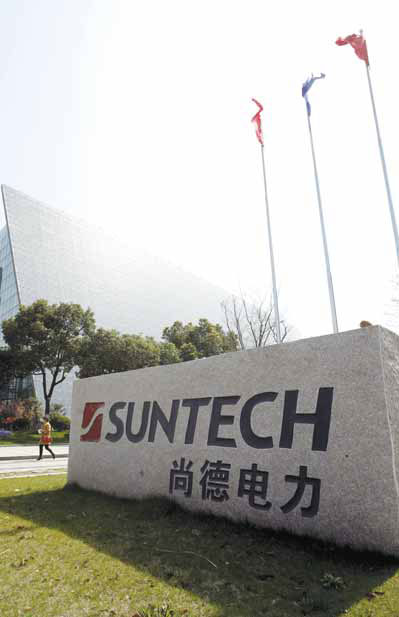 Once high-flying Suntech is sliding toward bankruptcy in an industry that has been heavily subsidized and highly polluting. The author wonders if the same could be true for electric cars. Huan Wei / for China Daily
Will electrics go the way of the troubled PV industry?
Since the IPO of Chinese solar panel maker Suntech Power Holdings on the NASDAQ exchange in 2005, it has been a high-speed roller coaster ride for the domestic photovoltaic industry.
That was the year Shi Zhengrong, the big boss at Suntech, became the richest man in China.
Inspired by such rapid success, the photovoltaic industry - known as PV for short - quickly became a shining star in the country, generating enormous revenues with the added bonus as a "green" concept that matched government policies.
Many cities - Golmud in Qinghai province, Suihua in Heilongjiang, Xinyu in Jiangxi, Baoding in Hebei, and Wuxi in Jiangsu - started or expanded initiatives to forge strong PV enterprises.
But PV production in China in fact consumes massive amounts of power and is among the most heavily polluting industries.
A ton of polycrystalline silicon requires 150,000 to 160,000 kWh of electrical power to make. Without electricity subsidies or other support from local governments, all PV manufacturers would run at a deficit.
About 98 percent of domestic solar battery products are for export, which means a great deal of energy is used in a country whose power supplies barely meet overall demand.
Explosive growth in the PV industry has also been fueled by the extremely low cost of pollution in China.
Slide to bankruptcy
But most PV companies including LDK, Suntech and Yingli have been losing money since last year. One-time superstar Suntech is now sliding toward bankruptcy.
Its financial reports and other documents show Suntech's main business focuses on PV component manufacturing in which the company has little pricing power and no technological know-how to enter high-value businesses such as generator design and installation.
It may have the shining labels "high-tech" and "new-energy", but Suntech is just another example of a manufacturer making products with low added value.
Much like the PV industry in 2005, the new-energy vehicle industry has been embraced by enterprises and governments all over the country.
Shanghai has proposed subsidies to promote the private purchase of 20,000 new-energy vehicles at up to 100,000 each - some 2 billion yuan in total.
The Zhejiang provincial government issued special policies to promote new-energy vehicles in the province, with Hangzhou and Jinhua selected to be electric vehicle demonstration cities. Its goal is to have 30,000 electric cars on the road in three years.
Similar situation
Many domestic automakers have also announced new-energy vehicle plans, but very few of them have actually invested in battery technology. Most are using outsourced key components from foreign companies.
The situation is similar to Suntech's position in the PV industry - relying on foreign manufacturers for core technology while merely performing the assembly work.
Due to the high costs of new-energy vehicles and little new progress in battery technology foreseen in the short term, the industry is bound to become wholly reliant on government subsidies.
Meanwhile, the rising new-energy vehicle industry has triggered increased global demand for rare earth, leading to dramatic over-mining and smuggling of the resource.
According to customs statistics, 20,000 tons of rare earth was smuggled out of the country in 2009, about a third of total exports.
The output of rare earth mining was equally high, some 180,000 tons. Large amounts of hydrochloric and sulfuric acid used in the extraction process have flowed into farmland and ravines, polluting water and soil. The damaged environment cannot be restored for several generations.
There are other striking similarities between the new-energy vehicle and the PV industries - a beautiful "green" halo with huge amounts of pollution, enthusiastic local government support, the lack of core technology, high costs and massive use of taxpayer money.
It inevitably begs the question - will the new-energy vehicle sector will eventually become the next PV industry?